Our slow and steady start to homeschool led us to full throttle back to school. Over the last three weeks we have started more subjects, added some extras to our days. Plus, one by one, the extracurricular ramped up as well. And it's all good. Though I do miss the days of summer and the pool…
We've been trying to emphasize the Before 8:45 habit. But while the younger three can surely do it, the older ones are usually just stirring and getting their breakfast. So while they start their routine, I am…

1. Lil' Buddy (K) has been making chalk pastel trains – several – each day. Makes me so happy to hear, "Mama, can I get out the chalk pastels?" | 2. Car school during civics class for the big kids. | 3. My Little Ponies help with handwriting. | 4. Practicing piano. Three girls in piano now!
Homeschooling Little Ones First
…Starting our school day with me sitting down between the two little ones continues to be the best approach. I can help Lil' Buddy with his Kindergarten handwriting and reading practice. On the other side, Littlest Girl is working through her Saxon 2nd grade math. Meanwhile…
There's nothing that can help you understand your beliefs more than trying to explain them to an inquisitive child. ~ Frank A. Clark

Someone is VERY excited to add another instrument in the mix! The violin arrived this week and she can't wait to get started. She's still taking piano lessons as well. We also found out the parts our two older girls will play in the Christmas drama troupe production. And Littlest Girl is thinking she is going to try out for a solo and/or a speaking part in our church children's production.
Middle in the Mix
…Middle Girl is starting her Teaching Textbooks 6th grade at the computer. When she finishes that she works through all her language arts with me close by for help if needed. The youngest two are usually finished with any seat work for now and they have moved on to play.
Sometimes we take a break in here for the pool, a nature walk or a run around the backyard. This week we were really sad when we suited up, slathered the sunscreen and found this. The neighborhood pool closed. There's still so much summer to soak up!
High School Team
I find one high schooler in a comfortable spot on the couch with a Rod and Staff English textbook. (Lil' Buddy reshaping and reworking the train track).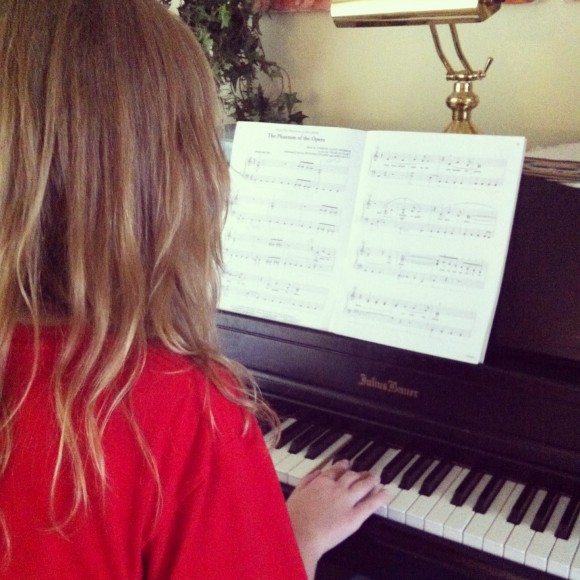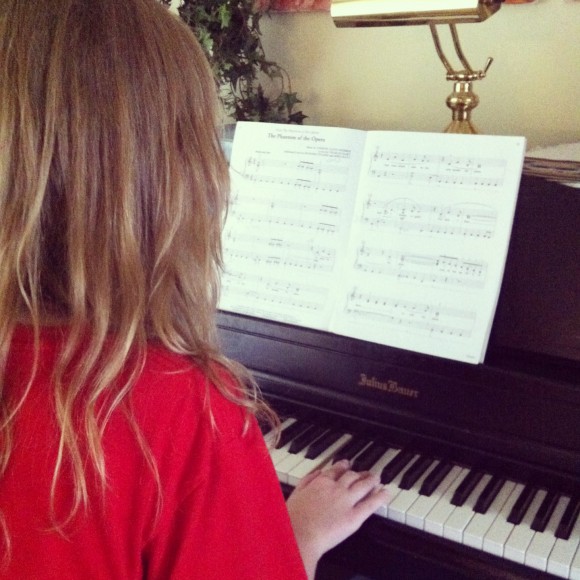 The other has taken the spot at the computer for Teaching Textbooks or at the piano practicing Phantom of the Opera.
All Together Now
Sometimes we get to our history and science before lunch but most times it is reserved for the afternoon. All of us together. Please see my five day series on How to Fit in the Homeschool Extras, which includes the extras within sight – school books on the family room mantel.
I got the Tapestry of Grace books all arranged on our family room mantel. It makes it so much easier to see the ones we need to get to and to grab one to read aloud. Having them with in sight even prompts a child to read several! And let me tell you, I am so glad we've done a little homeschool reorganization in order to stay home. We need that time to get through all the wonderfulness that Tapestry offers. Especially with my two high schoolers.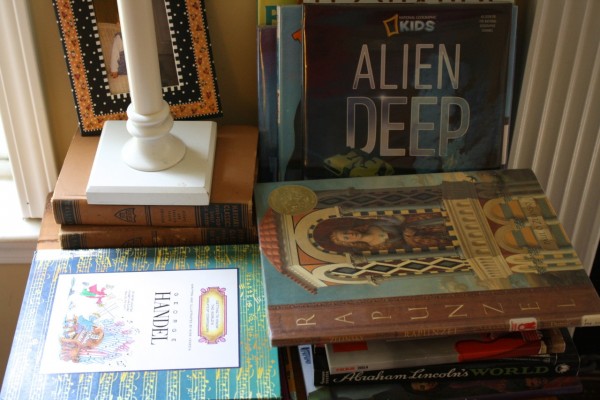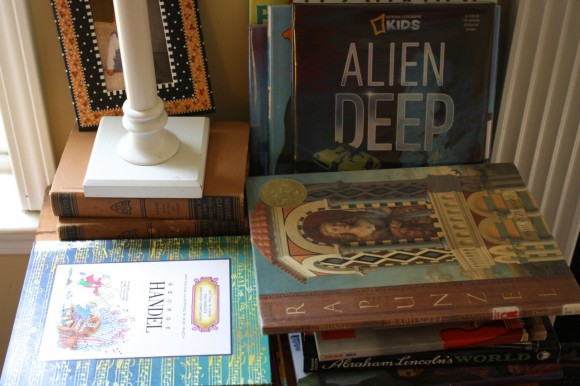 Tapestry of Grace, Harmony Fine Arts and books for pure pleasure (also make a good stack to grab for car schooling during lessons).

We must not, in trying to think about how we can make a big difference, ignore the small daily differences we can make which, over time, add up to big differences that we often cannot foresee. ~ Marian Wright Edelman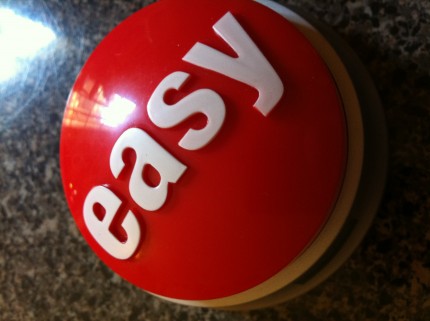 And the easy button helped move us along too – just give it a press in between subjects.
Please don't miss the giveaways I have going! Home Educating Family's Well Planned Day planners: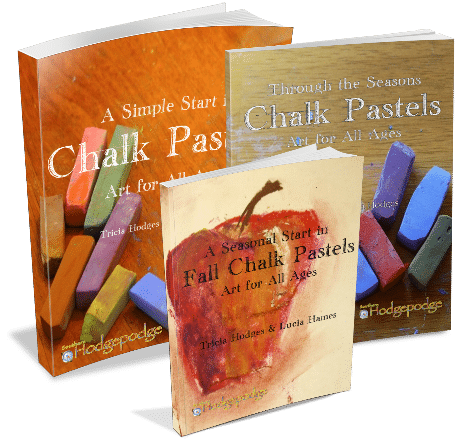 And did you see our new fall ebook? I surely don't want you to miss the FREE apple video tutorial. We've put together a couple of special art bundles too!
Many thanks to our Friday hostesses!
We've been going slow and steady for about a month. Building, adding subjects, extracurricular. And now we are full throttle. How about you? Have you been back to school for a while or was this your first week?