In celebration of Georgia's most famous crop, we offer a Georgia Peaches Chalk Art Tutorial. The delicious sweet peach. The state's nickname fruit was first planted in Georgia in the 18th century, and is still an important fruit crop today. Peaches rank 3rd in production in the U.S. We produce more than 40 different varieties of peaches and almost all are sold fresh! Yum!!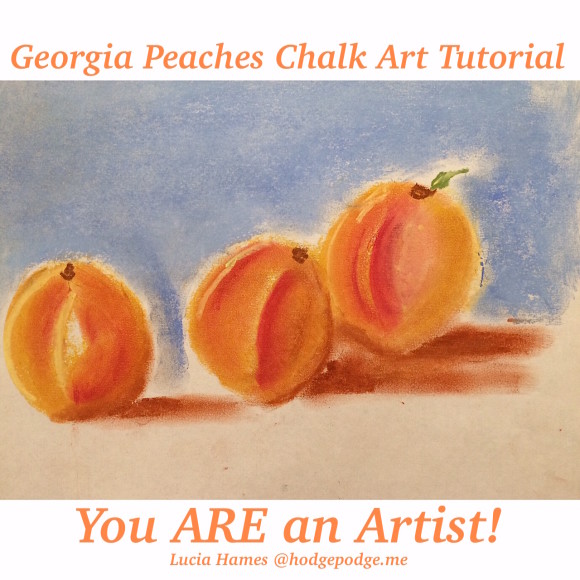 Georgia peaches are a very easy fruit to paint and you can "produce" a crop of wonderful paintings! Let's pick out our colors of pastels: lightest orange or a peach color, dark and light yellow, dark red, rusty medium brown, lightest green and a pale sky blue. Turn your paper horizontally.
About ¼ the way down from the top of your paper, take your light orange or peach color and lay it down flat on the paper. Twist it around in an oval shape or round circle, and you have your peach! (A very good example of how to do this is shared in our video chalk art tutorial How to Draw an Apple in Less Than One Minute).
Georgia Peaches Chalk Art Tutorial
I think that three peaches are just fine for me but you are the artist of your painting, so you may draw as many as you like…within reason! No fields of peaches!
Now to make your peach more realistic, you have to give it a bit of color. You can do this with a lightly drawn curve of dark red will make the peach tastier looking and give it a roundness…remember that your light is from the left side and you can use your lightest yellow for a bit of light on the left side of the peach. Add dark yellow and gently smooth the colors together with your finger.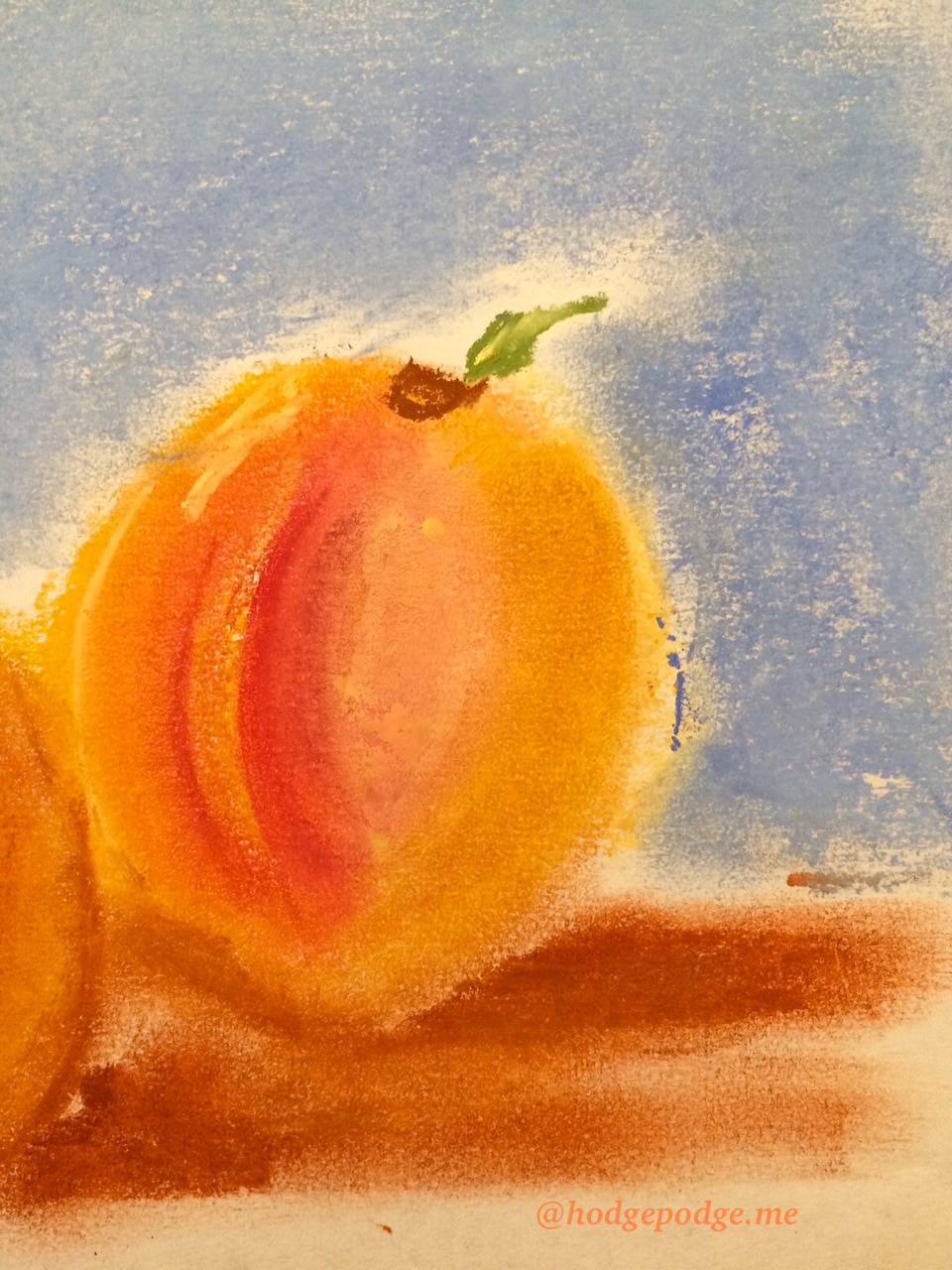 Use the dark brown for shadows under and to the side of the peaches and a small brown stem at the top. I only put one green leaf on one of the peaches.
Please don't make the delectable peaches hang in the open whiteness of your paper! Surround them with a color such as the pale sky blue so they will be happily waiting for someone to come get them for a wonderful pie!
Great job! You have blended your colors just right and have a beautiful painting! Be sure to sign your name in the corner and flip the painting over and name it and date it. Hang this somewhere so others might enjoy it! And always remember: You ARE an artist!!
Featuring You! You ARE an Artist!
So, paint your peaches art and be sure to share with us! Simply tag @chalkpastelart on Instagram, use the #YouAREanArtist hashtag, or upload a photo to the ChalkPastel.com Facebook page!
A note on chalk pastels: Pastels are an easy, forgiving medium. Fun for children and adults alike! Details on the pastels and paper we use, how and where to purchase, and links to all of Nana's other pastel lessons are here: Our Favorite Chalk Pastels
The practical aspects of a mess: Pastels are blessedly messy. We always have baby wipes close by to wipe hands. We wear something we don't mind getting stained or don a smock.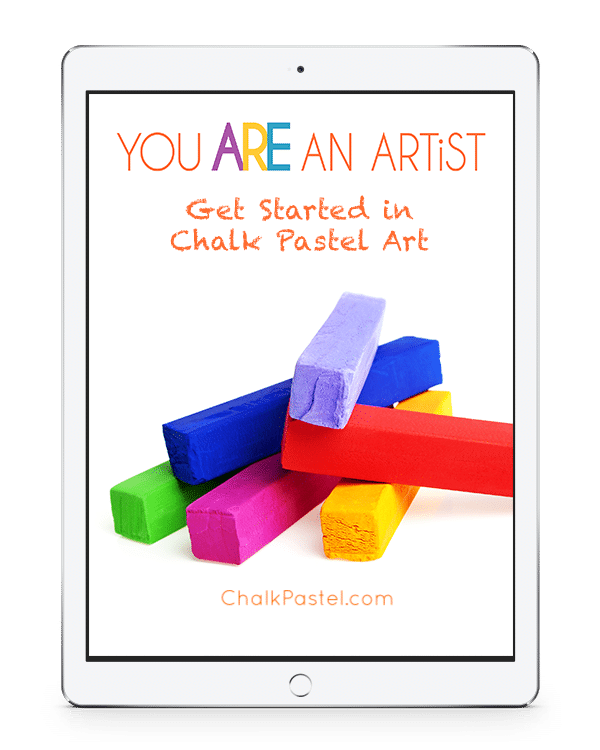 Peach video art lesson coming soon to the You ARE an ARTiST Clubhouse! Do you and your artists learn best with a video art tutorial? Find over 700 video art lessons in our You ARE an Artist Clubhouse membership at ChalkPastel.com!
—>> Subscribe to Hodgepodge so you won't miss any future art tutorials! <<

More Georgia Travel and Studies
Have you subscribed to Hodgepodge yet to get your exclusive, FREE, subscriber-only art tutorials?
-originally published April 2015