Last month my Middle Girl and I took a trip to the Georgia Sea Turtle Center on Jekyll Island, Georgia. My daughter has always had an interest in sea turtles and their life cycle. In fact, a few years ago, the life cycle of a sea turtle was the topic of her science fair project! So, of course, when it was time for her to choose the destination of her 12-year-old trip, she chose Georgia's Golden Isles. We had heard of the Sea Turtle Center and wanted to go.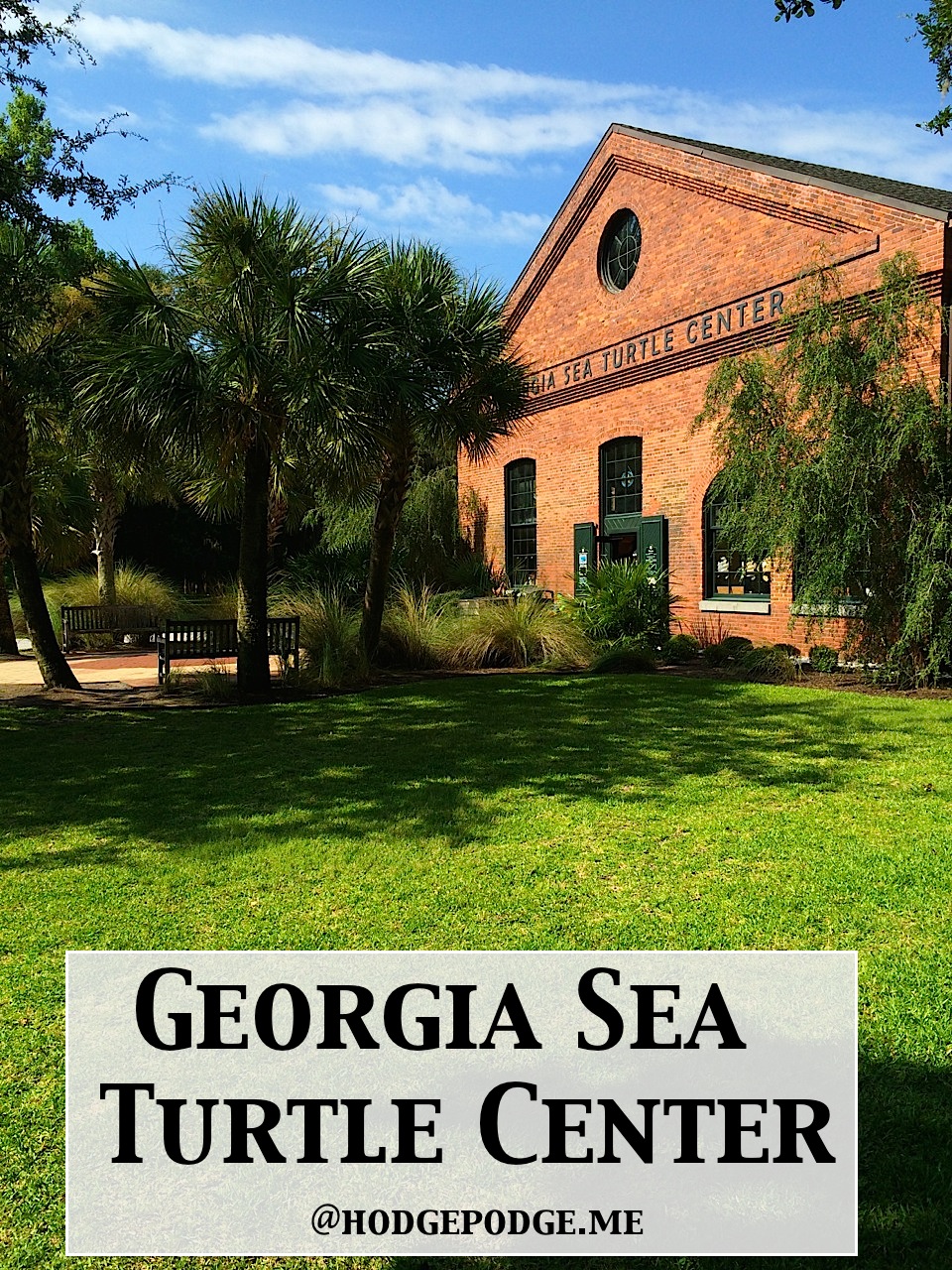 The Georgia Sea Turtle Center is a must see! "The Georgia Sea Turtle Center was created and is operated by the Jekyll Island Authority as a primary conservation program dedicated to increasing awareness through sea turtle education, rehabilitation, and research programs." There are many programs at the Sea Turtle Center, including behind the scenes tours, sea turtle walks, alligator programs and sea turtle camps.
Guess what? Homeschool teachers get a teacher discount! As do military and government employees. We do regret that we did not make a reservation for the behind the scenes tour. I was under the impression that we could pay for and sign up for that when we arrived. However, the nice hostess said we could call a 1-800 number. But, we just went ahead with a self-guided tour. The sea turtles were scheduled to be fed in less than half an hour of our arrival, so after we toured the center, we walked to the hospital next door.
Here is a list of our favorites and some photos from our visit:
Interactive displays encouraging us to learn so much more about sea turtles. Even a sea turtle in Latin spinner dial, sea turtle anatomy and more!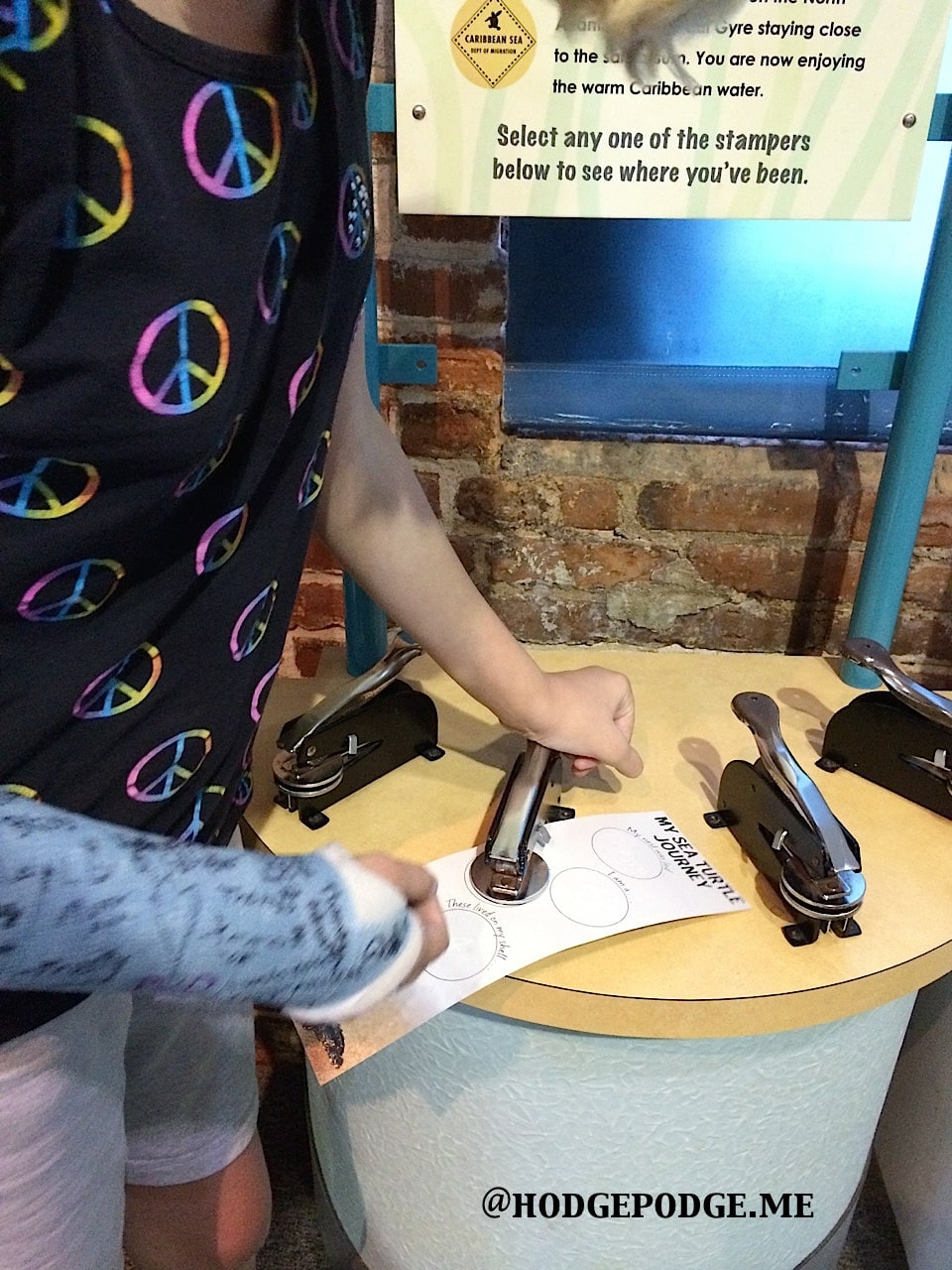 A 'journey' challenge where YOU are a sea turtle. You stop at each numbered station and get a stamp on your journey paper (Above and bottom, left in the photo below). According to the stamp you pick, you learn more about your turtle life at different stages – where you hatched, the dangers you faced, how old you lived to be!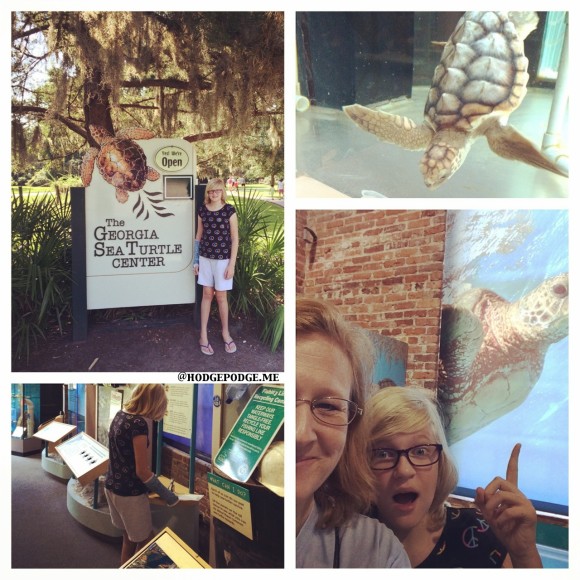 A big window where you can stand and watch the turtles being treated for injury and disease by the experts at the rehab center.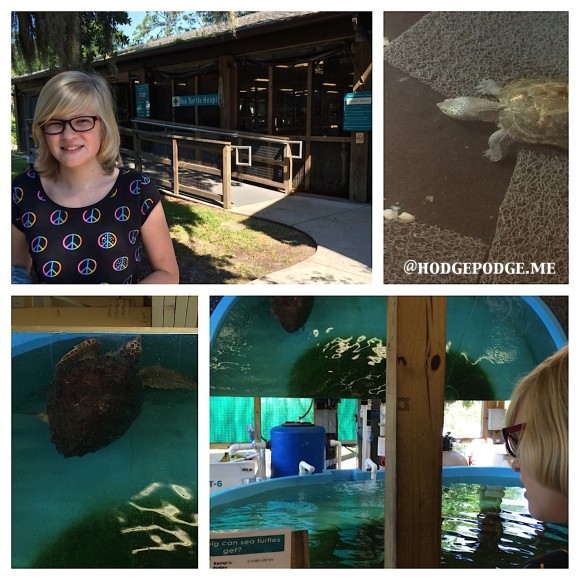 Outdoor Sea Turtle Hospital area with very large tanks – each with a sea turtle in rehab. They were so much fun to watch and each turtle had a name, full description and story of how they arrived at the Sea Turtle Center.
"I really like seeing the actual turtles! Plus getting to follow the journey of a sea turtle through the different stages and challenges of its life." ~ Middle Girl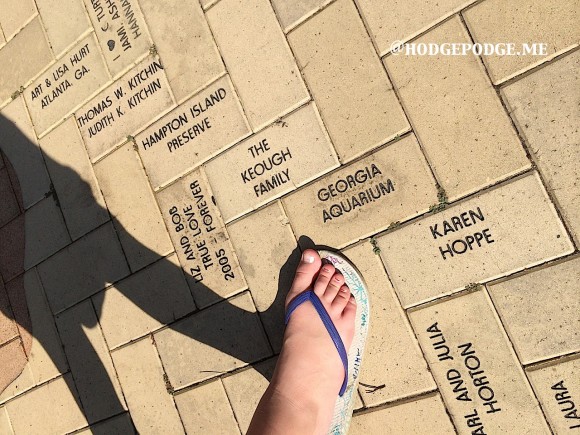 We saw on the walkway into the Sea Turtle Center that our favorite Georgia Aquarium is a special contributor.

More We Explored on Jekyll Island
The beach! We had to stop for a walk on the wide beaches of Jekyll Island. We only wished we'd brought our swimsuits from the hotel at St. Simons Island. Beautiful beach!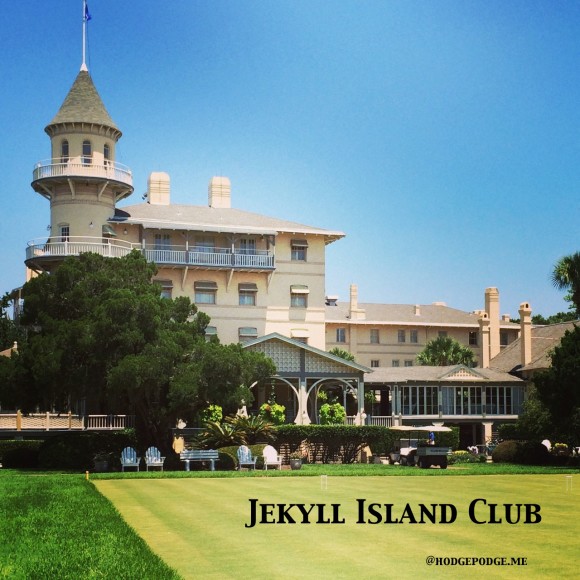 The Jekyll Island Club Hotel – this hotel in the historic district is quite the sight to behold. Beautiful and full of history! Next time we will stop at the nearby Jekyll History Center and take the tour to learn even more about the history of Jekyll. You can make reservations to dine at the Jekyll Island Club or stop in the Club Cafe for breakfast or lunch entrees without a reservation.
Horton House – the remains of a once-thriving cotton plantation and signs of Georgia's rich colonial heritage at the time of General Oglethorpe (we learned much about this time in Georgia history on our tour of historic sites on St. Simons Island). The house is made of tabby – a clay made of crushed oyster shells and sand – and is one of Georgia's oldest buildings.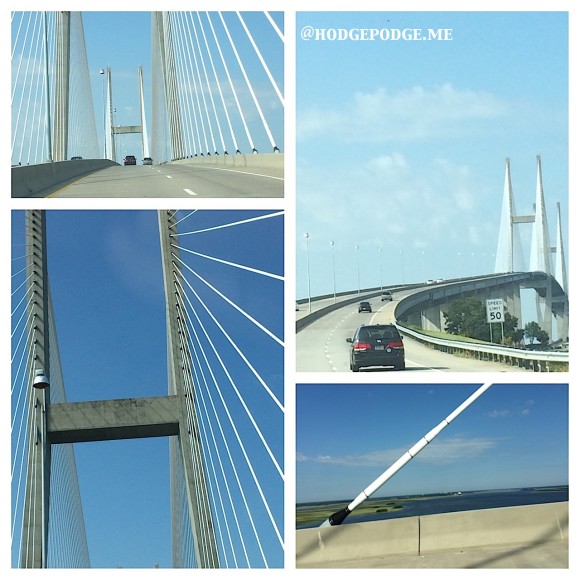 And, of course, we should mention that incredible bridge that connects the city of Brunswick with Jekyll Island – the Sidney Lanier bridge. Named after Georgia's own famous poet and author of The Marshes of Glynn, this is Georgia's tallest cable-stayed suspension bridge. Photos courtesy of Middle Girl.
More Georgia Travel and Studies
Some have asked why we have the habit of each of our children taking a 12-year-old trip with mom or dad. Our full answer in: You Must Do This!
We loved our time in Georgia's Golden Isles and very much look forward to getting back to explore more!