It's Pinterest week again. And here I am, sharing food finds. Again. I really wanted to do something different and share some fun crafty ideas. I have a vast collection of them in my boards, but I haven't gotten around to trying many of them. See, those are all things to do someday. But feeding my family is something I have to do every day. Pinterest really is my favorite place to find cooking inspiration. I mean, a picture is worth a thousand words, right?
The last time we had a Pinterest week,  I shared a recipe I found for Jalapeno Popper Grilled Cheese. Well, it was so yummy and different, I started exploring other gourmet grilled cheese options. First we tried Buffalo Chicken Grilled Cheese.
But, since I had leftover Buffalo chicken filling from another pinterest find, Buffalo Chicken Bites, I just used that in my sandwiches. YUM!
But my family's favorite in the line of gourmet grilled cheese was the one with Tomato, Mozzarella and Pesto. Oh. My. Goodness.
I've made these twice now. The first time I splurged and bought nice fresh mozzarella to make them. The next time I just used a regular brick-o-mozzarella. Maybe I don't have the most sophisticated palate, but I didn't notice a difference. I used the Spinach Basil Pesto that I already had in the freezer. They are super quick and so, so good.
And speaking of pesto, here's another great use for it, Pesto Baked Chicken.
Doesn't that look fantastic? I haven't made this one yet, but it is on my menu this week.
And while we're talking food, I'd like to share another new favorite site for mealtime inspiration. Another Pinterest find I pinned recently was Chicken Parmesan Bake.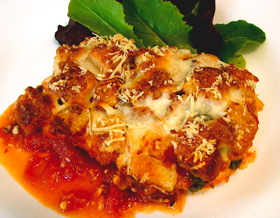 It turns out this recipe comes from the talented and funny Chef John of Food Wishes. The part I love most- all his recipes are presented in video form! It's like Food Network without the commercials. I must warn you though, the videos are heavy on the sarcasm (think Alton Brown). And there is the occasional drinking reference thrown in. But don't let that deter you. This really is a great resource for new and easy dinner possibilities. And the Chicken Parm Bake was fantastic. A huge hit with everyone in the family!