I'm keeping up the habit of sharing a helpful habit on Fridays. Plus, this post is also our Homeschool Weekly Wrap and the new habit I'm enjoying – Camera Phone Friday! In the true fashion of a Hodgepodge (hodgepodge |ˈhäjˌpäj|(Brit. hotchpotch ) noun [ in sing. ]a confused mixture). First, our Camera Phone Friday mosaic shows a snapshot of our week…

1. Eldest boy has rediscovered his love of Snap Circuits | 2. Pool friends all jump together! | 3. What a fun day of Loving Living Math | 4. Part of the living math stack | 5. The start of the day | 6. The benefits of a chalkboard desk – a ready scratch sheet! | 7. Pigs in a blanket by #kidsinthekitchen | 8. Littlest Girl's afternoon quiet time | 9. Littlest Boy's afternoon quiet time | 10. pool sisters | 11. 15-year-old, enduring, sweet kitty on the way back from vet – on the mend! | 12. Tennis time – then pool – then a little more tennis | 13. pool brothers | 14. for the love of puffles (Club Penguin) | 15. Getting to hold baby cousin again! | 16. Lounge with the laptop and do your math in your swimsuit (another benefit of homeschooling)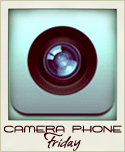 Many thanks to Camera Phone Friday hostess Dawn Camp @ My Home Sweet Home
Next, our Weekly Wrap thanks to Kris @ Weird Unsocialized Homeschoolers… Settling Into Our Second Week. I hope this sharing of our week shows how we are easing into our schedule. Last week we started with just the basics. Before you think it is just too much to start our school year so early, please read our reasons in Just the Basics. Last week was our Before 8:45 routine, Math then the pool! This week we added in:
Tapestry of Grace: we talked about the Year 2 topics and started putting our notebooks together. Barb-Harmony Art Mom has a great article describing the steps of putting a history notebook together. We also went to the library three times this week to pick up the slew of reserved history books arriving.
A couple of Tapestry favorites this week were: Sir Cumference and the Dragon of Pi, Sir Cumference and the First Round Table (also living math books for this week! Love it when we can read one book and it counts for two subjects!!)
We also made our salt map this afternoon. We haven't made one of those since our first year of Tapestry. It was lots of learning fun – geography, hands on style! For Tapestry users, I'll share all the details in a future post.
Living Math: one day this week we played board games. Blokus is logic! We also looked at last weekend's receipt from the grocery store. One of the children has volunteered to take on couponing. More on Cindy West's Loving Living Math coming in a review at the Curriculum Choice in September.
Answers in Genesis: God's Design for Life Human Body – just one lesson about the skeleton we read during lunch. The two older ones will participate in this study too as it compliments their Exploring Creation Through Biology Study (we just secured that curriculum last week – what a provision – and I'm still learning about it all!).
English from the Roots Up and Science Roots + vocabulary flash cards: Both new to our family this year. Both we enjoyed doing – just one root this week. (Following Harmony-Art Mom's lead again after her advice and review). My vocabulary loving, Latin background self likes it a lot! Hoping to add Rosetta Stone Spanish later in the year.
P.E. – We added tennis to our outdoor fun time. It's right next to the pool so a few can run over there and hit the ball around while I play with the others or even get in a few laps myself. Boy I am getting some exercise in lifting the youngest out of the pool after he jumps. And jumps. And jumps. And jumps! Once the pool closes then maybe our tennis time can carry on into the cooler fall days.
Cooking Fun: making fried zucchini!

I always appreciate spending some time on a weekly homeschool wrap. Even when I am feeling we didn't accomplish much during a week, a weekly wrap helps me see that we actually did do a few things!
Helpful Habit: Annual Planning and Goal Setting – While I do have our curricula picked out, know our general plan for this school year and have penciled in fields trips, I still need to plan out details. Each year, while we are on our family vacation, I keep a habit of Annual Goal Setting and Planning. I rise early before the others awake and meet with the Lord. I come with a blank spiral notebook and ask for His guidance. Last year I found that it was good to spend a morning on each child plus a morning on myself and on my marriage. I share the details of this in my article in the July Heart of the Matter digital magazine on p. 38. So many wonderfully encouraging and inspiring articles there!
Stunning! I just found out I'm going to the Savvy Blogging Summit in October 2012. It will be right here in my backyard – in Atlanta! So, I'll get to see my savvy blogging friend (and co-founder of Savvy Blogging), Erin Chase again! Plus so many wonderful savvy blogging friends!
All in all a really good week. How was yours?