Keeping up the habit of sharing some helpful homeschool habits on Fridays!
Wondering just how to get some learning done when half of you have been taken over by spring time pollen? Or some other sickness? Or some other challenge? Or the simple fact that there are the needs of the age range to attend to? Maybe it's even that sink full of dishes…
See, the beautiful weather we enjoyed last week and all that great nature study – led to several sinus infections at our house. One doctor visit and an abundance of tissues, Gatorade, saline spray and hot tea.
Gratitude
How do we face the obstacles? First of all, gratitude. Being grateful changes my perspective and makes me focus on all that we have. Turn negatives to positives. Reminds me of just how we are blessed. I shared the above photo of my overflowing sink of dirty dishes and an accompanying poem on Facebook one Sunday afternoon.
Thank God for dirty dishes; They have a tale to tell.
While other folks go hungry, We're eating pretty well.
With home, and health and happiness, We shouldn't want to fuss;
For by this stack of evidence, God's very good to us.
Let the Regular Schedule Go
So, this week I let the boundaries go. Children took naps on couches, slept in until lunch. But I did push the fluids!
And lots of them. We filled the sippy cups from Real Refreshment and BEECH Retreat. Lined up the bottles to keep up hydration. And now that we are at the end of the week I think we are turning the corner – just in time for Easter!
This homeschool moment brought to you by the brothers: Since we put up the hummingbird feeder last weekend, we get a wonderful rainbow color show about mid-morning. Big brother shared a long explanation – of light, refraction, colors and what we see – with little brother. Ready-made, unplanned science lesson. #1000gifts
Let Learning Happen While Lounging
Yes, big brother was resting on the couch. But he turned and helped little brother learn about light. And so while there was resting, there was reading. Remember my books on the mantel? There are hefty stacks of Tapestry of Grace books around the family room too.
1. Second grader did most of her school work at the kitchen table this week. More Gatorade available there. Plus our altered schedule and later start meant I was making lunch while she worked close by. | 2. Abraham Lincoln before supper, after piano lessons and before Bible study (and expecting to start reading Great Expectations soon). | 3. Saxon Math K – count as high as you can – and why not while leaping and rolling? | 4. This week's read aloud. One of those treasures of a d'Aulaire book.
And more reading! So, as they lounged, I read aloud. Or I made a small stack for each child to read independently. We also watched learning movies. Leap Frog Talking Words for kindergartener. We pulled out the Praise Baby and the Crowe's Nest DVDs. And since we are studying the Civil War, Tapestry of Grace suggested the movie Gods and Generals. I picked it up from the library. We'll watch it this next week with our high schoolers.

Keep Little Ones Busy with An Art Box
"Mama, can I paint?" Yes! He asked right before lunch so I pulled out the paint with water books from the Art Box (1. top left photo). | 2. We also had fun with instant snow a sweet friend brought over for a science experiment. | 3. The travel-sized dry erase board has been handy for hanging with its little hook and practicing reading with kindergartener. "Door" on the pantry door. I also found Littlest Girl teaching her younger brother early one morning. Oh how I love to 'catch' learning! | 4. Middle Girl practicing her drama troupe songs for her role as Mrs. Potts in Beauty and the Beast – coming up so soon!




I've been gathering our helpful homeschool habits on my Best of Hodgepodge Pinterest board as I share them. I hope they will help encourage you in your homeschool journey!
Trim Healthy Mama Favorites
A little update! I thought I'd share a few of my favorites from the past couple of weeks. I'm still learning and tweaking Trim Healthy Mama. I just love eating this way! I have had a few questions about my healthy journey over the last year. You may be interested in my Healthy Mama series  1. Trim Healthy Mama pancakes (p. 223) | 2. Just tried some Zevia for the first time this week. Not bad. I'll be trying other flavors too. | 3. Mamaw's Cheese Salmon Loaf – tripled and modified just a touch (no bread crumbs) | 4. Slow Cooker Cream Cheese Chicken (leftovers with some avocado topping) – this was my favorite! And my children LOVE the cream cheese chicken in the white sauce it makes.
I do hope you will enjoy the Easter Crown of Thorns art tutorial. We are pulling out the chalks again today! And we're looking forward to all the happy Easter celebrations this weekend. He is risen indeed!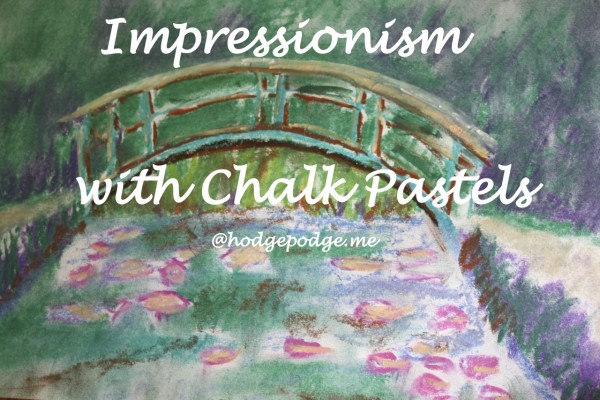 **Hodgepodge subscribers will notice that our spring tutorials are back for a short time! Baseball and Bat plus Impressionism with Chalk Pastels: Monet's Bridge. You can find the download links in your subscriber email. More on those next week! (And you can subscribe by entering your email address in the upper right hand corner and clicking the subscribe button. Then you too will receive three free art tutorials plus our Homeschooling in Georgia ebook!)
In summary, when facing 'obstacles' I will share this again: What this busy, blessed family life really amounts to is that I am made to rely on Him and not my own strength. We are blessed over and above. Henry Blackaby's quote encourages me: "The heroes of the faith had one thing in common: They were all ordinary people with no power of their own. The difference is the mighty presence of God."
Many thanks to our hostesses!