Warning
: Trying to access array offset on value of type null in
/home/n0c986d/public_html/hodgepodge/wp-content/plugins/amazon-associates-link-builder/vendor/mustache/mustache/src/Mustache/Parser.php
on line
278
Over the next weeks we will be enjoying a few, long-standing homeschool habits – those holiday homeschool celebrations. With both Thanksgiving and Christmas coming up, our schedule is a little different.
Not only because are involved in several activities at church and in drama productions, plus blessed with family times but also because it is a perfect time to change up the schedule. We can focus on Thanksgiving then the Advent season.
The affiliate links included are for resources we absolutely love. Thanks for helping keep Hodgepodge running! Please see our disclosure policy.
Since we will have a captive audience in grandparents, we will do our annual Tapestry of Grace Thanksgiving Homeschool Celebration (play piano pieces, present history display boards and oral reports/speeches, share science experiments) and the Thanksgiving Homeschool. See, having presentations and reports on Thanksgiving gives us closure and something to aim for – a deadline, a goal for each of our subjects! We've already counted and we'll be half way through math for the year by the week before Christmas. Yay!
Christmas School – Do you homeschool in December? This is the way we approach it.
Read an advent storybook. This year we will enjoy the newest in the Jotham's Journey series: Ishtar's Odyssey and we get to start it the Sunday after Thanksgiving!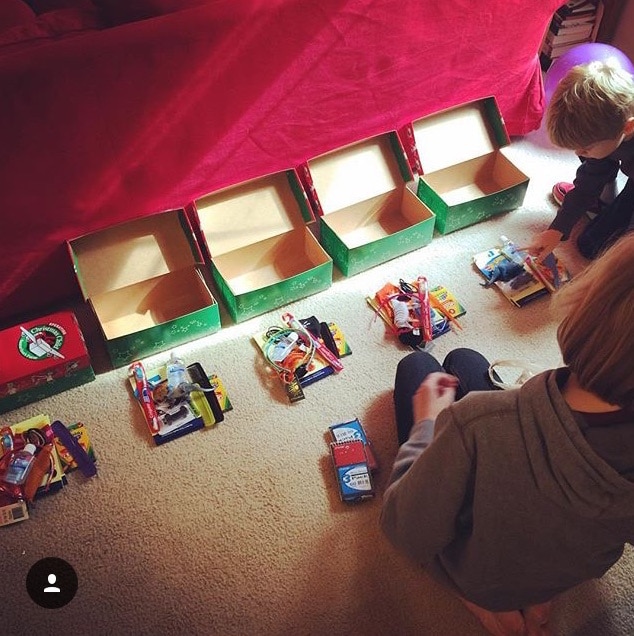 There's still time to pack a box! Yay! @operationchristmaschild shoebox packing time! ?#OperationChristmasChild #ipackedashoebox #1000gifts

Excited to see what the future holds for our girl! #Godsgotthis #HodgepodgeHomeschool
Homeschool Senior Moments
An update on our Imperfect Homeschooler's Simple Guide to the College Search! Our eldest has now been accepted to her top two college choices! She has been offered a sizable partial scholarship to her first choice. So I am excited to see how the Lord will provide over the next months. Meanwhile, we pray and jump through all the upcoming financial aid hoops.
Still learning!

Making Time for Developing Talents
This #homeschool moment brought to you by 2nd grader. His homemade fan is helpful for math and 4th grader's spelling. #160in1electronicskit plus #snapcircuits #alligatorclamps #HodgepodgeHomeschool ? (My husband used these types of kits when he was growing up! You can find a

We've been doing this all of our homeschool years but I suppose I didn't really name it as such until I heard about 10K to Talent by Jonathan Harris (be sure to read Eva Varga's review at The Curriculum Choice!) Of course we have spent many hours building a love of art! Reading…
Before Daddy went to work and before breakfast – lemon battery experiment. ? He got almost 2 volts out of two lemons (not pictured: the @doverpublications Safe and Simple Electrical Experiments book that inspired him!) #homeschool #HodgepodgeHomeschool (He is using parts of his


Leisure Reading
Oh I always look forward to leisure time over the holidays for reading! Like Eldest Boy and
Compass Classroom's American History by Dave Raymond
.
Oh – and those pies at top? A photo taken several years ago at my aunt's house. Here is our Allergy Friendly Thanksgiving Menu plus a Southern Cornbread Dressing Recipe (I'll be tweaking to make it all more gluten free).
Next week I'm also going to be hosting both an essential oils gift "make and take" get together and Thanksgiving at our house. What are you looking forward to?
Linking up and sharing in the fun with Mary's Collage Friday,  Finishing Strong at Education Possible and Kris' Weekly Wrap Up.