~Affiliate links are included in this post. This means if you purchase the Omnibus through my affiliate link that I will earn a portion of the sale because I am a contributor. Thank you!
See the full list of iHomeschool ebooks and buy now:
–> This sale ended 8/25/13
There are many resources in this gigantic Omnibus library to make for a happy home! Here are a few I picked out that I thought you would want to know about:
The Homemaker's Guide to Creating the Perfect Schedule: written by Amy Roberts from Raising Arrows
31 Days to Build a Better Spouse: written by Ashley Pichea from Life by Ashley Pichea
51 Frugal Father-Daughter Date Ideas: written by Ashley Pichea from Life by Ashley Pichea
Boyschooling: written by Jamerrill Stewart from Free Homeschool Deals
Called Home: Finding Joy in Letting God Lead Your Homeschool: written by Karen DeBeus from Simply Living…for Him
Finding Educational Activities in the Most Unexpected Places: 200+ Activities for Young Children Using Common Household Objects: written by Angie Kauffman from Many Little Blessings
God Said So: written by Alisha Gratehouse from Flourish
Menu Planner: written by Marianne Vanderkolk from Design Your Homeschool
Preschoolers and Peace: Homeschooling Older Kids With Success While Loving the Little Ones at Your Feet: written by Kendra Fletcher from Preschoolers and Peace
Princess Training: for the King's glory: written by Richele McFarlin from Under the Golden Apple Tree
Steady Days: A Journey Toward Intentional, Professional Motherhood: written by Jamie Martin from Simple Homeschool
Blog at Home Mom: written by Christin Slade from Joyful Mothering
Plus Chalk Pastels Through the Seasons, Return of the Routine and the Southern Hodgepodge cookbook bundle and many, many more!
You can see the full list of over 90 ebooks here <—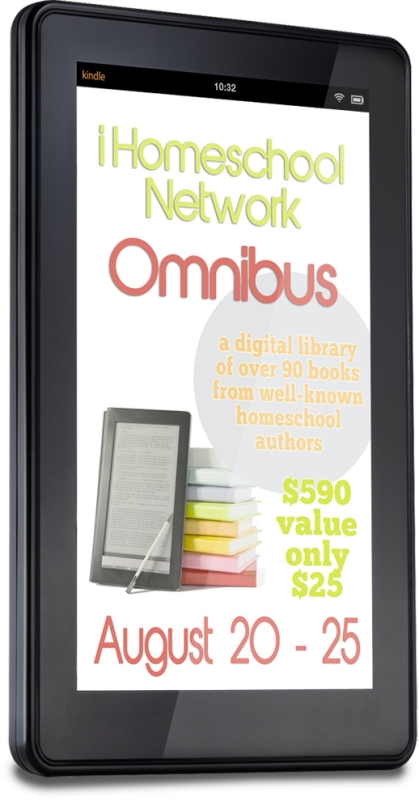 –> You can see the full list here <–
But hurry – you can only buy the Omnibus through August 25th! For only $25 – That's less than 28 cents per ebook!