You might remember that last year all our ages studied marine biology using Apologia resources. Oh we could just continue to camp out there! What a fantastic year of learning it was!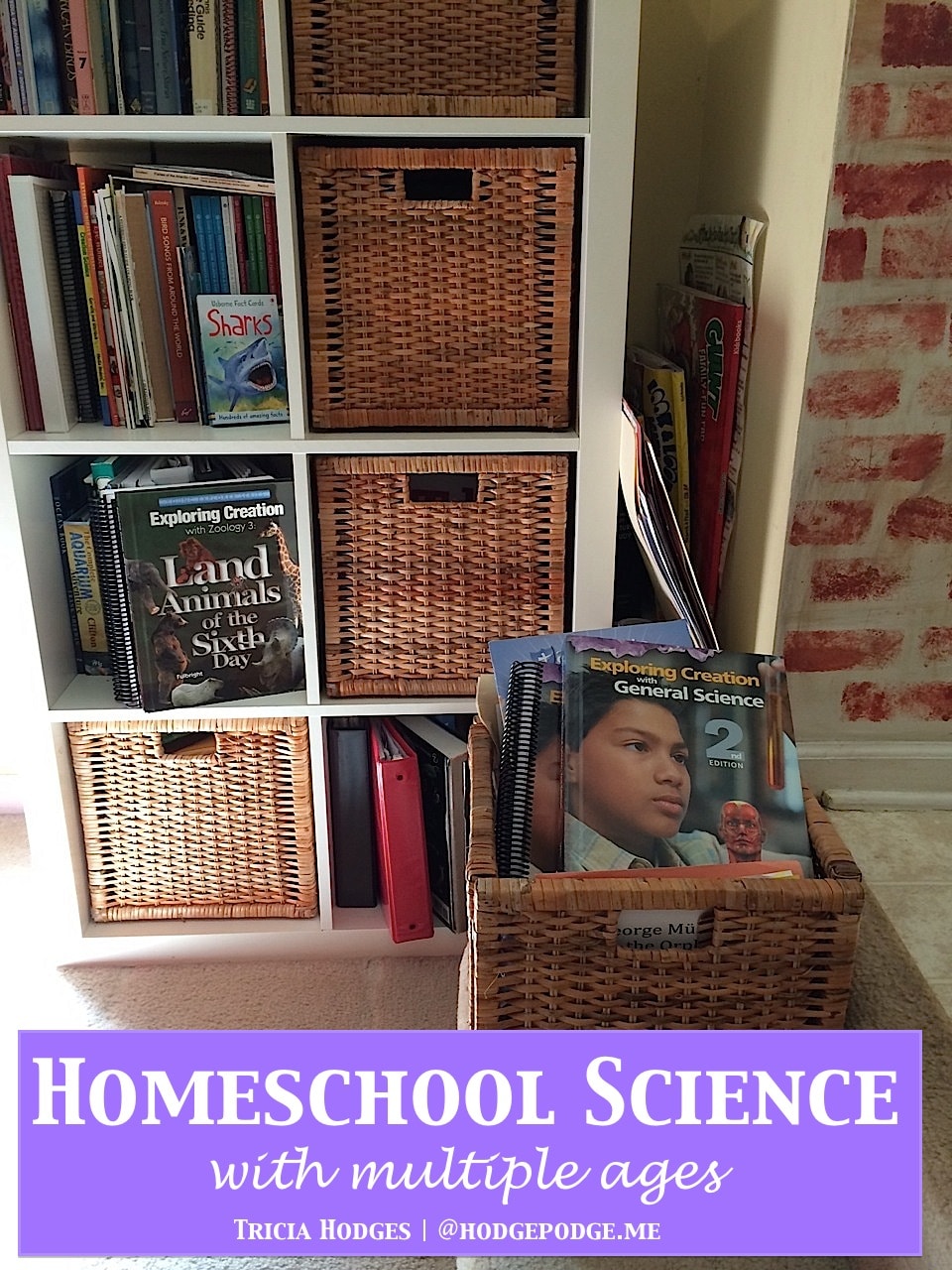 (More on that Most Used IKEA Bookshelf in 10 Homeschool Learning Centers at Hodgepodge)
But, we have also been excited about new studies this year. My 10th grade son is especially looking forward to Apologia Chemistry. So, today I am sharing the hodgepodge of different science topics we are studying with all our ages: elementary, middle and high school.

Apologia Elementary Science – Exploring Creation with Land Animals
Apologia's Exploring Creation with Zoology: Land Animals of the Sixth Day. The elementary Jr. Notebooking journals are a hit again this year. ( <— You can view the Table of Contents and see a sample of the notebooking journal at this link.) We plan a special field trip to the Atlanta Zoo. But we've already made a trip over to great-grandmother's to build a zoo. See, on all my grandmother's travel adventures, she collected some wonderful rocks.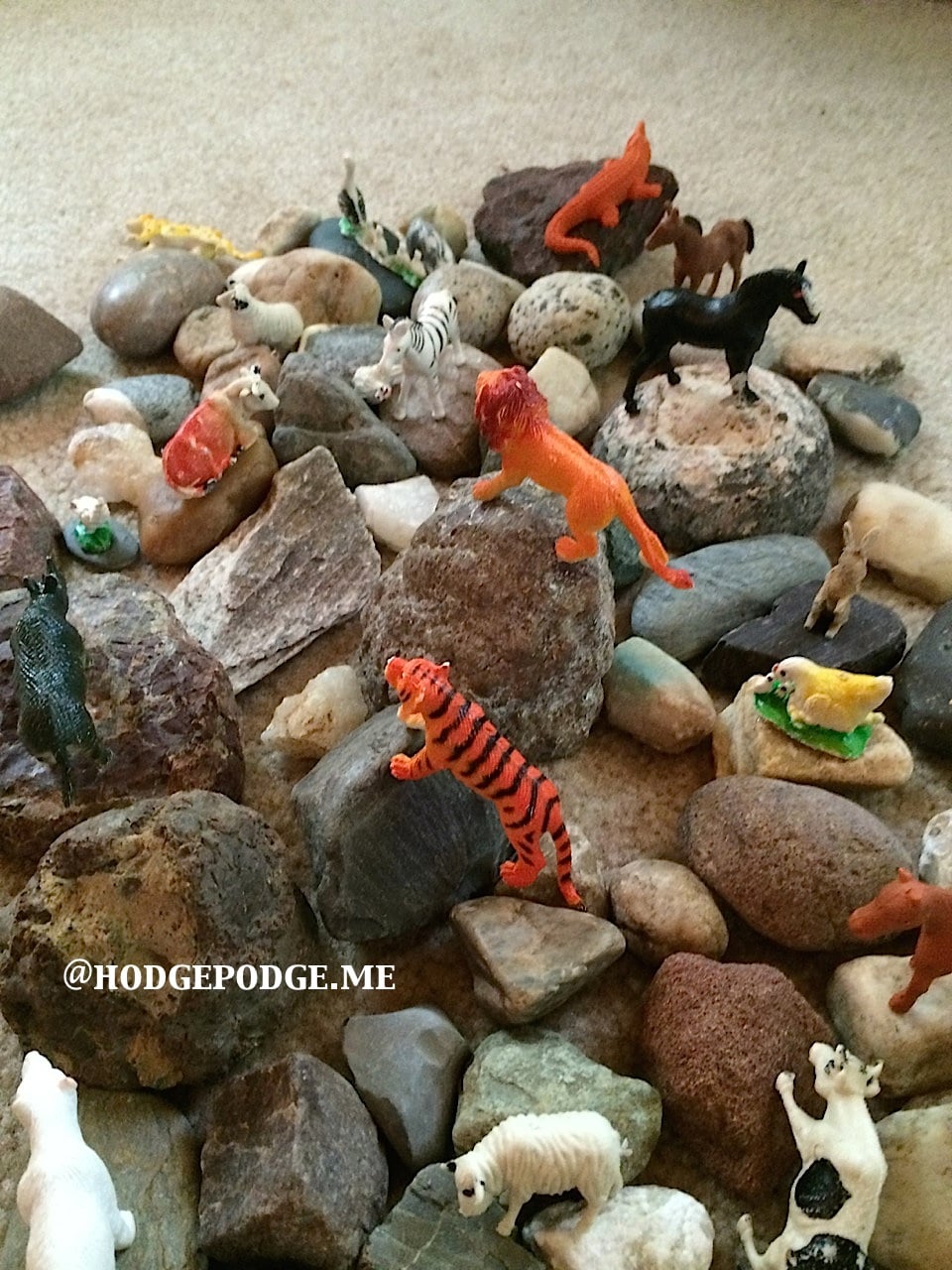 Those rocks, along with her collection of plastic zoo toys, make for a wonderful model zoo! Last week I also shared about how the younger two children and I have our science time after lunch – sometimes even in the morning now and then.

Apologia Middles School Science – General Science
Sharing my review (with a giveaway!) of this wonderful resource today at The Curriculum Choice. "… Be prepared to be awed and amazed with what the Creator has made for you!" We especially LOVE the Student Notebook. It offers practice in answering questions, note and test taking plus places and forms for observation of science experiments. Plus, there is a suggested schedule to follow. Love this! Remember last week I shared some photos of my 7th grader doing General Science experiments independently.

Apologia High School Science – Chemistry
Having completed both Apologia Biology and Marine Biology, our high schoolers are ready for Chemistry. While Chemistry is back ordered (Apologia resources are very popular! They are #1!), we can keep on reading in marine biology and think about the beach. Since we so recently returned from the beach and several field trips there, its the perfect opportunity to dig a little deeper.

More on Homeschool Science at Hodgepodge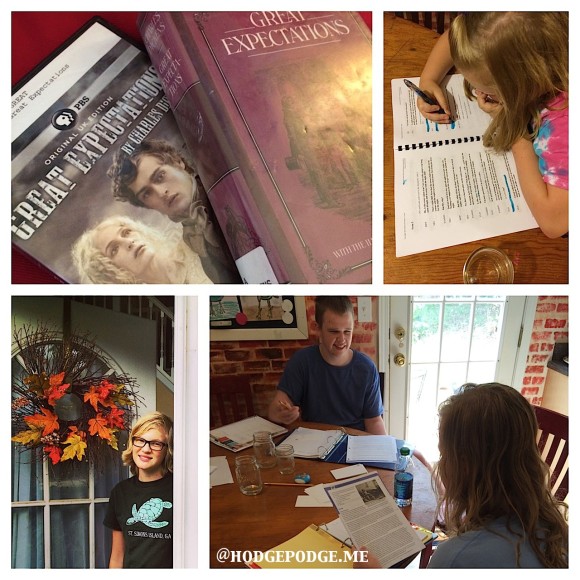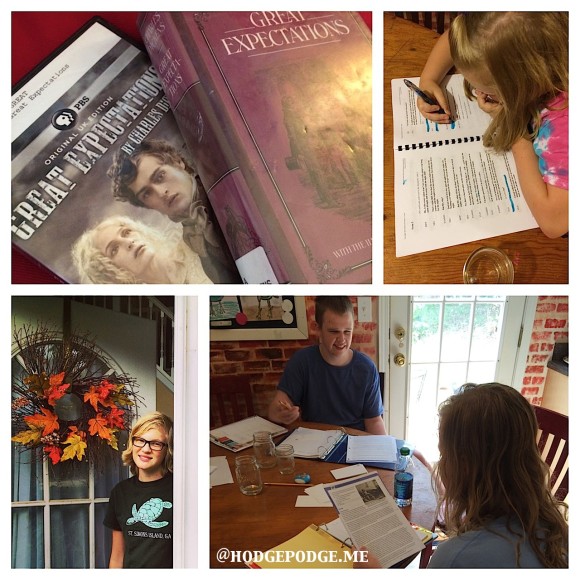 A Hodgepodge View of Our Week
1. We are digging into our Tapestry of grace literature studies. Sometimes the movie helps us get going better on the book. Plus adds a whole 'nother layer of discussion. | 2. Littlest Girl was very excited about her part in the Christmas play! #loveourchurch | 3. Opening the door to fall (while we still wear flip flops and shorts and spot some falling foliage | 4. More Tapestry of Grace literature discussion – literary terms and thinking questions.
We also had some successes with reading with our littlest guy, some jumping of hurdles with character training all around (and I always speak of myself here too!) Plus, besides piano lessons, 11th grade Eldest Girl started keyboarding lessons this week too. And we are plugging along and learning with Visual Latin.

Free Getting Start in Art eBook
Have you wondered how in the world to get started in art? What about the world of chalk pastels? And why chalk pastels? Well, we thought if we put all our best tips in one place that would be a great start! So we created our FREE Getting Started in Chalk Pastel Art eBook for you! —> Get your copy now at Southern Hodgepodge!
Many thanks to these kind hostesses (I'm linking up!):
Is there a touch of fall in the air yet – where you are?