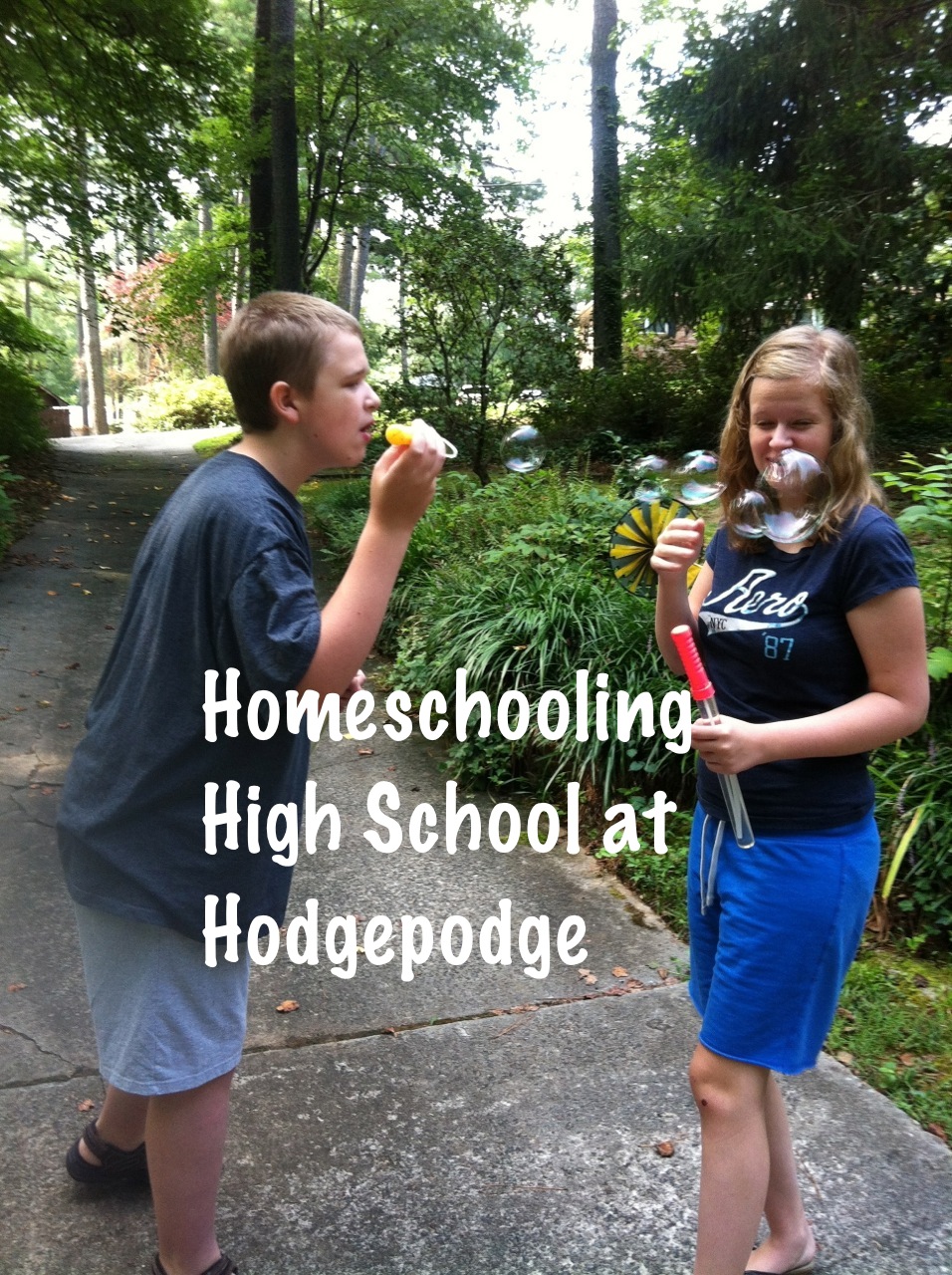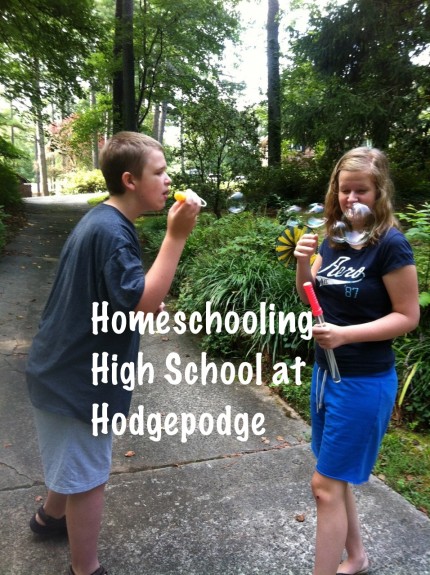 My eldest two children are just 20 months apart in age. So, quite naturally they do many of their studies together. They are only officially a grade apart. For the 2012-13 year, they are my 8th and 9th graders. It was a few really busy years when they were both so little. But I've always been thankful God designed our family that way. This sister and brother compliment one another so well all around.
Last year of middle school, first year of high school. It's the start of a new part of the journey. What a privilege to homeschool high school. I've talked about this being a big year for our preschooler, our first grader and our 5th grader. It's a big year for my big children too. So, I thought it was time to start the year with…
Planners: Back at Apologia Live, I won this Ultimate Weekly Planner for Teens. My daughter and I were already quite taken with it. But then I saw Maureen at Spell Outloud's pin and her notes convinced me to purchase others. Each of my older three now have one plus my high schooler and I are soaking in the 4 year high school planner. And below are the resources we'll be using. I'm sure we'll tweak it along the way. And don't forget I'm sharing the resources we'll enjoy with our multiple ages tomorrow, like Tapestry of Grace.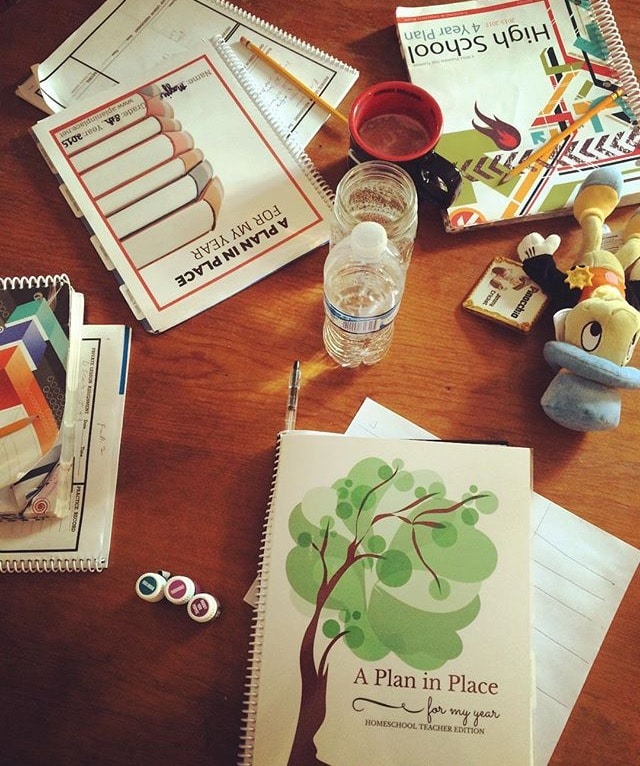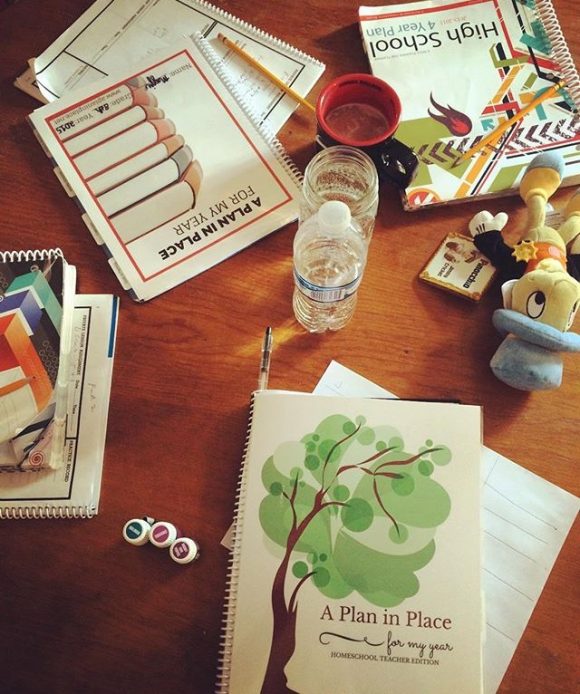 Update: We have since grown to truly love A Plan in Place homeschool planners. We have the student, high school and the homeschool teacher versions!
Now, these planners I mention, make their home in each child's 'catch all' basket in our homeschool room. Within easy reach since everyone begins the day with math after their Before 8:45 checklist. (Please see 10 Parts of the Hodgepodge Homeschool Schedule).
8th grader is an auditory learner, he prefers to listen to Teaching Textbooks lessons. 9th grader is a visual learner, she much prefers to read her lesson.
And since these two children are young adults, they choose where they work best. At the chalkboard desk, sitting in the big chair in the school room, stretched out on the family room couch, sitting and pondering on the backyard swing, gathered around the kitchen table or relishing the quiet of a bedroom.

8th Grade and High School Curricula
Teaching Textbooks – 9th grader is finishing up Pre-Algebra, 8th grader is starting it. Waiting to make the Algebra purchase until later!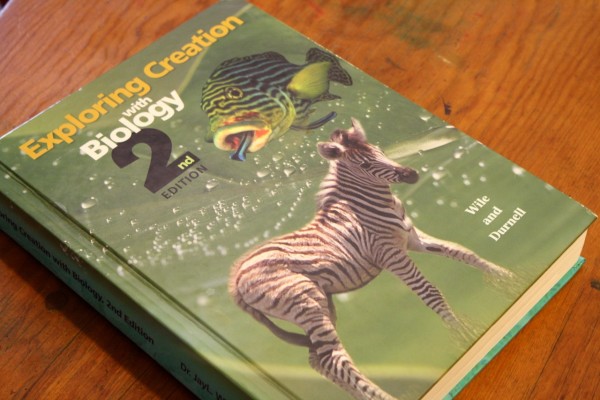 More we enjoy as a family I share  in Hodgepodge Curricula 2012-13: art and music study, Tapestry of Grace, nature study, AiG science, etc.
Eighth Grader – Middle School
This past week was such fun! We ate at Chickfila a couple of times. Once before going to see comedian Tim Hawkins – "Chickfila, I could eat there seven times a day!" Of course, homeschooling high schoolers means the need for plenty of food, so after Tim Hawkins, we needed to swing through the drive thru at Krispy Kreme donuts. Expecially since they were 'hot now'. Our older ones do their studies in different spots, as pictured above.
9th Grader – High School
Independent Bible study
Driver's Education
Drama Troupe  – performing The Best Christmas Pageant Ever and The Wizard of Oz
Youth Group Lead Team at church

Additional Resources
I hope you'll be back! I invite you to subscribe to Hodgepodge so you won't miss a post. Over the next several days I'll be sharing the remainder of our plans for preschool, 1st, 5th, 8th and 9th grades plus those things we enjoy with multiple ages. Our Curricula 2012-2013:
This post is linked to Collage Friday hostess Mary at Home Grown Learners, Weekly Wrap-Up hostess Kris at Weird, Unsocialized Homeschoolers plus Homeschool Mother's Journal at iHomeschool Network
It's the start of a journey and I'm excited! What am I forgetting??
Save