Warning
: Trying to access array offset on value of type null in
/home/n0c986d/public_html/hodgepodge/wp-content/plugins/amazon-associates-link-builder/vendor/mustache/mustache/src/Mustache/Parser.php
on line
278
Today we are going to go on an art adventure! Most of our lessons are of everyday objects, landscapes and such, but in this tutorial we are going to paint an impressionistic type painting in the style of the great French artist Henri Matisse. A Matisse chalk pastel art tutorial.
This is a famous and iconic figure called the "Icarus."
~This post contains affiliate links to art supplies we have used and loved for years – and those we highly recommend! Please see our disclosure policy.
We thoroughly enjoyed using our brand new set of 
We broke some of our new chalk pastel sticks in half so that they were easier to handle. Nana showed us how to do this in her video of the Very Few Must Have Chalk Pastel Supplies (with a fall tree tutorial). It is perfectly acceptable to break pastel sticks into a smaller size for little hands to hold. Plus, it makes more sticks to share around a family!
Matisse Chalk Pastel Art Tutorial
The figure of the Icarus is very simple to paint; you will need the following pastel colors: black, yellow, medium or light blue and red.
Turn your paper length-wise and start your painting with your black pastel. I chose to start with the head, it is a round head, and just flows into the shoulders on the left of the head, down a long arm (look, no fingers to draw!) then slowly draw the underarm and trunk or middle of the body. Next are longish legs (just "pointy feet, no toes or heels!) and curve up the right leg, under the right arm and hand and meet back at the shoulders at the head!
It's handy to have baby wipes or slightly damp paper towels at the ready for a quick swipe in between colors.
You may be able to draw the entire body of the Icarus without lifting your black pastel off the paper!
With the black pastel still in your hand, smooth in a layer of black over the entire body…BUT…leave a spot open for a very red heart drawn right in the middle of the chest! Make your Icarus as smooth and black as you can so it will stand out on the paper.
Then take your yellow pastel and draw some star shapes, the stars do not have to be the "twinkle, twinkle" kind, just a loose star shape…about four or five stars, or as many as you like.
The lovely medium or pale blue pastel encircles the Icarus and the stars…be careful not to get the blue on the yellow stars or you will have green stars! Which is fine, really, this is YOUR painting, and not anyone else's.
Icarus (L to R) by kindergartener, by Nana and by 11-year-old.
Look at your wonderful painting! Why, you have become a French artist! Great work! When your family or friends ask you what the figure is, you will be able to tell them that you drew the famous "Icarus" like Henri Matisse! Yes, remember, you ARE an artist!!
Want more on Matisse? Check out Harmony Art Mom's Four Fabulous Fauvists Paintings to Study. With a free printable!
Featuring You! You ARE an Artist!
So, paint your Icarus and be sure to share with us! Simply tag @chalkpastelart on social media, use the #YouAREanArtist hashtag, or upload a photo to the ChalkPastel.com Facebook page!
A note on chalk pastels: Pastels are an easy, forgiving medium. Fun for children and adults alike! Details on the pastels and paper we use, how and where to purchase, and links to all of Nana's other pastel lessons are here: 100+ Free Art Lessons for All Ages plus the video The Very Few Must Have Supplies for Chalk Pastel Art. A simple set is very affordable. Nana also teaches acrylic lessons.
The practical aspects of a mess: Pastels are blessedly messy. We always have baby wipes close by to wipe hands. We wear something we don't mind getting stained or don a smock.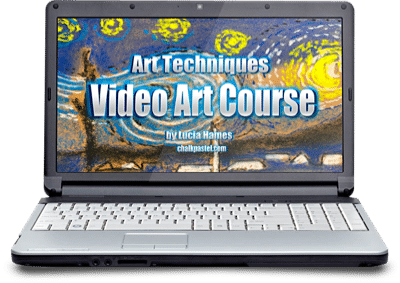 Do you and your artists learn best with a video art tutorial? Find our Art Techniqes with Chalk Pastel Video Art Lessons at ChalkPastel.com!