I'm making it a habit to publish at least one recipe from this red and white checked cookbook each week. Today, an updated post from the archives that tells the story of the Hodgepodge Cookbook…
It's a recipe book that spans a century. It's a snapshot of celebrations past.
In this cookbook my mother writes: "This is so good it'll make you want to slap somebody." – above the recipe for artichoke dip. Hodgepodgedad dubbed this The Glory Dip.

***Great stuff!! "This recipe was written so long ago – it was spattered and stained – must be a sure sign it is good!" – Pumpkin Bread recipe

"This is a good and economical way to use up old, ripe bananas. Excellent with coffee for breakfast." – Banana Bread Recipe

"I think this recipe came from Mamaw's mother, Marnie. The paper it was written on was very old and yellow. These are cookie-type shortbread. Good with lemonade on a summer day." – Scotch Shortbread (a recipe from my great-grandmother!)

"I think this was the first dish I ever cooked. I didn't know what chicken parts were what – so I cooked the neck and back and threw away the breasts." – Forget It Chicken

These are the hand-written comments my mother added to the family recipes she compiled for me the first Christmas I was a bride. I think she realized it was needed after I called her long-distance so much those first few years apart.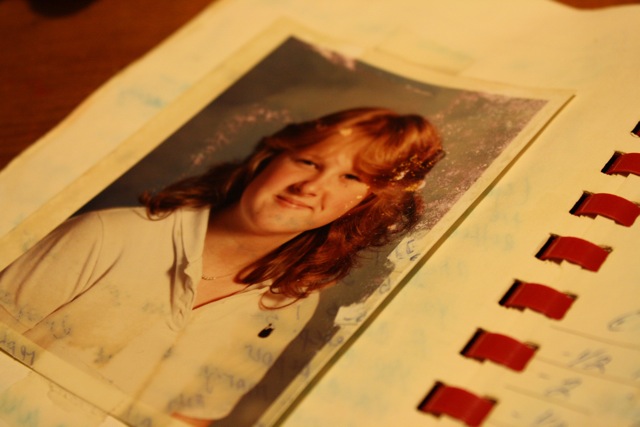 She also added pictures of me and my brother growing up. Photos of my brother are next to some of his favorite recipes. And there is a school photo of me in my feathered "winged" hairdo glory – next to a favorite casserole.
Above the recipe for Orange Balls my mama comments, "This is Mamaw's recipe. I made thousands for her and Pawpaw's 40th wedding anniversary party." Then opposite the recipe is a photo of my grandfather in his judge's robe.
I've added my own recipes along the way. I've also written in the occasion the recipe honored. The chocolate chip cake starts in August of '95. Back when I was an editor, before my real job as a wife and mother, I baked it for coworkers for a Publications Group summer party. Other times I baked the cake to celebrate a baby dedication, my Daddy and brother fixing our front porch steps in May 2001, the cousins visit from Utah in Thanksgiving 2004, Christmas ice storm 2005…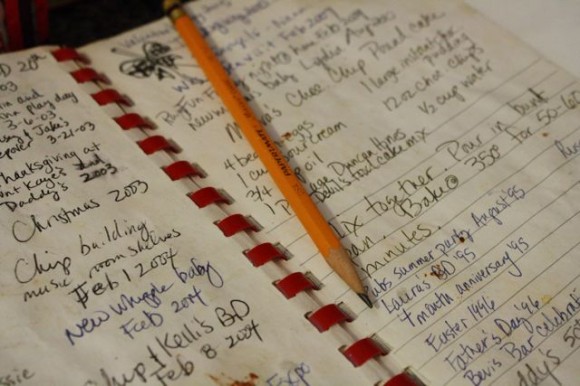 …all events I may have forgotten had I not jotted them down with my messy, recipe-fixing hands.
In January, I had the pleasure of meeting cookbook author and $5 Dinner Mom, Erin Chase, at her cookbook signing here in Atlanta. I took my new copy of her Breakfast and Lunch Cookbook for her to sign.
I also took my family cookbook for her to autograph. She pointed out something that is so true. Erin said that this type cookbook was the 'blogging' of our mothers' and grandmothers' time. Each recipe with instructions, a story.
Because when I open that cookbook I take a peek into the past. I reminisce about my newlywed days or a child's birthday as I'm fixing supper.
And I'm so very thankful for my mother and her love. She took the time to write it all down for me for Christmas. To share her stories and Mamaw's stories. It's a gift that blesses weekly.
And I must do it for my children too.
Recipes I've posted so far that belong to this cookbook are included in Hodgepodge Recipes 2008-2010.
And I'm pleased to announce that we do have our very own eCookbooks available!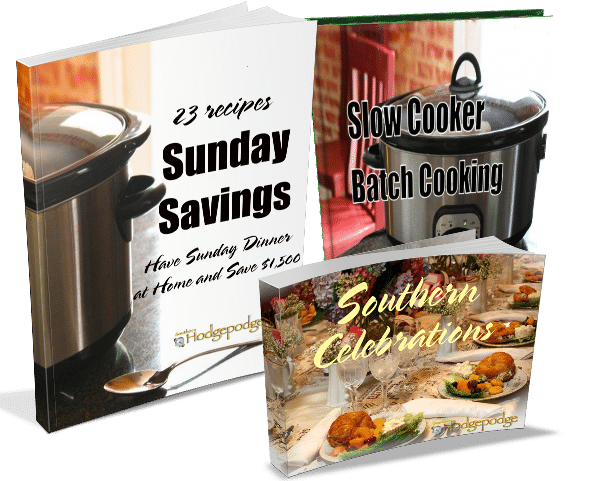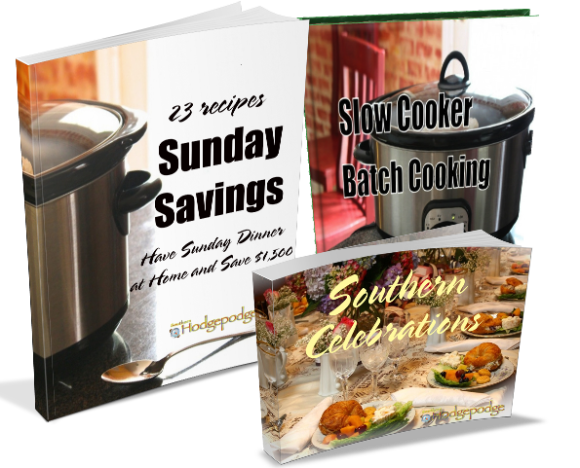 Sunday Savings, Slow Cooker Batch Cooking and Southern Celebrations! The Southern Hodgepodge cookbook bundle. This bundle of cookbooks includes the practical strategies that help us save money and get supper on the table. Each offers traditional and Southern classic recipes, handed down through family generations. All topped off with the time-honored how-tos for making celebrations special.