Enjoy this encouragement on the importance of homeschool mentors and where you might find mentors!
When I met Sherri, she was right where I am today. She had some homeschooling years behind her. She'd relaxed. I had three children five and under. I was just starting out. As one of the founding members of our homeschool group, Sherri was already teaching the middle school years. She encouraged me just by being herself. And she made me laugh. Laugh at myself and laugh at this homeschooling journey.
So it's with great pleasure, I introduce to you one of my friends and homeschool mentors, Sherri Johnson. – Tricia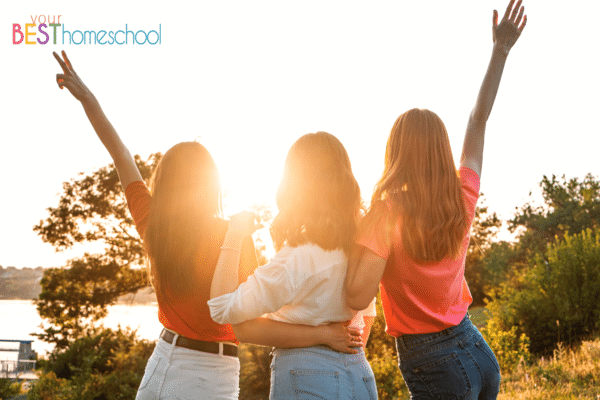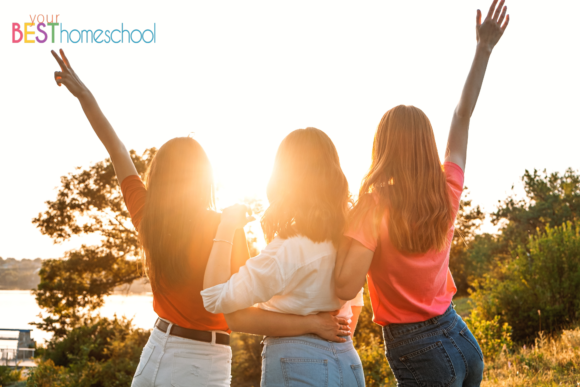 The Importance of Homeschool Mentors
People from all over the world know about mentoring, but in the homeschooling community, mentoring is often an understated occurrence. A great deal of it occurs, almost by osmosis, simply when one homeschool mother watches another homeschool mother interacting with her children. Homeschoolers have the ability to mentor everyone within their reach and often do not realize when they are doing it.
Thirteen years ago, homeschooling was something about which I knew very little, if anything. I followed in the footsteps of every other mother I knew and sent my child to public school. To my surprise and disappointment, it took less than a month for the novelty to wear off. My daughter learned all about the birds and the bees from a boy in her class and she learned how to do the Macarena, which I was not exactly thrilled to see her do. This was not my idea of Kindergarten.
Mentors, Come Out, Come Out Wherever You Are!
That September was the longest month of my life. The long awaited for days of Kindergarten had somehow failed to meet my expectations. The days of being a big girl and going to real school had proved to be less than my five-year-old daughter had expected, as well. The endless hours of separation tore at our hearts. My husband worked at night, allocating only the weekends for family time. Suddenly, what seemed normal to everyone else became foreign to us. I did not know what to do about our situation. I began to pray that God would help us through the transition into the countless school days ahead, but knew in my heart that there must be more.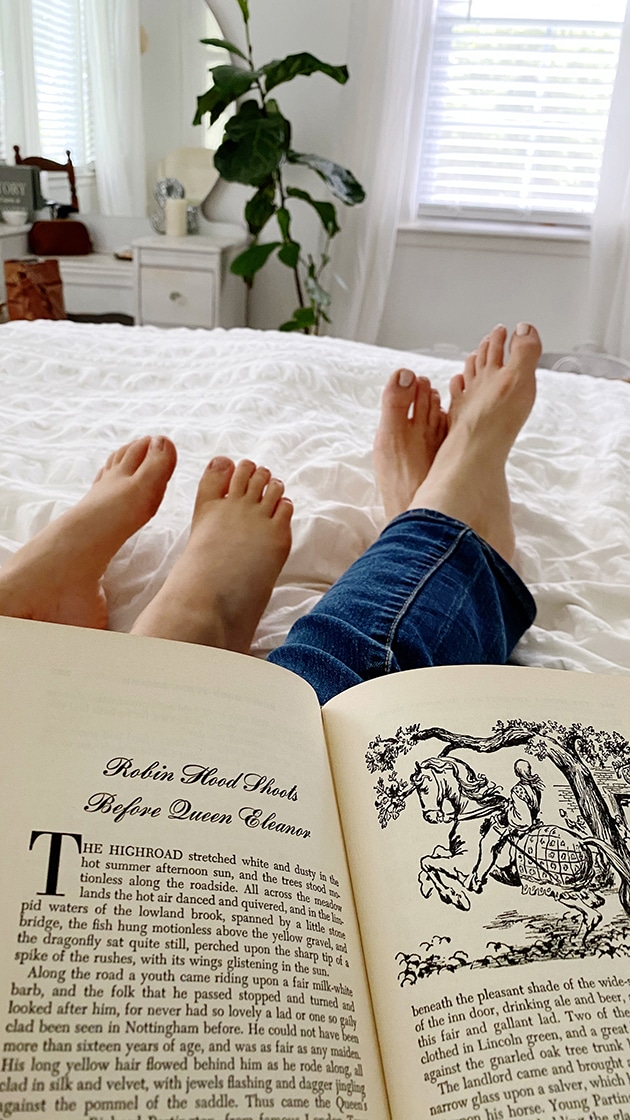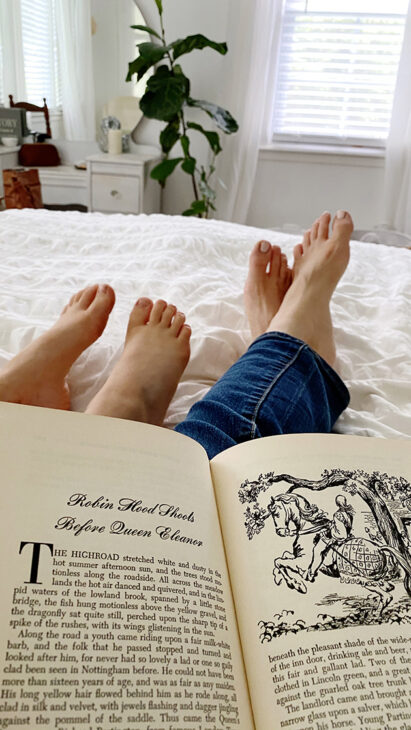 Where You Can Find Homeschool Mentors
Little did I know it at the time, but the pastor's wife at our new church homeschooled her five children. As I struggled to get Kayla through Kindergarten, I watched Deborah. The unique relationship she shared with her little children/students and the tranquility she exhibited amazed me. Now, she was not always calm, but she had a radiating inner peace and confidence regarding her family that I myself lacked. One day I talked to her about my dissatisfaction with school. I was not sure if it was the teacher, the public school system or if it was school away from home in general that discontented me.
Without suggesting that I homeschool or questioning why I had not chosen to do so, Deborah welcomed me into her home so I could see what a day in the life of a homeschooling family was like. She never knew that until that day, I did not even realize homeschooling existed for the average person. I thought you had to be part of a cult or commune to participate in such a thing. She willingly shared her wealth of knowledge with me and never pressured me to follow her example. However, for the rest of that day I could not stop thinking about having my daughter home with me every day and having the opportunity to teach her educationally and mold her spiritually, protecting her at this young age from the influence of the world.
The next fall, after receiving a clear word from God that this was His path for our family, I began to homeschool. I was ready to face the challenge of teaching Kayla the three R's and ready to help her put on the armor of God in preparation for the battles she would someday fight. I also took the plunge and began to teach my three-year-old son, Seth, a little each day, mainly because he wanted to do school, too. Throughout the year, Deborah and my new friends in our homeschool group guided me down a path of adventure that changed my life and the lives of every member of our family. They were not even aware that they were mentoring me, but that is exactly what they were doing.
The Importance of Homeschool Friendship
Homeschooling has never been easy, but with the help of other homeschool friends, it is a joyful, rewarding experience. During my years of homeschooling, I have encountered many mothers who fear to ask for help because they do not want to seem weak or somehow less qualified to teach their children than their contemporaries are. For some mothers, it is easier to think about quitting homeschooling than it is to think about pressing onward. I remember the Apostle Paul who said to press on toward the goal so that the prize may be won.
Therefore, when my friends feel like they cannot go on, I take every opportunity to encourage them, even if they do not want to be encouraged. I do this because I remember the times that I have wanted to throw my hands up and quit, which still happens at times.
I know what it feels like to try to run from a calling, as well. When a mind is made up, the heart grows hard and cold. In those moments in my life, my friends have come along beside me and have pushed me on when I did not have the strength to get through the next day. It takes true, caring mentors to break that shell and melt that ice so that you can resume your mission. When this is accomplished, it allows a mother to accept the challenges ahead, seek the Lord with all her heart, and then move on with the confidence that He will be beside her every step of the way.
Homeschool Groups and Homeschool Co-ops
I have met many homeschooling mothers who choose to remain autonomous from a group. Reasons I have heard for this decision is that these moms do not want to have to teach at a co-op or take a leadership position within a group. Homeschool groups or co-ops, in my opinion, are wonderful gifts from God. With ten, twenty, or more mothers in a group, the plethora of support is immeasurable and the impact you can have on someone's life may never be known on this side of Heaven.
When a veteran homeschooler mentors you, you reap the knowledge from her years of sewing. Like many homeschoolers, I do not actively recruit people to homeschooling. However, when someone finds out that I homeschool, and the questions of curiosity pound me like bullets fired from a machine gun, I love to answer their questions. I appreciate that most moms are overwhelmed with the thought of having their children home all day and would never even consider participating in this crazy thing that I do. Just the same, I share, hoping to be helpful in some way. As a result, several friends of mine have prayed about homeschooling and have made the decision to do so.
One question I often get from people who either do not homeschool or who are considering doing it is, "Don't your kids drive you crazy being with them all of the time?" My answer to them is, "Yes, at times they do. But, I believe they would drive me crazier if I had to decontaminate them from the influence of the world and their peers at the end of every day." Therefore, I relish the thought of being with them, no matter how crazy they drive me. In their defense, I am sure I irritate them just a little bit, too.
Now beginning my fourteenth year of homeschooling, with my daughter graduated and my son not far from finished, I find myself more often than not on the mentoring side of things. God has blessed me with many full years of experience. I consider it an honor to be in a position to give encouragement and advice, after receiving them for so long. In our group, there are only a few women, myself included, who have been homeschooling for enough years to have graduated their children. We are thrilled to see the many young mothers who are joining our group every year step up to the plate and answer the call to educate their families. We recognize our responsibility to show them how to be mentors to the new mothers that will come into the group long after we are gone. We wear the battle scars proudly and vow to keep our armor on at all times. Satan does not want to see families succeed for the Lord and he certainly does not want to see them homeschool. Therefore, we wear our armor and guard our new mothers fiercely.
I believe if anything is worth accomplishing, there will be struggles and there will be days that seem impossible to get through. That is why it is so important that practiced homeschool mentors take an active stance in regards to mentoring so that homeschooling does not become a lost art.
More Encouragement for Homeschooling
Catch up with Sherri!  
first published July 2010 in the Habits for a Happy Home section of Your Best Homeschool.