Today we are painting with our pastels our version of Monet's water lilies and the bridge. This art lesson came about as a result of our learning with Passport France Download n' Go by Amanda Bennett. So, today we are not only offering this free chalk pastel tutorial but Unit Studies by Amanda Bennett has a fabulous giveaway in store for Hodgepodge readers, below!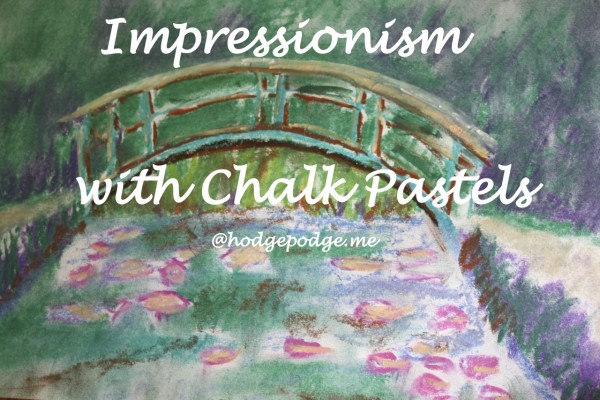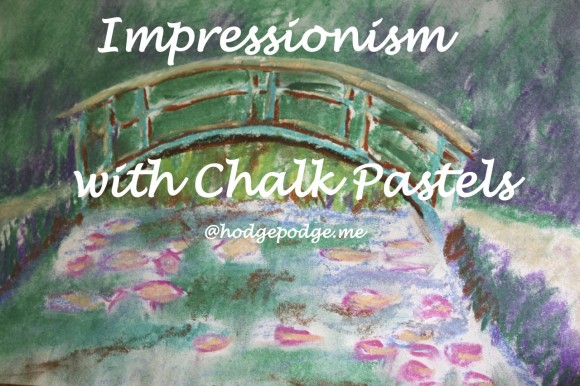 The impressionistic technique is surprisingly easy, because you are using the pastels as they should be used…making soft, misty lines of the landscape. We had a picture of the bridge to go by; you can use one online or in a book if you like, or just make a bridge over a pond. For the remainder of the lesson, please…
>Download your free Impressionism with Chalk Pastels: Monet's Bridge Tutorial today. Subscribers will find it at the bottom of the subscription feed or subcriber email.
Free, For You, Dear Readers
1. Now you can have a Master Artist teach your whole family! Art for All Ages: A Simple Start in Chalk Pastels ebook – the convenience of our tutorials all in one spot. Just add chalk pastels and paper. (see the discount code below) 2. Monet's bridge – free for subscribers 3. Madeline at the Eiffel Tower Chalk Pastel Fun  4. Lily Pad Chalk Pastel Tutorial
**Would you like to see just how many of the art tutorials in A Simple Start in Chalk Pastels line up with Unit Studies' titles? Amanda Bennett shared a list in her review A Simply Fun Start with Art.
French Connection Giveaway!
Plus we are joining up with Unit Studies by Amanda Bennett to offer this fabulous giveaway in celebration of Passport France! Passport France – Download n' Go – Unit Studies by Amanda Bennett.

"Continue the web of adventure with this prize package of French Connection titles! From baguettes in Bountiful Bread to Monet's Giverny Gardens in the Gardens Unit Study, watch your child's knowledge tree continue to grow!"
Gardens? It includes Monet and his Giverny Gardens in France.
Bountiful Bread? It includes France – baguettes.
Roller Coasters? History of roller coasters – ice slides in France.
Cavernous Caves? It includes Pierre Saint-Martin Cave, France.
Passport France Special!
This week only, Passport France is on sale for just $6.00! Please see the Unit Studies specials page for more details. Also, in addition to the giveaway here at Hodgepodge, Amanda Bennett is giving away her Passport France resource books at the Unit Studies blog!
Just follow the instructions in the rafflecopter widget below:
a Rafflecopter giveaway

And a special discount code!
Use code FRANCE for $5 discount on A Simple Start in Chalk Pastels through 6/1/13

–> Thank you to our Hodgepodge subscribers! You can find your Impressionism with Chalk Pastels: Monet's Bridge via a download link on our subscription feed or email. Not a subscriber? Please subscribe to Hodgepodge now (it's free!) Don't miss any art lessons!
So does your summer include plans for art-filled afternoons?