Just like a kaleidoscope, no matter what you are going through, God has not lost any of the pieces and beautiful patterns that make you, you. They are all safe in His tender care.
As a child, I used to love to play with a kaleidoscope. It was fascinating to watch how it changed with just one simple turn of the tube. There were so many different patterns and colors, I don't know if any two were ever the same. If you are one of those rare individuals who has never seen one, here is the dictionary definition.
Kaleidoscope: 1. A tubular instrument containing loose bits of colored glass, plastic, etc. reflected by mirrors so that various symmetrical patters appear when the tube is held to the eye and rotated. 2. Anything that constantly changes, as in color and pattern.
Kaleidoscope: Navigating New Patterns of Life
The writer of "Having a Mary Heart in a Martha World" used the illustration of a kaleidoscope. I thought about it, the Lord gave we a vision of what He has been doing in my life since we retired. I knew what my identity was as a Pastor's wife, but once we retired I couldn't seem to find my place again.
Abba reminded me of what happens the moment you begin to rotate the end of the kaleidoscope: the patterns falls apart, and if you continue rotating it, a new pattern is formed. None of the pieces are lost; they are all right there in the tube, they just come together in a different way.
That is what happened to me; the pattern of who I was fell apart. Yet over time, God has been putting me back together; just in new way, with a different calling and purpose. He didn't lose any of the pieces that make me, me. They were all in His safe keeping, ready to be put in a new order and for a new purpose.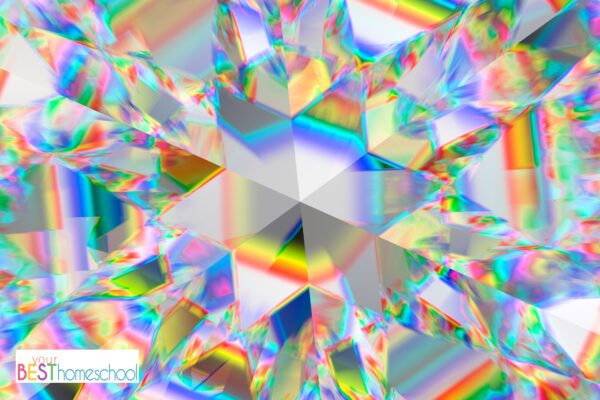 Changing Patterns and Seasons As a Homeschool Mom
As I thought about it, I realized this has happened before. Every situation we face has the potential of changing us in some way. When we lose someone we love life goes on, but we are not the same person we were before. God has a new purpose and design for our lives. When we are faced with a serious illness, it changes us; we have a new way of ministering to people, because of what we have gone through.
When we marry, have children, get a job, face the "empty nest syndrome," overcome death, retire, whatever we go through; each turn our life takes can cause the old pattern to fall apart and a new pattern to appear. Remember though, no matter what you are going through, God has not lost any of the pieces that make you, you. They are all safe in His tender care.
As it says in Colossians 2:9, "For in Him dwells all the fullness of the Godhead bodily; and you are complete in Him, who is the head of all principality and power." In comparing us to a kaleidoscope here is the picture He gave me: Jesus is the tube, we are the pieces held inside the tube, and the Holy Spirit is the mirrors that reflect the beauty of what Father God is doing in us as He turns our life from one event to the next. He is continually changing us, carrying us from glory to glory. The pattern of a kaleidoscope is changed and reformed in a matter of seconds but it takes a lot longer for the new pattern of our life to emerge.
Remember, good things come to those who wait upon the Lord. Your new pattern is going to be amazing!
Be Encouraged With More of Beth's Posts
~ Written by Beth, "My husband of 46 years and I recently retired from full time ministry and we are looking forward to discovering what God has in store for the next part of our journey. I am a very proud mother and grandmother and I love to encourage others through the word and my life experiences. My life verse is Psalm 118:24 – This is the day that the Lord has made; I choose to rejoice and be glad in it."
-June 2013