We have been oohing and aahing over the lightning bugs that light up the yard. We call them lightning bugs here in the south. You may call them fireflies. Either way they are simply gorgeous! When the lightning bugs start to come out at dusk we know that summer has truly arrived. We decided this year it is time to capture that memory in a lightning bug chalk pastel art tutorial.
-Looking for a lightning bug video art lesson? Find Nana's lesson in the Backyard Nature section of the You ARE an Artist Clubhouse!
Lightning Bug Chalk Pastel Art Tutorial
Supplies needed: dark blue or purple or black construction paper. We used dark blue. Chalk pastel colors: dark blue, purple, black, orange, yellow, dark green, light green.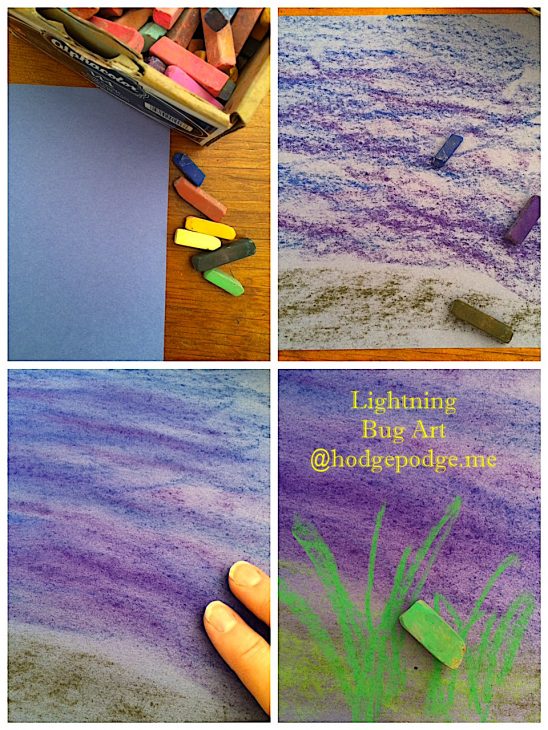 With your paper turned horizontally, begin with your 'under painting.' The under painting is the combination of base colors you use for your background – that you then build upon. Your darkest colors are at the bottom of the page. Black, then purple as you go up and then dark blue. All of these colors can overlap. Take your finger and blend and smooth the colors.
Place your grass over the ground at the bottom. We imagined that we were sitting or lying on a quilt and looking up at the lightning bugs. So the grass is large – almost at eye level. And the light from the lightning bugs is reflecting off of some blades of grass.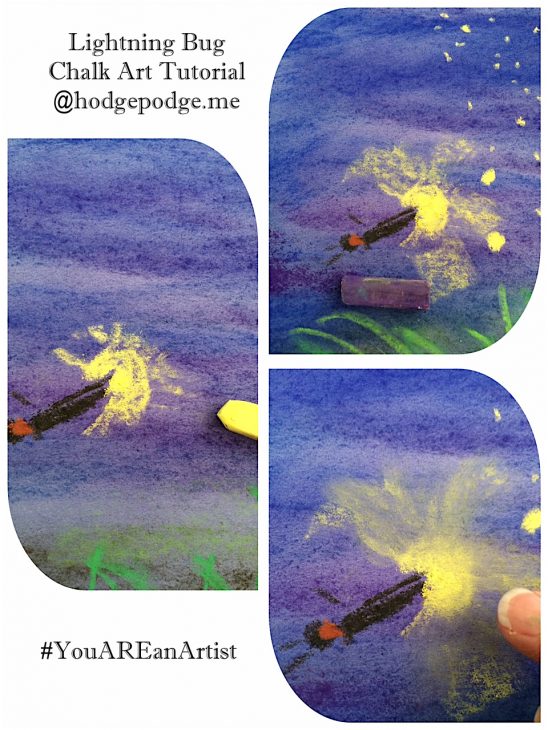 Next you get to paint a lightning bug! This one is up close and has just started its flight. Its body is a simple, straight shape. We based ours off of the wonderful photo we were able to get last year when Middle Girl caught a lightning bug in her hand before it flew away. You can view an up close lightning bug here on my Instagram.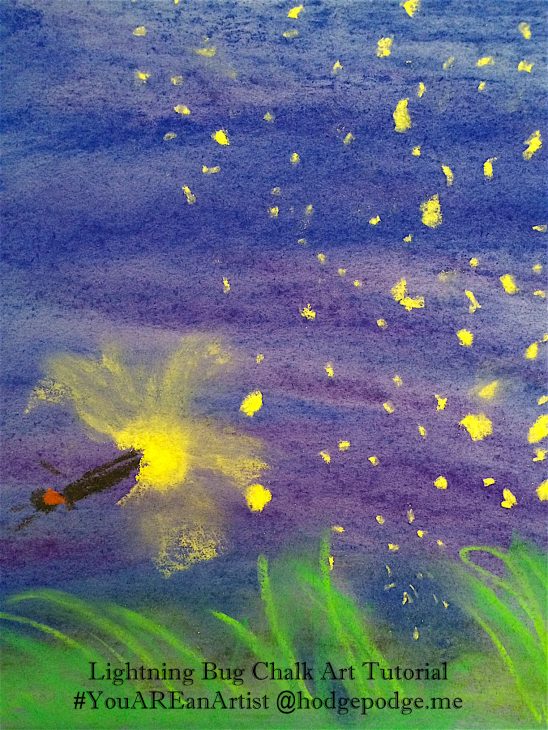 The fun part is the brilliant, yellow light! Just curve it around at the tail. You can also take your finger and 'pull' some color out to make it glow.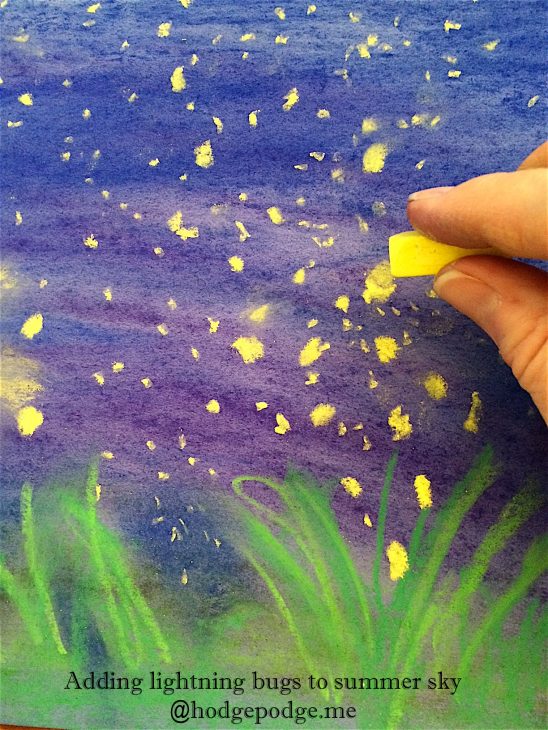 Add some large 'dots' of yellow lightning bugs. They are a little further away from you. But you will need some large ones and some dot, dot, dot, dot of some smaller ones as well.
Beautiful! Fill your night time sky with as many lightning bugs as you'd like because you ARE an artist!
Featuring You! You ARE an Artist!
Paint your lightning bug art and be sure to share with us! Simply tag @chalkpastelart on Instagram, use the #YouAREanArtist hashtag, or upload a photo to the ChalkPastel.com Facebook page!
A note on chalk pastels: Pastels are an easy, forgiving medium. Fun for children and adults alike! Details on the pastels and paper we use, how and where to purchase, and links to all of Nana's other pastel lessons are here: Our Favorite Chalk Pastels
The practical aspects of a mess: Pastels are blessedly messy. We always have baby wipes close by to wipe hands. We wear something we don't mind getting stained or don a smock.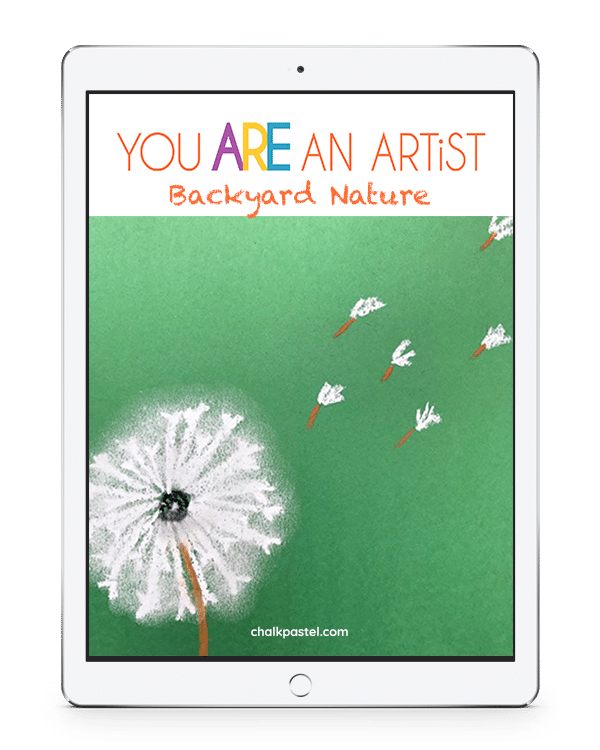 Do you and your artists learn best with a video art tutorial? Join the You ARE an Artist Clubhouse for a video of the lightning bug lesson, even more backyard nature and over 580 Video Art Lessons at ChalkPastel.com!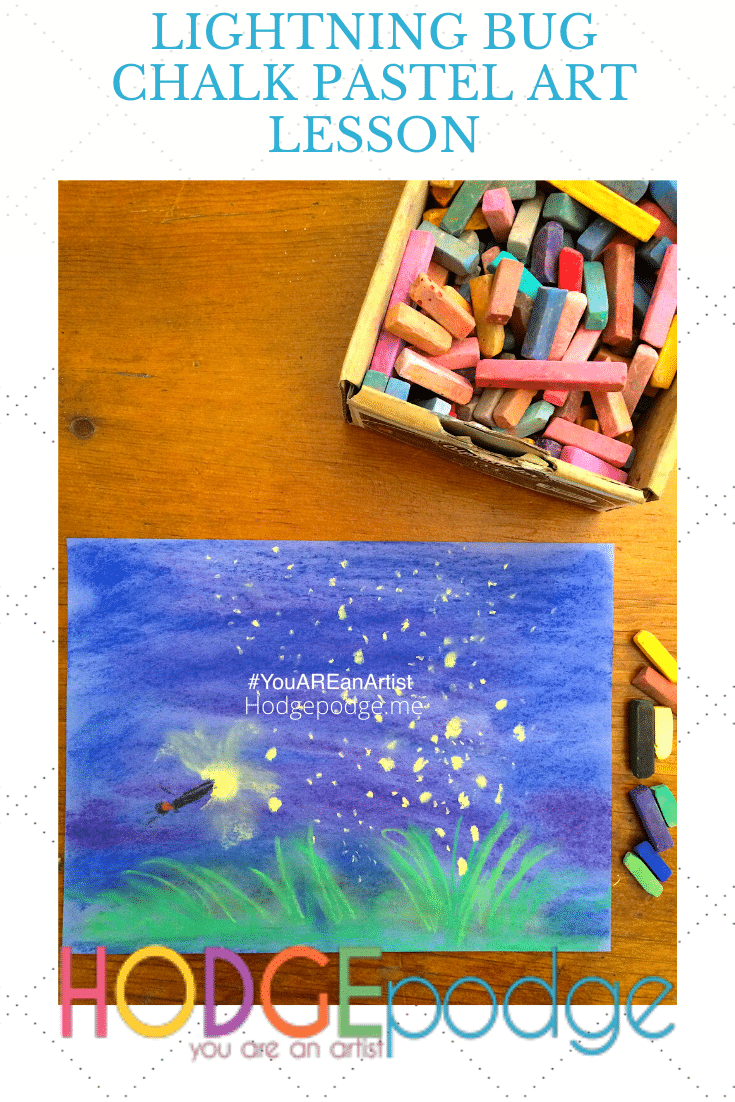 Have you subscribed to Hodgepodge so you won't miss any free art tutorials?
-originally published June 2016