Our math curriculum, Teaching Textbooks, is the main source of math learning for our older three children. Kindergartener enjoys Saxon K.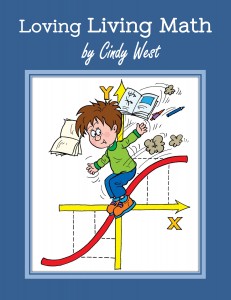 But we also incorporate some living math because…
it's fun!
we get to pull out all the board games (e.g., Blokus)
adding some logic to your day is nice
baking something yummy is math too
when the mouse batteries are dead on the computer, we can still get some learning in <——–
Earlier in the week, we made a living math day of it. With everyone together, we: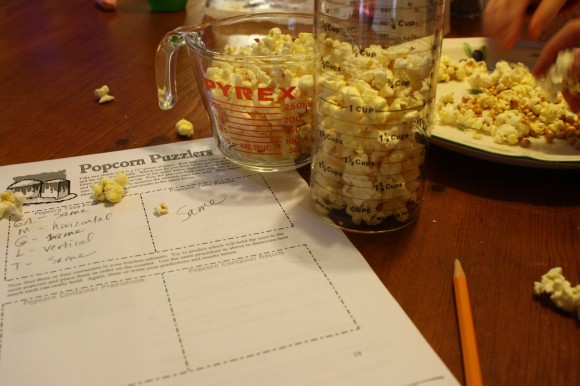 1. Enjoyed a Popcorn Estimation Experiment from Cindy West's Loving Living Math. (And afternoon snack). We…
rolled two separate pieces of printer paper – one horizontally and one vertically
filled each tube up to the top with popcorn
wrote down each person's estimation
measured the popcorn from each tube
celebrated – most estimations were correct!
2. Rated the day by…
first, reading Alexander and the Terrible, Horrible, No Good, Very Bad Day
asking each person to rate the day, so far, on a scale of -2 to 2
making a line graph to represent our scale
saying we'd move to Australia  🙂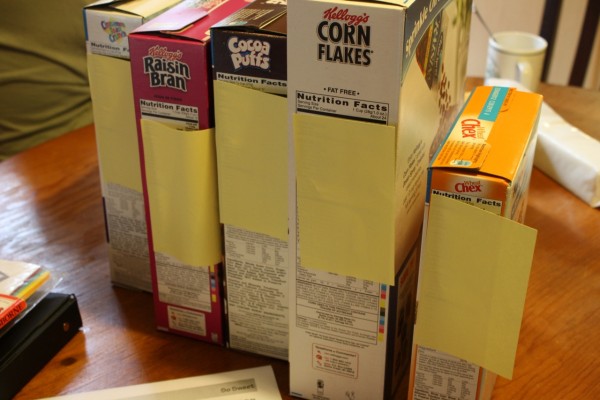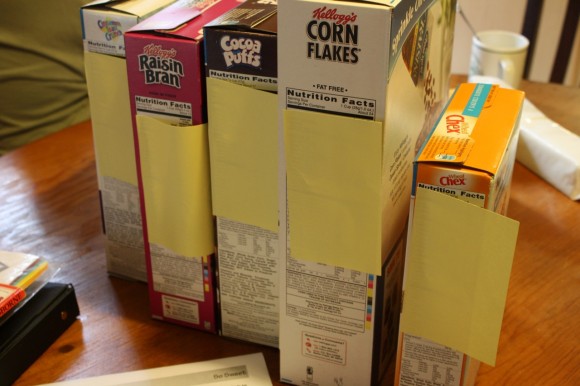 3. Enjoyed math and science together! Combining nutrition from our science studies and a math suggestion from a free download Cindy shared on her Facebook page, we…
read and talked about the food pyramid, vitamins and minerals plus proper nutrition in our AiG Science text
gathered a variety of cereal boxes from the pantry, covering the nutrition labels with sticky notes
guessed and placed the cereals in order from the one with the most sugar to the least amount of sugar
peeked and were surprised at our findings
had the older three children

plan the meals for the next day

, making sure each meal was nutritionally balanced.
THIS was a very fun day of math!
How about you? Do you plan living math days intentionally or because the computer mouse batteries need replacing?