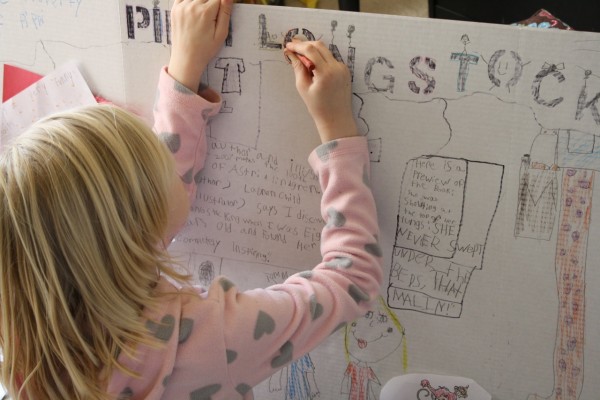 Following last week's sickness I decided this week would be just Math and display boards. In three short weeks we will enjoy a Homeschool Expo with our homeschool group. The Expo includes a science fair, family tables with displays of learning, plus a talent show. This year we have four science project entries. It was time to get busy! (I shared about the benefits of our display board habit over at Heart of the Matter. It started with science projects and carried right on over into history display boards for Tapestry of Grace Unit Celebrations. Plus book reports and any ol' reason).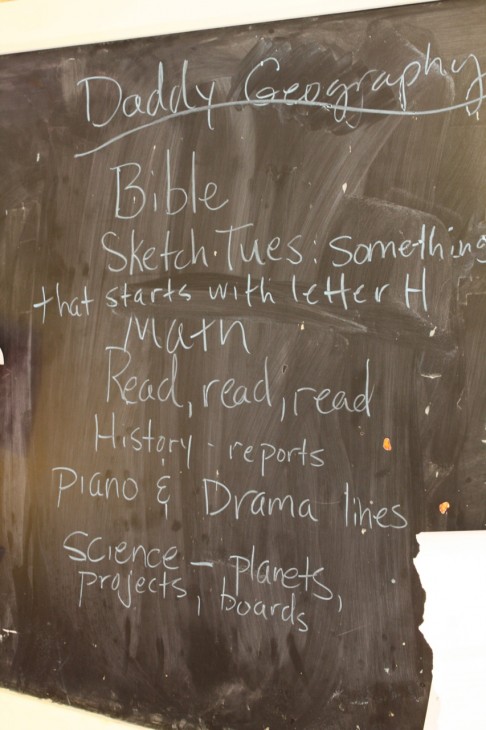 Just Math? Guess what? All the other subjects roll into display board work. Writing! Spelling! Composition! Grammar! Art!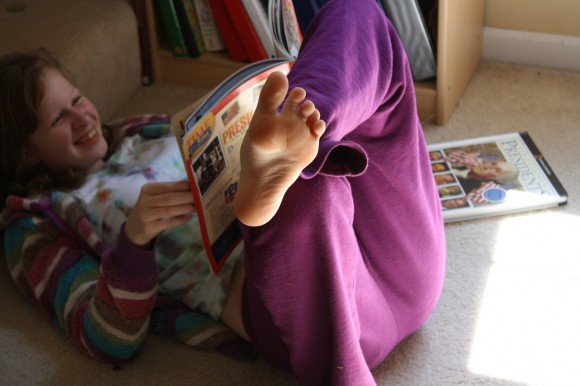 Tapestry of Grace: In addition, we also are summarizing our history studies with display boards. My two middle schoolers are working together on a 20th century board. Eldest boy is putting together a timeline of space and aeronautical events. Eldest girl is working on a timeline of 20th century presidents, highlighting a few favorites.
Over on the other side of the room, third grader is putting together a Pippi Longstocking (Tapestry literature) display board.
What I found this time around is that it works best to leave a little corner of the room set up for display board work throughout the week.
The older three researched and worked on activities for their science projects. Eldest boy is measuring weather. This week he built a wind sock, rain gauge and a tornado in a bottle. Eldest girl has some baking projects lined up. Middle girl finished up the data collection for her bubble science project last week – the day before all the sickness hit.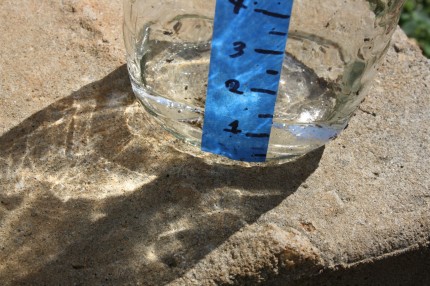 Just math and display board work as a good balance with the beautiful weather and the spontaneous geography lesson that Hodgepodgedad provided.
Field trip! Plus littlest guy really loved the trip to the airport to pick up Daddy. (Remember, Grandma and Grandpa moved back west? Hodgepodgedad and his brothers accompanied them on the trek. Big moving van and all!) Well, poor, poor Hodgepodgedad got the stomach bug the children had last week – on his trip across the country! The last day – in Denver – where he was to be involved in a conference for work. He was able to hop an earlier flight and head back home to us.
There was so much learning that went along with Daddy's trip. He texted with updates and we'd find him on the map. He sent photos of the St. Louis arch, the windmills of the Kansas fields, the sunset over the Rocky Mountains. "I want to ride on an airplane!" littlest said. We may have to go watch planes land again soon.
Check out more of the details in Hodgepodgedad's Cross Country Move and Automobiles and Airplanes: An Atmosphere of Learning.
Read alouds: We've enjoyed three June B. Jones books, reading a chapter a night. Middle girl recorded a few excerpts just for fun. Maybe we'll use her recording for afternoon quiet time for the younger two. Or as a gift for cousins!
Cooking fun: Lime Cake – perfect for St. Patrick's Day and, with three layers, it's special for all upcoming spring celebrations. We always make this for Easter. Plus, this year, I have the honor of making it for my cousin's bridesmaids' luncheon.
Snack Science: I loved this idea Phyllis posted from Almost Unschoolers! We are also studying Our Universe, so an Oreo moon phases study compliments it very well! This was such fun. We reviewed our phases of the moon study from Answers in Genesis, Our Universe.Thank you Phyllis!
Art: plenty of drawings on display boards. Plus, the children participated in Sketch Tuesday. We also had the pleasure of a pastel lesson from Nana. Bubbles! (To compliment third grader's science project. Photo tutorial to be posted soon).
Some exciting news! I found out I have the privilege of representing Tapestry of Grace at the Georgia Home Education Association convention the first weekend in May. That, along with getting to hear Ken Ham, Voddie Baucham and Vicki Bentley to name a few! Will you be there? Please stop by the Tapestry booth for a visit!
I am so grateful everyone is feeling better! …Every blessing you pour out I'll turn back to praise…
When the darkness closes in, Lord, still I will say, Blessed be the name of the Lord!

Don't you think those Oreo moon phases are awesome?? What did you come across this week that is really neat?