In all of our allergy-friendly years, we have been through several Epipen bags. The bags go with us everywhere and have to be sturdy. Recently, I came across monogrammed Cinch Sac bags from Thirty-One and my friend Susan Williams at Bags Bring Us Together. I was thrilled! So, I purchased one for each of our two Epipen-toting children and gave the bags to them as Christmas gifts!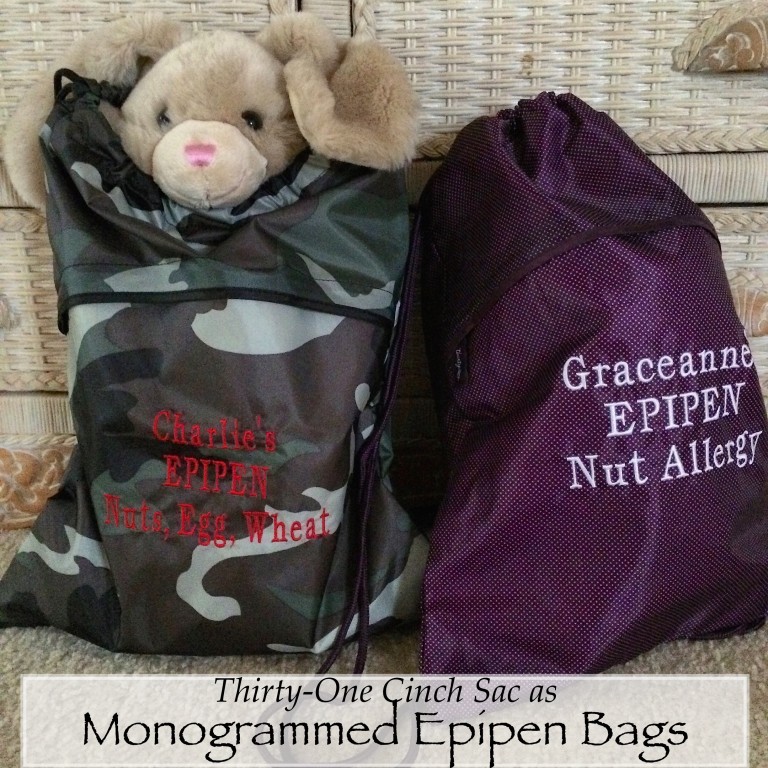 My children and I ❤️ these cinch sacs from @susan.will at www.bagsbringustogether.com we customized into Epipen bags. SO important to know exactly where the Epipen is and what the allergens are for each child. These are super sturdy, are comfortable for each of my children to carry (and that's been every day since Christmas!) Plus there is a sizable zipper compartment in the front. In the $20 or less category – so frugal too.
~Don't miss the giveaway at the end!

Our Epipen bags hang right at the front door among the Hodgepodge of coats and hats.
Thirty-One Cinch Sacs as Monogrammed Epipen Bags
These Thirty-One Cinch Sacs have far exceeded our expectations and meet all of the following needs:
Sturdiness – Epipen bags go to all extracurricular, church and play activities. Plus to the grocery store – they go everywhere with us!
Awareness – EPIPEN in all caps is very important. In all those bags on the shelf in the Sunday school classroom or just in the busy of every day – that bag needs to be easy to find!
Personalization – The monogramming option lets us put exactly what allergies each of my children have.
Space – Nice, big compartment in the front is great for carrying an allergy-friendly snack.
Stylish – I am very practical but my children do enjoy cute patterns. My son doesn't want polka dots but my daughter sure does! So there are a variety of patterns to choose from.
Yes, we are a hodgepodge and these Epipen bags help make our lives easier. Are you leading an allergy-friendly life too? You may be interested in these I have shared in the past:
Cinch Sac for Multiple Purposes
Maybe you don't have need for an Epipen bag. But I am sure you can see how these Cinch Sac bags could be used in so many ways!

Now for the Cinch Sac Giveaway!
Susan is giving away a personalized Cinch Sac from the Thirty-One regular collection or Spirit collection valued at $30. You can find personalization information in the embroidery section.
Offer available to residents of the USA. Winner will be contacted via email to select Cinch Sac color and personalization. Simply follow the instructions in the rafflecopter widget below..
Monogrammed Epipen bags are great allergy awareness tools and Thirty-One Cinch Sacs are great for so many purposes!