Warning
: Trying to access array offset on value of type null in
/home/n0c986d/public_html/hodgepodge/wp-content/plugins/amazon-associates-link-builder/vendor/mustache/mustache/src/Mustache/Parser.php
on line
278
I am always on the look out for practical, healthy and delicious meals for my family. And I am so excited about Prep-Ahead Meals From Scratch by my friend Alea Milham. Why am I excited?
~ This post contains an affiliate link to this cookbook we adore. If you click on the link, you won't pay anything extra but you will help us continue to offer art tutorials for free. Thanks for that! Please see our disclosure policy.

Take a look at the solutions Alea shares in just the introduction!
redefining convenience food
batch cooking techniques (that is a meal saver around here!)
speed prep techniques
food storage tips
pulling it all together with menu plans
money-saving shopping strategies
About the author: Alea Milham of Premeditated Leftovers is one of my most favorite people in the world! Back in the day, we were fellow recipe contributors to $5 Dinners. She knows all about frugal living, gluten free adaptations and just how to make meals crowd-pleasing. Her cookbook is "dedicated to military spouses who are busy holding it all together on the home front."
"That's incredible…this is SO great…can we have this tonight?" ~18-year-old who took the cookbook from me as soon as I took this picture.
The Recipes
The cookbook includes recipe sections for:
Quick and Easy Chicken
Tasty Pork on a Budget
Simply Delicious Beef
Fast, Filling Beans and Rice
Flavorful Vegetables in Minutes
Frugal Pantry Staples
For us, this is huge too: "The recipes in this cookbook are either naturally gluten-free or include recommendations for gluten-free substitutions." Practical, gluten free and frugal!

I prepared the Southwestern Sloppy Joes Recipe on a bed of lettuce to make it gluten free.
Southwestern Sloppy Joes Recipe
Southwestern Sloppy Joes
Recipe Type
:
Batch Cooking, Family Friendly
Cuisine:
Simply Delicious Beef
Author:
A delicious recipe from Prep-Ahead Meals From Scratch
Ingredients
1 tablespoon olive oil
½ cup diced onion
1/3 cup diced bell pepper
2 cloves garlic, mined
1 cup cooked ground beef
1 cup cooked pinto beans, kidney beans, or black beans.
¾ cup tomato sauce
1 tablespoon taco seasoning mix
4 hamburger buns
Thin slices of cheddar cheese (optional)
1 cup shredded lettuce (optional)
1 medium tomato, thinly sliced (optional)
Instructions
Heat the olive oil in a skillet. Add the onion, bell pepper, and garlic. Sauté until onion is tender, approximately 5 minutes.
Add the ground beef, beans, tomato sauce, and taco seasoning. Stir well. Cook over a medium flame until the ground beef is heated through.
Serve on hamburger buns. Top with cheese, lettuce, and tomato if desired.
Where can you find Prep-Ahead Meals From Scratch?
Also available at: Books-a-Million, Indie Bound, The Book Depository
And you can find out even more details at Alea Milham's Premeditated Leftovers: Prep-Ahead Meals From Scratch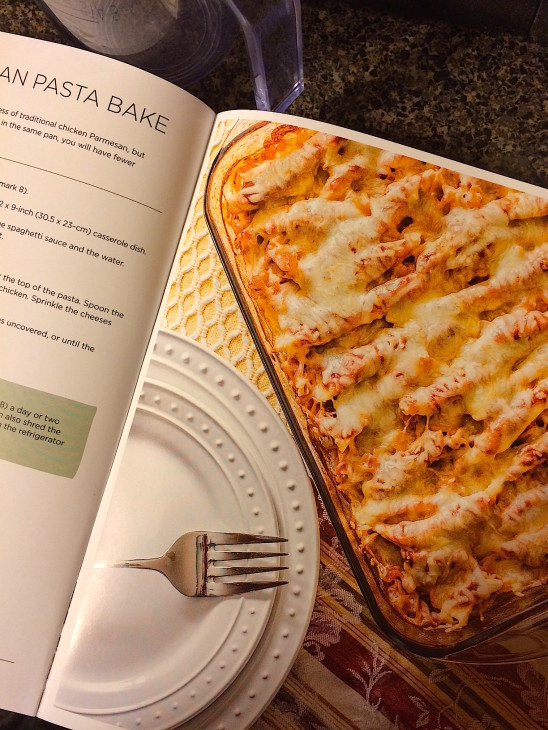 A new favorite – Chicken Parmesan Pasta Bake from Prep-Ahead Meals from Scratch.
In Summary
I have to be practical when feeding my large family and Alea is the pro of practical. This book is now my go to resource for crowd-pleasing meals for our variety of palates. – my quote on the back of the book. (What a privilege!)
Be sure to get your copy!