Friday, right before lunch, he calls from the treehouse again. "Come see! Come see! It's a spider web!"
Lil' Buddy alerts us that the spider moved its web to the top of the slide.
I come with my camera and join the gathering. We are struck by the beauty of the web. We just sit and watch.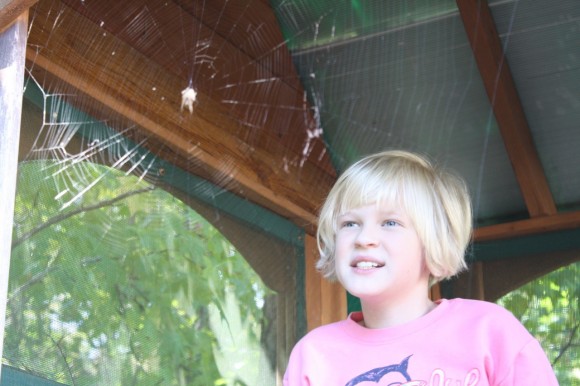 See how the web is attached? See how the sun glints off the silky strings? We had the chance to really observe, up close. Middle Girl, pictured above, really wanted to poke the web with a stick to see how 'sticky' it was but I wouldn't let her. Remember Lil' Buddy had already knocked down the spider web accidentally a few weeks ago? I asked them if they remembered watching the video of the orb weaver making a web. How the spider measured the exact length with its legs – to be sure the distances between spokes were equal. We also talked about the beauty and the detail.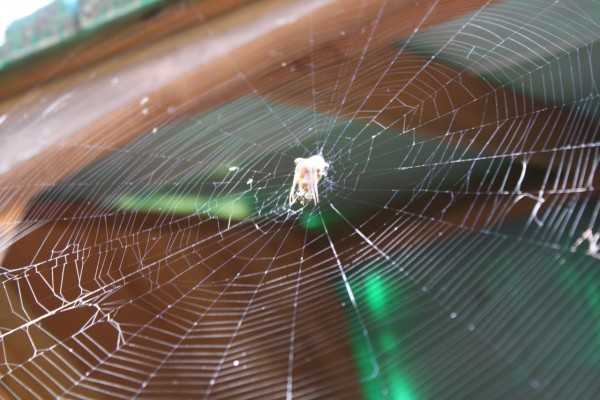 Now some might be squeamish about a spider (this one looks like an orb weaver based on the web?) but we knew the spider was busy. It was not out to get us.
Warning: spider having lunch – coming up!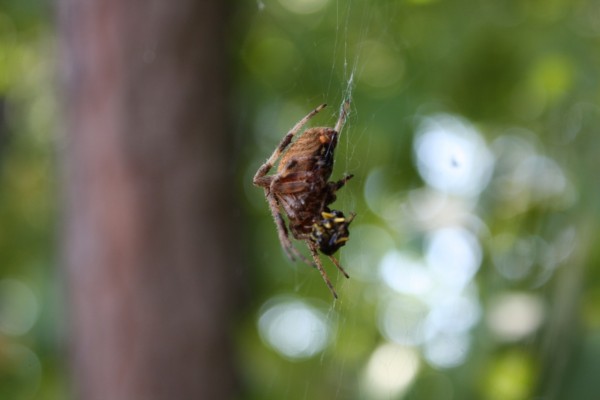 In fact it was busy taking care of some of the excess yellow jackets we have hanging around the backyard these days.
Thanks for taking care of the bugs, spidey!
Now, Youngest Girl just happened to be sporting her favorite shirt these days – on this afternoon that we got to investigate the spider and its web up close. Nana had made the shirt, modeled above, for Eldest Boy years back. I thought I'd share it with you in case you wanted to make and enjoy one too.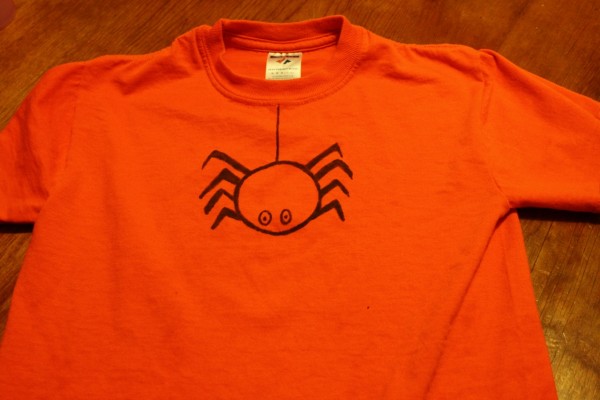 It's so very easy! All you need is an orange shirt. But feel free to use whatever color you have. Then you need a nice, thick, black, permanent marker. You probably want to put a piece of newspaper in between the front and back of your shirt.
Just use your marker and draw a spider on your shirt. Go over your black several times. Isn't it cute how the spider dangles from the neckline?
That's it! Our shirt has survived many a washing.

I love how our autumn studies have fine tuned even Lil' Buddy's senses. He's just three (almost four) and notices so much in nature! My youngest girl wants to wear a spider shirt. Many thanks to our Outdoor Hour Challenges at Handbook of Nature Study and these glory days of fall.