I really feel quite silly authoring a post on fried okra. Southern cooks learn how to make this dish usually the same way that their Mamas made it. Goodness gracious, there are a lot of ways to cook fried okra and a lot of opinions on how to cook this famous vegetable! But here goes. Here is Nana's Fried Okra Recipe.
My Mama was a great cook, she denied it to all, but that is the way we are here in the South. If someone compliments your cooking, the next sentence from you is, "It is not fit to eat!" I prefer the easy way of cooking okra: I boil it until it is tender, put a pat of butter on it and salt and pepper. I think it is nectar of the gods.
But I am sharing about fried okra, so here goes.
Nana's Fried Okra Recipe
Ingredients
Okra – the amount depends on how many folks you are going to feed, or how much you are craving fried okra. For 4-6 people, I would suggest 1 ½ lbs of fresh okra
Oil – whatever your have, it doesn't have to be fancy stuff; about 3 T. in a skillet
½ – ¾ cup self-rising corn meal – I use White Lily, the brand most Southerners were raised on.
Salt & Pepper
Instructions
In a colander, rinse the fresh okra thoroughly.
Slice off the top (it is a little cap) and the pointy end of each piece of okra.
Then slice away, make your slices as fat or skinny as you prefer.
Put the cornmeal in a plastic bag, throw in a couple of handfuls of okra and shake to coat the okra.
The oil should be heated, throw in one piece of okra to see if it starts to cook if you can't figure out how hot the oil has gotten.
Sift the coated okra between your fingers to knock off the excess cornmeal and carefully ease (don't drop it in the hot oil, you will burn yourself) it into the skillet.
The time-consuming part of the cooking is that you need to turn each piece of okra over individually to make sure it has browned evenly. Cook on stove top on medium-high heat for approximately 5-8 minutes. An iron skillet is best but use what you have.
Drain on a plate with a paper towel to catch excess oil.
Salt and pepper.
Prep time: less than 10 minutes
Cook time: 5-8 minutes
★★★★★ 1 review(s)
Copyright 2012 © HodgepodgeRecipe by Nana.
And there you go…such a good, economical and really Southern way to serve up one of our finest vegetables! Nana's Fried Okra Recipe will make you want to slap somebody, it is so good!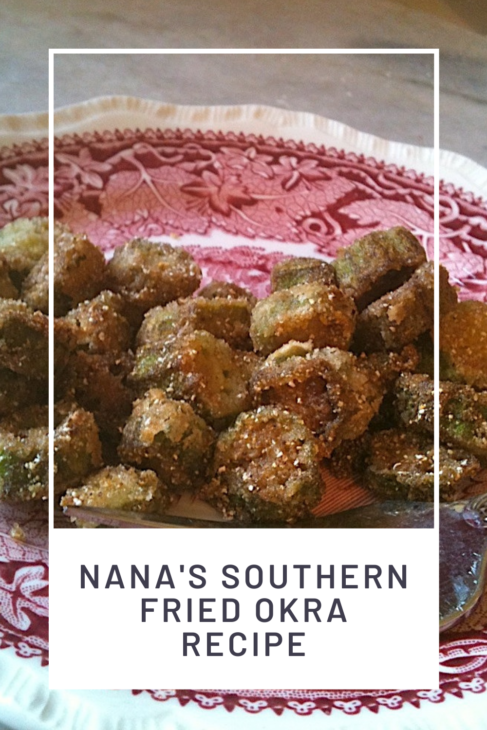 Fast Food for Slow Sundays note: I made this on a Saturday afternoon, refrigerated it. After church Sunday, I heated it up in a 350 degree oven for approximately 10 minutes. It was crispy and delicious.
Gluten free option for Nana's Fried Okra Recipe: Replace any flour with gluten free baking mix or straight corn meal.
For more Sunday lunch ideas – that can be enjoyed any day of the week, see the other recipes posted here in the Fast Food for Slow Sundays category or Fast Food for Slow Sundays at Habits for a Happy Home.
Or grab our cookbooks!
-first published March 2012