I came across this fun leaf art the children created with Nana a few years back. It's time to do it again!
Start by enjoying a simple nature walk in your yard on a beautiful fall day, encouraging the children to collect a variety of leaves, seeds and nature items.
Bring your discoveries inside and spread them out on the table. Or keep it all outdoors if you prefer – on a patio, back deck or blanket spread out in a shady spot.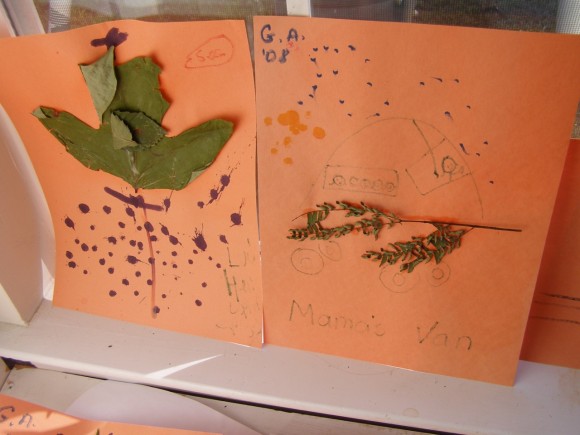 Allow the children to create pictures with their items. You might encourage them by starting some artwork yourself, giving them an example.
You'll need: construction paper or printer paper, glue, markers or crayons, your nature items
With markers, crayons, or whatever you have on hand, let the children complete their pictures, then glue down their nature items. Making whatever they would like to make.
There's no right or wrong way to make leaf art. Just have fun!