…encourage one another and build each other up…

1 Thessalonians 5:11
It's an everyday occurrence with big potential.  It can yield junk to be quickly discarded or requests for your hard-earned money (aka bills).  Or maybe, just maybe, you'll be pleasantly surprised to receive a little piece of sunshine.
There have been many times when a well-timed note in the mailbox has been the turning point in a day destined for the doldrums.  With all the technology available, it's easy to slip someone a text, email or facebook message and I  love sending and receiving these.  They're a quick way to let someone know I'm thinking of them.  Angie shared a great example of this in her Habits post earlier.
Call me old fashioned but …I still  get giddy at the sight of that un-business shaped card or letter. No computer writing, just script from a human hand.  And as much as I love finding out that someone a day or two ago was thinking of me, I love being the one to do that for someone else even more.
I find that God often puts people on my heart.  Sometimes the reason is obvious – a death in the family, a struggle they are going through, or an illness but sometimes He will lay a person on my heart for no apparent reason.  He also will often make my heart overflow with gratitude for someone and what they've done for me or just for their enduring kindness or selfless ministry to others.  It's a gentle but persistent nudging that I've learned to recognize.
Sometimes I have been so busy with the day-to-day, I laid the nudging aside and eventually it faded away until I'd  forgotten it.
And I then wondered…was I the one who was supposed to deliver a love letter from the Father to someone who needed it?  As humbling as it is to think it, God uses allows us to be part of his ministry to each other.  I am overwhelmed that He would choose me and it frustrates me when I let an opportunity slip away.
SO…in order to be prepared for these times, I armed myself with a basket of notes and stationary.  I love note cards and often pick them up in the dollar section of stores.  I also always look at the clearance spots for a great deal on pretty cards that would normally be out of my price range.  Michael's often has some great finds in their dollar spot.  And Lemstone has the cutest greeting card line called Little Inspirations and they're only 99 cents and come complete with a cheery yellow envelope and Bible verse.  I have been known to squirrel away 9 or 10 2 or 3 because they are so cute.
If you're a crafter or have kids who can help, handmade cards are wonderful and give a very personal touch.
I also TRY to keep a separate book of stamps in my basket so I know I have some that haven't been used on bills or attendance forms 😉  And who can forget a nice writing pen?  By nice, I am referring to writing quality, not price!  I also TRY to have as many addresses handy as I can.  Anything that helps avoid delay.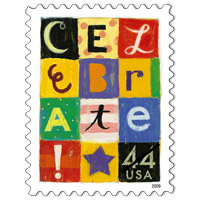 Not to be forgotten is my own family.  For my husband and children, I keep some of those fun little cards and notes on hand to stick on a mirror, in the car or another unexpected place when the urge strikes.
It's a simple habit.  One that with just a little preparation and practice can allow for spontaneous blessings to abound.  Happy writing!