Right now, as I am typing this, there is a war going on above me.
No, I'm not referring to spiritual warfare. This is in the physical realm of my son's bedroom. There's is more thumping and banging than a floor should be able to withstand. Before I stomp over to the stairs and 'call' up to the offenders, I refer to the ring of cards in my pocket. Surely there is something on patience in here…
How about love…that'll work!
Pocketful of Sunshine – The Habit of Scripture Memorization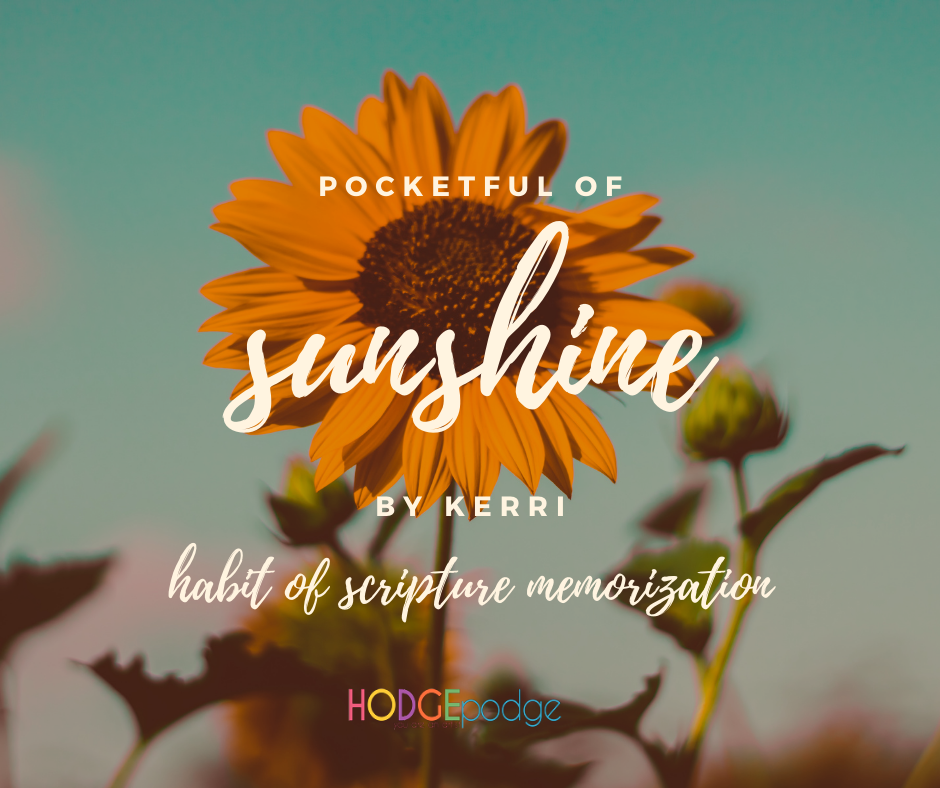 Above all, love each other deeply, because love covers a multitude of sins. I Peter 4:8
The ring of cards is simply that…3×5 cards with a ring through them. The ring of cards is more than that…a lifeline.
Mothering children all day is a high calling and a rewarding one.
But it can also be oh-so-wearying.
When someone comes to tattle for the nth time, when someone leaves a chore undone again, when someone undoes your chores again, when it seems like everything you've taught your precious ones has either been forgotten or never made it's way in …
then it's time to reach for the lifeline.
A friend of mine shared this idea several years ago at family camp and I forgot about for awhile. She said that sometimes she would have to excuse herself, pull out her cards and drink from the deep waters of the Word.
I have found this to be an invaluable tool, or weapon if you will, against despair.
The key here is to fill your cards with words that encourage and exhort you.
Some of my favorites are…
"Let us not become weary in doing good, for at the proper time we will reap the harvest if we do not give up."

Galatians 6:9
Do everything without complaining or arguing, so that you may become blameless and pure, children without fault in a crooked and depraved generation, in which you shine like stars in the universe"

Philippians 2:14,15
Those who look to Him are radiant.

Psalm 34:5

Thanks be to God, who gives us the victory through our Lord Jesus Christ. Therefore, my beloved brethren, be steadfast, immovable, always abounding in the work of the Lord, knowing that your toil is not in vain in the Lord.

I Corinthians 15:57-58
I have also found this to be an invaluable tool for scripture memory. I have memorized whole passages by using this system recommended by Ann from A Holy Experience.
You simply mark out the first letter of each word of the verse/passage and then in quiet moments, use it to commit the verse to memory.Or you can use this handy site that converts the verse to letters for you and you can print it out.
Here's one I just finished…
"Therefore, since we are surrounded by such a great cloud of witnesses, let us throw off everything that hinders and the sin that so easily entangles, and let us run with perseverance the race marked out for us. Let us fix our eyes on Jesus, the author and perfecter of our faith, who for the joy set before Him, endured the cross, scorning it's shame, and sat down at the right hand of the throne of God." Hebrews 12:1,2

Before that it was 2 Corinthians 4 – the whole chapter – what a great passage on not losing heart! I share this not to boast, because this was an area sorely lacking for me. I was reading the word, but not spending a lot of time committing it to memory. Beth Moore had a scripture memory challenge last year that really convicted me anew about hiding the word in my heart so that I could use it against the flames and arrows of the enemy.
And I share it to encourage you to exercise that brain. I felt like my memorization skills were a bit rusty 🙂
And finally, I felt like I needed to set an example for my kids. I am always encouraging/requiring them to memorize verses, and I wanted them to see me doing it as an everyday part of my life.
Your turn ~ What are your favorite scriptures that you've hidden in your heart?
-a habit for always by Kerri – originally published March 2010