Back in January, at the start of the new year, we agreed to begin our year knowing that prayer changes things. Inspired by a post at (in)courage by the same title, I rolled out the big ream of drawing paper. And we all gathered around.
Each added their own prayer requests. Some of serious nature, needs of friends and family and some just plain dreaming big.
Each request seemed giant in its own way.
Fast forward to September. Nine months later. I was cleaning out stacks of artwork at the kitchen chalkboard. Guess what I found? That neatly rolled up paper full of requests.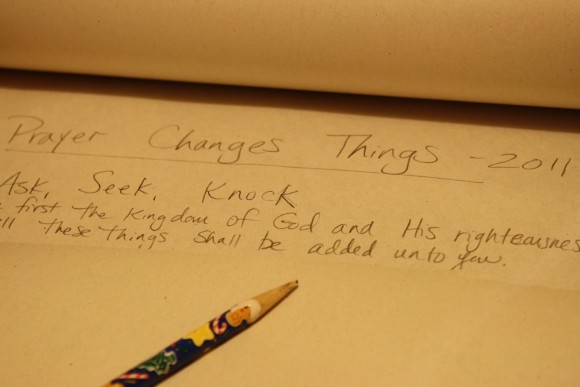 I unrolled it and saw written proof of His provision.
But seek first the kingdom of God and His righteousness, and all these things will be provided for you. Matthew 6:33
Real answers to requests. Many we'd recognized earlier in the year but forgotten.
Take a scroll and write on it all the words I have spoken to you concerning Israel, Judah and all the nations from the time I (first) spoke to you during Josiah's reign until today. Jeremiah 36:2 ~ Today's Bible verse on Lil' Buddy's take home page
So this. This is why He told His people to write it down. Because we think that we'll remember. We'll tell the children. But sometimes we just plain forget. Unless we write it down and we find it later and reread it. We are reminded of specific ways He loves us and provides and answers.
So, that night at supper, we all gathered around. And we read the Prayer Changes Things list. This – check. And that – check. Who knew He'd answer in that way? Oh His way is best. And His answer always comes exactly when we need it. Gifts! each one. Proof for the children. Right there for all to see. Because we wrote it down.
You have because you ask not. Ask. Seek. Knock.
Keep asking, and it will be given to you. Keep searching, and you will find. Keep knocking, and the door will be opened to you. Matthew 7:7
Counting gifts, provisions 2714-2729.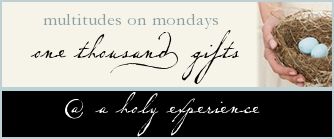 Now if any of you lacks wisdom, he should ask God, who gives to all generously and without criticizing, and it will be given to him. James 1:5