Relaxing art activities for busy moms are attainable and a lovely form of self-care. Don't let the heaviness of the world get you down.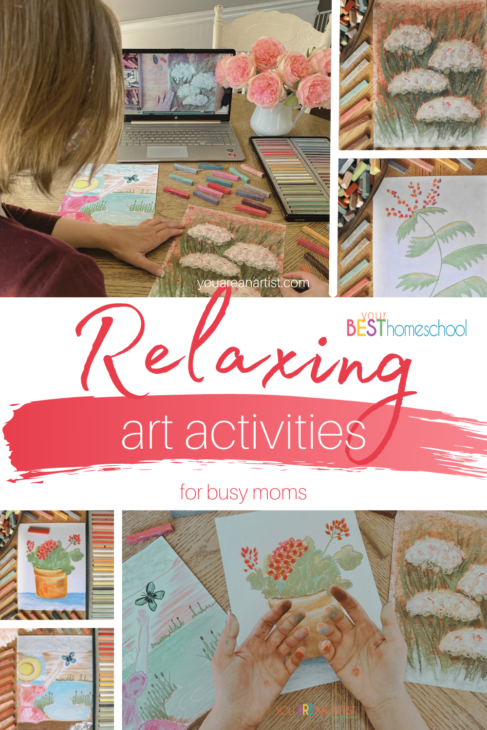 It's no secret that I struggle with anxiety, depression, and now a cancer diagnosis. Life always seems to throw one curve ball after another. We've all been there to some extent. We are all busy in one way or another. You feel like the waves of life are moving smoothly, and Wham! You're hit with a tsunami. Or maybe it's not quite a tsunami, but it's enough of a wave that you have to adjust your bearings and ride out the storm.
Everyone has storms in life, the young and the old, but there are many things we can do to help us ride out those storms.
Those are my BIG THREE for helping me get through tough times. There are also other methods I use to help me feel well but another big one is ART!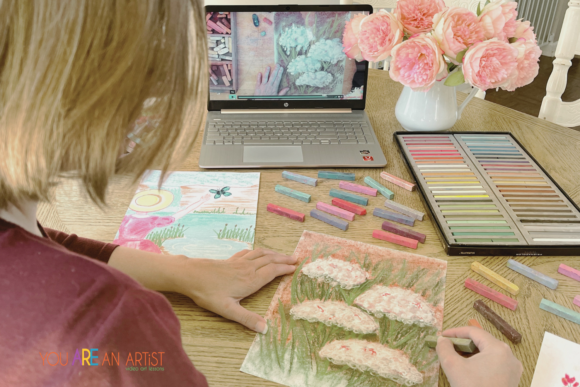 ~ Some links are Erin's affiliate links. See our full disclosure policy.
The Benefits Of Art For All Ages
Art is perfect for all ages and can help lower the anxiety many of us experience due to our busy world. Have you ever watched a child's delight engrossed in an art medium like chalk pastels? My inner child thrives when I incorporate art into my week.
It's easy to get lost in the swirls of color as your fingers blend the chalk across the paper. Hues of red, yellow, and blue become shades of orange, green, and purple. It is truly therapeutic to let the creativity flow through you.
Art As A Form Of Self-Care For Moms

I have used art as a form of self-care for many years. I enjoy many types of art, from pencil drawings to acrylics and chalk pastels. As a busy mom, setting aside a little time, just 5 or 10 minutes, for a hot cuppa and one of Nana's chalk pastel videos is excellent. They are so easy to use. Just find a lesson you'd like to try and follow along with Nana as she takes you step-by-step through the art-making process.
No previous art ability is required!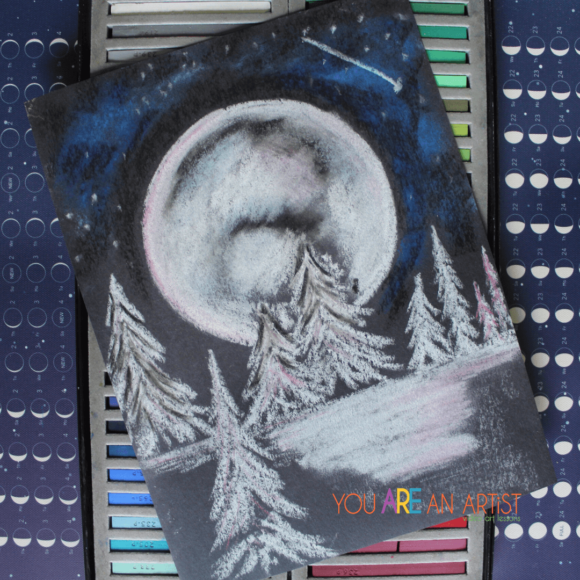 Relaxing Art Activities For Busy Homeschool Moms
With the You ARE AN Artist Chalk Pastel Membership you and your children have access to over 800+ video art lessons, including some of my favorite art lessons:
Queen Anne's Lace
Full Moon/Peace Moon
Anna Comstock (Famous Artist)
Geranium
Jonquil in a Jar
Easter Lily
Dandelion
Vivaldi's Spring Tree
Bear
Deer in Forest
Garden Bunny
Aslan (The Lion the Witch and the Wardrobe)
Hobbit Hole (The Hobbit)
Rabbit in the Woods (Green Ember Gala)
Wren on Teacup (Bird Acrylics)
Titmouse (Bird Acrylics)
Bluebird (Bird Acrylics)
Fall Tree (Master Class Acrylics)
Winter Tree (Master Class Acrylics)
Bird Nest (Master Class Acrylics)
Lighthouse (Hymn Acrylic)
Plus, so many more!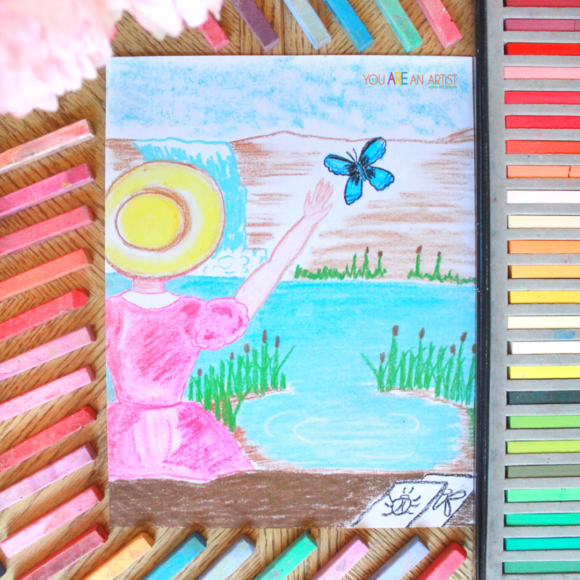 Additional Creative Resources For Relaxing Art Activities For Busy Moms
Even with the busyness of life, we as moms can still take Mini Moments and savor a bit of self-care.
Art for the Homeschool Mom can be as simple as a starter set of chalk pastels, a pack of construction paper, and Nana's video art lessons. Pour yourself a cup of your favorite beverage and enjoy a relaxing time of artistic expression, complete with messy fingers and let the busyness of the world melt away. Your inner child will thank you.
Erin is a writer, blogger, and homeschooler to two intense kids. Her blog is filled with information to help you explore a child led education while making meaningful connections with your children. Discover favorite read alouds, seasonal books, games, art projects, hands-on activities, and learn to just breathe through the ups and downs of life. She loves nature, farm life, good books, knitting, new pens, and hot coffee. Erin is a contributing writer for Weird Unsocialized Homeschoolers. Her work has also been featured on Simple Homeschool and Book Shark.