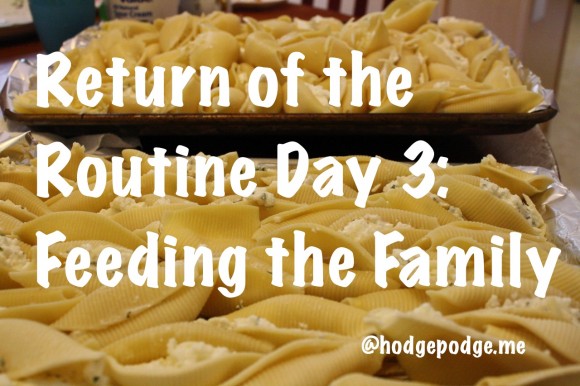 So we have rested and we have planned. But wait just one minute. We need fuel! And by that I mean food. If ever I was discouraged by something at the end of a long day of back-to-school, it was wrestling up something to eat. What to feed the masses after working so hard at getting back into a routine. Yes, we aim for back to school with supplies, planning and prep. But often what sidetracks us is the lack of supper on the table!
That's why this step is so important. Having meals planned out and the main ingredient tucked in the freezer makes a big difference. So we have 1. Rested 2. Planned 3. Prepared and today I'm serving up simple strategies to help your days. As passionate as I am about this subject, this could be a series of its own.
4. Meal Plan and Big Cook
Before our Return of the Routine I do two things to set myself up for success:
1. Make a meal plan. Take suggestions from the audience. Everyone gets a favorite meal. But, keep it simple. Just a few ingredients. I promise you won't be feeling like being a prize-winning chef after tackling fractions.
2. Have a Big Cook. A big cook is just a fun name for batch cooking and tucking meals and main ingredients in the freezer.
Resources for you:

5. Make Supper at Lunch
And then once that school week starts, I start back into my habit of making supper at lunch. All that means is while we are cleaning up the lunch dishes, I go ahead and cook the pasta for dinner. Or put the slow cooker to work on cooking a few ingredients. Then, come the supper hour, when folks are cranky and weary, the majority is done already. We can still enjoy a delicious meal. Make Supper at Lunch – this one habit has made the biggest difference in handling the late afternoon crazy hour.
More food fun. Please, pull up a chair:
*Pssst. You will want to subscribe to Hodgepodge because in early August I'll be sharing the Ultimate List of 3 ingredient (or Less) Slow Cooker meals. You can also receive new posts in your inbox by filling in your email address in the Free Hodgepodge in you inbox field in the top right hand corner.
I hope you'll be back the rest of the week. Tomorrow is Game Day – the routine! Do you think we're ready?

Five Days of Summer Series brought to you by iHomeschool Network. Be sure to check out all the really great topics. Pin them for homeschool encouragement throughout the year! The summer series is sponsored by BEECH Retreat: Blogging. Learning. Growing.
Do you do a 'Big Cook' in prep for returning to a routine? Do you love your slow cooker as much as I do?