I love my slow cooker for simple, delicious meals. It works on supper while the rest of us go about our day. My slow cooker is the best for back to school time, for comfort food and for batch cooking main ingredients.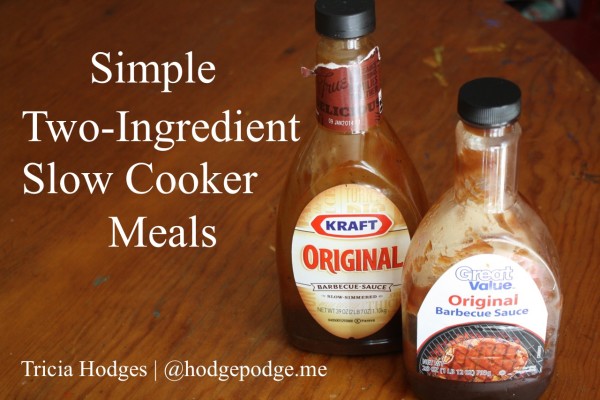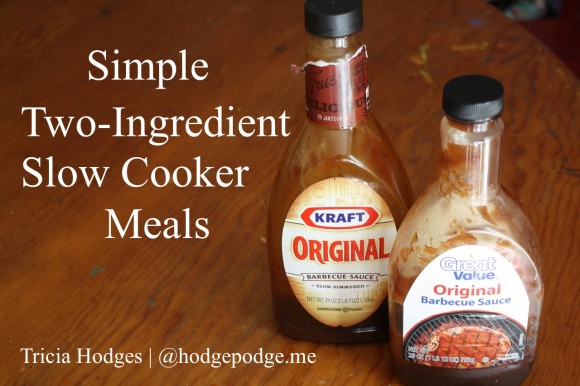 And I am not one for a long list of ingredients. So, lately, I've been going for gluten free and simple two-ingredient meals. I've gathered my recently discovered recipes plus some old favorites  for you here.
Plus, don't miss the FREE ebook link at the end and more!
Slow Cooker Barbecue Roast
This recipe completely happened by accident while I crossed my fingers. See, I thought I had all the ingredients to adapt my Slow Cooker Cube Steak for a roast. Alas, I did not have the dry onion soup mix. But I remembered what a favorite my Slow Cooker Barbecue Chicken is. So I pulled out the bottle of barbecue sauce and I dumped it over the roast (like one of those pictured at top – you may not even need a whole bottle). I went off to church that morning and hoped for the best.
And it WAS the BEST! We've had it three more times since then!
Note: For a large piece of roast I recommend slow cooking on low for 8-10 hours. I have often placed my roast in the slow cooker, frozen, at 10 or 11 pm Saturday night. Pour the barbecue sauce over the top and cook on low overnight. Serve for Sunday dinner.
Slow Cooker Barbecue Stew Beef
Following in the roast's footsteps – just do the very same thing with stew beef. Serve over mashed potatoes or noodles. Yum it up! (Photo above of Slow Cooker Beef Burgundy made with stew beef).
Slow Cooker Cream Cheese Chicken
Place chicken (I used chicken breasts but you can use any kind of chicken – strips, with bones, whatever is your favorite) into slow cooker. Top with an 8 oz. package of cream cheese. Cook on low 4-6 hours. If frozen, you may need to cook it longer.
Another favorite two ingredient chicken meal is Slow Cooker Cranberry Chicken.
FREE Slow Cooker Resources for You
I use my slow cooker for batch cooking meat. It is the super supper saver, I tell you. Especially on those back to school, busy weeknights. Get your free copy of Slow Cooker Batch Cooking eBook at Southern Hodgepodge.
Because I ditched the drive through lane and am saving bucks and my sanity – I have a series of recipes in Fast Food for Slow Sundays. Feeding my allergy-friendly crowd with home meals.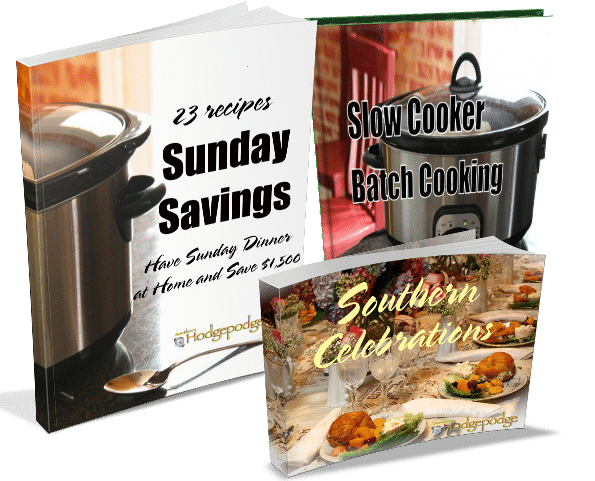 You might also like our bundle of eCookbooks!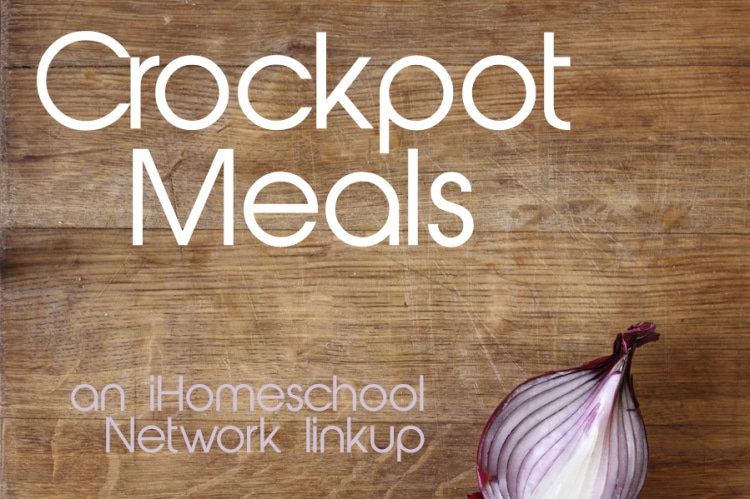 Guess what? There are many more recipes for you to browse and pin with iHomeschool Network's wonderful Crockpot Meals link up!