I'd read about this phenomenon. I'd bookmarked the post. I'd been meaning to do this for what seems a really long time. Why I didn't until now? I'll forever live with the regret.
I had the recipe from A Year of Slow Cooking up on my laptop, following along yesterday. But it is really simple. Really, really easy.
You need to plan to do this on a day you will be home to check on progress. The recipe goes sorta like this…Put your whole 1/2 gallon of whole milk in your crock pot turned to low.
After 2 1/2 hours, unplug it and letting it sit with the top on – for 3 hours. Next scoop out some of the warm milk, mix in a portion of your plain yogurt and put it back in the warm milk. Mix again. (rough instructions, please go to A Year of Slow Cooking for amounts and details on time).
Then wrap it in a thick bath towel overnight. (Gollee. Wish I'd gotten a picture of that).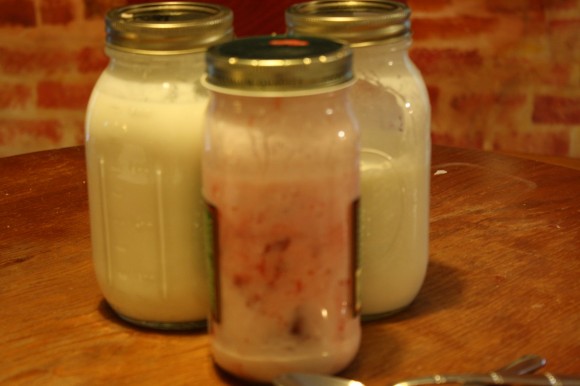 Next morning, you have you this much yogurt. The two big, glass containers are quart sized. (Be sure to save out a starter for next time).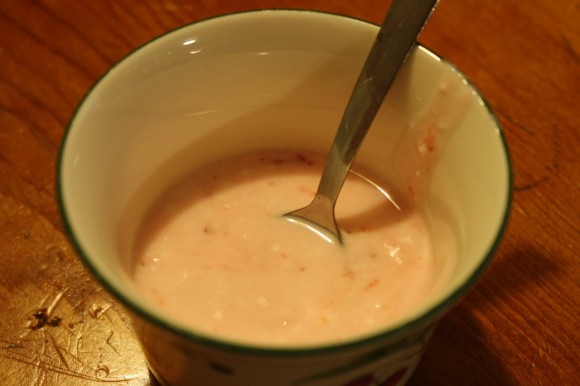 We sweetened one container with a jar of Nana's strawberry and fig preserves. We also experimented with adding some vanilla flavoring and Splenda. Then, at supper time Middle Girl sweetened another vanilla batch with honey.
The consistency is not as thick as that of store-bought yogurt. Nana used to make yogurt years ago. She says, and I read on Stephanie's site, that you can add a packet of plain gelatin to thicken it. We might experiment with it. It is more like the consistency of Gogurt. My friend, Paige, suggested freezing small portions in plastic bags just like a Gogurt!
Benefits check list:
It is delicious! The children and I ate it with breakfast, lunch and supper. We had friends over – they tasted it – and loved it!
I could see this falling into the cooking fun category because the children were so interested and loved mixing in the fruit and flavorings.
Fresh fruit!
Oh the savings! We go through Sam's Club-sized boxes full of yogurts. They are always on the list.
I have visions of getting tiny plastic containers for Hodgepodgedad to put yogurt in his lunch.
We can make more when we run low.
I'll be sure to update this post on how long the yogurt lasted. Full instructions are over on Stephanie O'Dea's site with even more instructions on using low fat milk, the cost savings breakdown and more!