If you or your students are serious about continuing to work with pastels, it makes sense to protect the pastel sticks with storage. We've had a few questions from artists so I am sharing more on soft chalk pastels: storage and cleaning.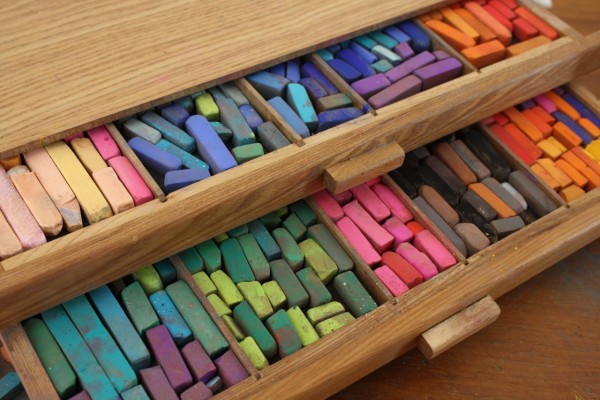 Soft Chalk Pastels: Storage and Cleaning
This week I decided that the children needed a nicer storage box for their pastels. I have a three-drawer wooden box that will hold about 50-75 sticks of soft and hard pastels. I was not using this storage much and thought that I would "gift" them with a more professional look for their pastels in their classroom!
~Any affiliate links included are for resources we absolutely love and truly depend on. Please see our disclosure policy.
These three-drawer boxes are beautifully finished hardwood and have separate foam-lined drawers for storage, but can be considered an investment for the future of budding artists. I purchased mine from The Fine Art Store. The cost was about $40.00, not including tax and shipping. You can also find a Wood Pastel Storage Box on Amazon for approximately $25-$30.
Middle Girl is placing pastels in the new box. She is gently wiping the well-used sides on a paper towel to clean them up.
What about dirty chalk pastels? How to clean the chalk sticks? After so much use, there comes a time that an artist cannot see the color of her pastels because they are so dirty! Take uncooked white rice (start out with about ½ cup to 8-10 dirty pastel chalks) toss the rice into a baggie with the dirty pastels and GENTLY shake to clean them up. I understand that cornmeal CAN be used, but I had rather make cornbread with cornmeal than clean up pastels. Try it, it does work!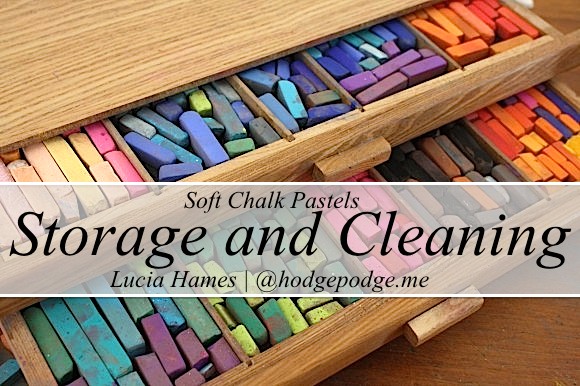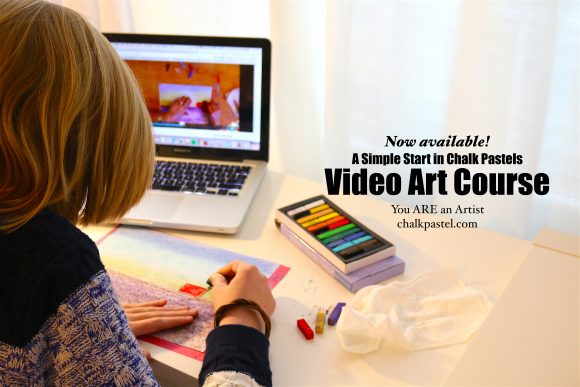 Invite a Master Artist to Teach For You – Video Art Courses
You asked for it and we now have a growing series of  Video Art Courses for All Ages. We start with A Simple Start in Chalk Pastels – available as a full year course or in semester options. Next, Spring Chalk Pastels and we hope to add a new course each month. Be sure to click over and add your email so you can be the first to find out when a new art course is available!
Save
Save
Save
Save