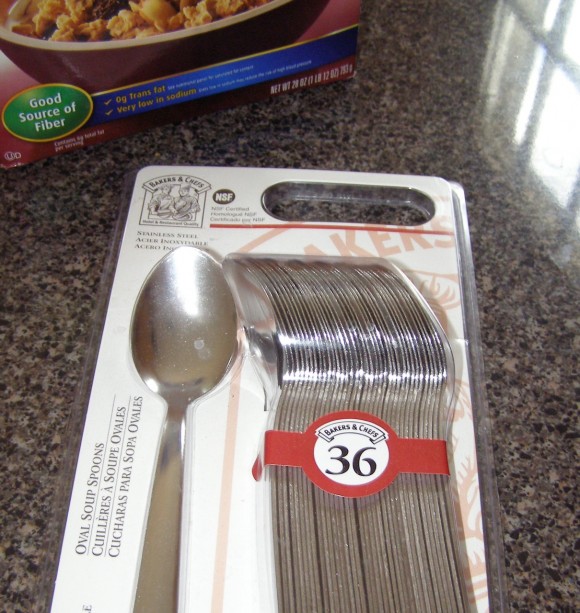 ~Another favorite from the archives in honor of the third blogoversary of Hodgepodge this month…
We recently had a silverware crisis. How had the family spoon numbers been reduced to five? This just would not do in a household of seven! Especially one whose favorites are yogurt, cereal and ice cream. Resorted to using forks for stirring coffee, we had. Or reluctantly hand washing spoons for late night cereal snacks. There were also mad dashes to the drawer soon after the dishwasher was unloaded.
Enter Hodgepodgedad, to the rescue. Since our regular store is the warehouse club anyway, he was able to pick up the above-pictured convenience item. One set of 36 regular spoons and another 36 (yet to be opened) soup spoons. Still the original mystery remains. Where did the spoons that we set up housekeeping with disappear to? Will the backyard yield one or two as sandbox scoops? Would the landfill have several to match our pattern?
Counting the gifts of a busy family…
plenty of silverware!
a Saturday with cousins
good things going on at Hodgepodgedad's work
siblings as best friends
friends who help cart my children around
a knee on the mend!
sundaes on a Sunday night
a new year at church, new activities on the calendar
toy train tracks, scattered
the pounding of hymns on the piano
little children that go right to sleep at bedtime because they have been trying to keep up with big kids all day
this free notebook page from Handbook of Nature Study prompting us to enjoy every bit of these last days of summer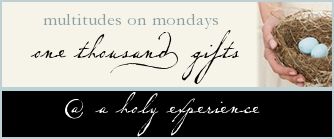 Counting gifts 2639-2651.
Everything in life is most fundamentally a gift. And you receive it best, and you  live it best, by holding it with very open hands. ~Leo O'Donovan
…Or by scooping it with a plentiful supply of spoons!