We love our birds and enjoy watching them. So, for our spring time nature study, each of the children chose a favorite bird that we are seeing frequent our yard. We talked about the seasons and which birds we see more of when. We all look forward to seeing some gold finches soon, hopefully.
Cardinal – (five-year-old's pick) Five-year-old hears them perched in the trees, announcing themselves, when they are in our yard and about to stop by the feeder. I wondered if maybe this female cardinal was a juvenile. However, 6th grader informed me that juveniles look just like a female but have black beaks.
Bluebird – Middle girl picked this bird and is sharing a photo our Aunt Mary took of a bluebird on her birdhouse. She said she was hiding in the hydrangea bush to get the photo! Isn't it gorgeous?? You simply must go to her Flickr Photo Stream and watch the video of the pileated woodpecker. Oh just take a little break and enjoy all of her wonderful photos.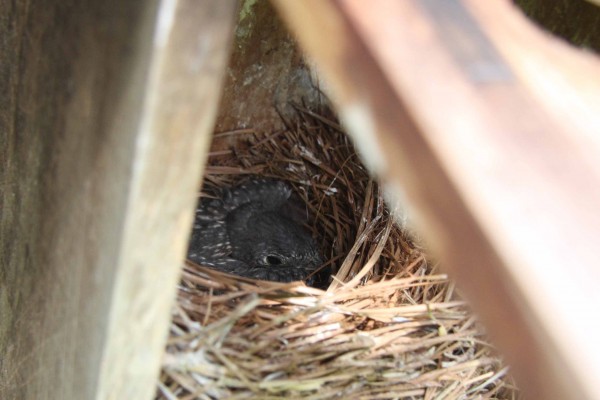 When we asked if we could use her photo, she went and peeked in the bluebird box and got a photo of one of the babies!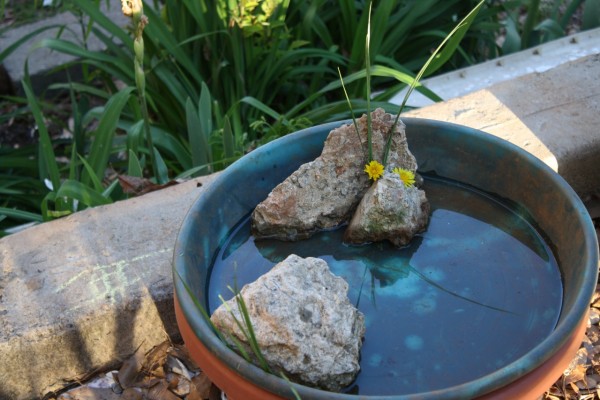 Middle Girl also put together a homemade bird bath over spring break.
Chipping sparrow – (Lil' Buddy picked this bird). Here's 6th grader, sharing his knowledge, "the male chipping sparrow sings in the morning and in the evening. We see chipping sparrows all the time at our feeder."
Hummingbirds – (picked by 6th grade boy). We saw a hummingbird near our regular bird feeder a few weeks ago, so we knew it was time to put the hummingbird feeder up. We make our own nectar with three parts water to one part sugar. Can't wait to see the hummingbirds bathing in the morning dew like last year's Hummingbird Pauses.
Mourning Dove – eldest girl loves these sweet birds that gather round underneath the feeder. They also startle us when we startle them as we head out into the backyard!
We have heard or seen the following birds:
cardinal pairs
doves
chipping sparrows
blue jay
bluebirds
brown headed nuthatches
robins
hummingbirds
red-bellied woodpecker
mockingbird
brown thrasher
A few favorite resources: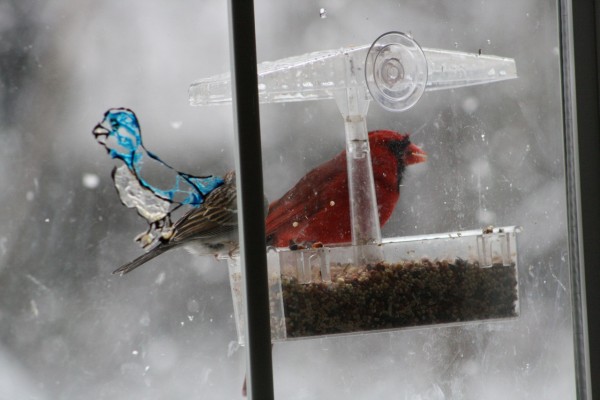 Many thanks to Barb-Harmony Art Mom and the inspiration she shares at The Handbook of Nature Study. You should see her bird list! It always fun to see the types of birds that frequent her yard on the west coast.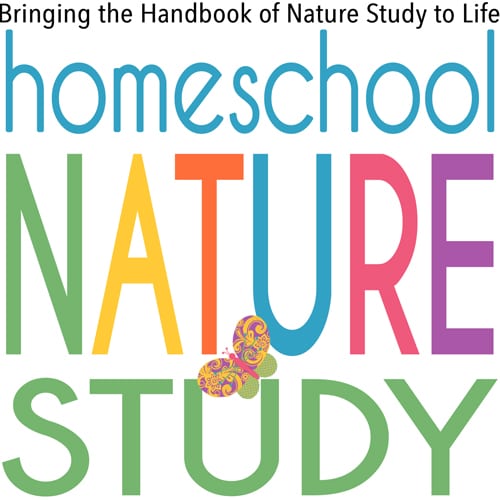 Click the button above and join in the nature study delight!
What birds are you seeing your backyard? Which are your favorites?