Don't miss the giveaway at the end!
We are joining up with Unit Studies by Amanda Bennett for all things spring! I mentioned last week that we've been enjoying Spring Surprises with our kindergartener and second grader. A few highlights of our Spring Surprises studies…
Listening to Vivaldi's Four Seasons: Spring during lunch
Time lapse videos of seasons and gardens growing
Nature walks every afternoon to notice signs of spring
Learning about the hemispheres and the equator
Reading about Noah, God's promise with the rainbow and the science of how a rainbow is formed
Bible verses like I will send you rain in its season, and the ground will yield its crops and the trees their fruit. Leviticus 26:4
What is wonderful is that you truly download and go with your learning time. Just open up the unit study and click on videos, links to Bible verses, further information, print nature journal pages, browse the list of suggested books!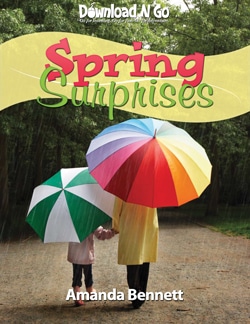 It is that time of year again! Time to smell the fresh rain and feel the warming temperatures and the blasts of March winds barreling through the neighborhood. Change is in the air, and it is an exciting change to kids of all ages. Now let's take all of their pent-up excitement and enthusiasm and put it to good use as they dive right into learning about this new season and all that it holds.
Across many parts of the world, this new season brings the smell of the freshly turned soil, the first blossoms on the fruit trees, and tadpoles in a local pond or creek. The discoveries of change and new growth are endless in this season, and this season was made to be enjoyed.
Get ready for a wonderful learning adventure about this season and all that it holds. Your child will investigate how seasons change, what spring is all about, the life cycle of caterpillars, how seeds grow, and much more.

Gardens
Encompassing the history of gardens, plant science, planning and planting a garden, and the arts and gardens, the study is perfect for any time of year—autumn gardens, winter daydreams, spring planting, and summer harvesting. Come on along and dig right in!
Gardening offers a priceless opportunity to work together on a fun family project, and share thoughts and ideas as you build your own special place of beauty and memories. From pole bean tepees to sunflower houses, what memories they will build! Use this study to share lessons about nature and plants with your children. What makes the seeds grow? Why do we grow things? What does a fresh ear of corn taste like? Imagine together what it might have been like in the first garden – the Garden of Eden.
Now for the giveaway!
Unit Studies by Amanda Bennett is giving away five (5) bundles of the above unit studies. Both the Spring Surprises and Gardens unit studies. The giveaway will run today through Friday with winners announced on Monday, March 24th.
Simply follow the instructions in the rafflecopter widget below…
a Rafflecopter giveaway


And be sure to visit Unit Studies by Amanda Bennett where you can find both of these wonderful spring unit studies – and enter to win one of five of our Through The Seasons Art Curriculum bundles via Unit Studies Amanda Bennett Facebook page.