Because we are long time fans of Star Wars – and you likely are too – it is time for a Star Wars Chalk Art Tutorial!
In honor of the newest Star Wars movie, The Force Awakens, cue the Imperial theme…

Star Wars Chalk Art Tutorial
The space scenes from Star Wars are such fun to paint! We chose the Death Star first.
A long time ago, in a galaxy far, far away…
Supplies needed: black construction paper. Chalk pastels: white, light blue or aqua and black.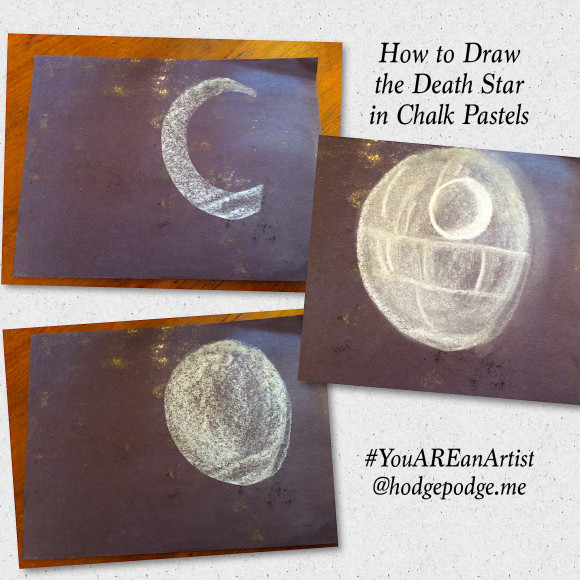 Now in this view of the Death Star there is a slight shadow. So keep in mind that you will not paint a perfect circle as you pick up your white chalk pastel stick and turn it on its side. (I only had one piece of black construction paper left when I started. And it had a bit of yellow chalk dust on it. But I thought the yellow chalk fit perfectly as stars).
Over to the right of your black paper, draw a large C. But on the other side make it a bit uneven – this is how you will make the shadow. Fill in your death star with your white chalk. Smooth out the white with your finger. While you have your finger all chalky, go ahead and fill in that slight shadow on the right of your death star. Now you can 'see' the whole shape.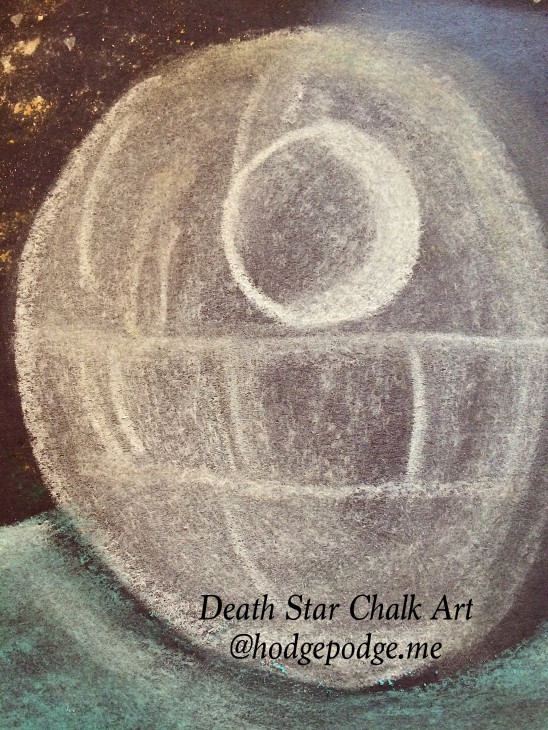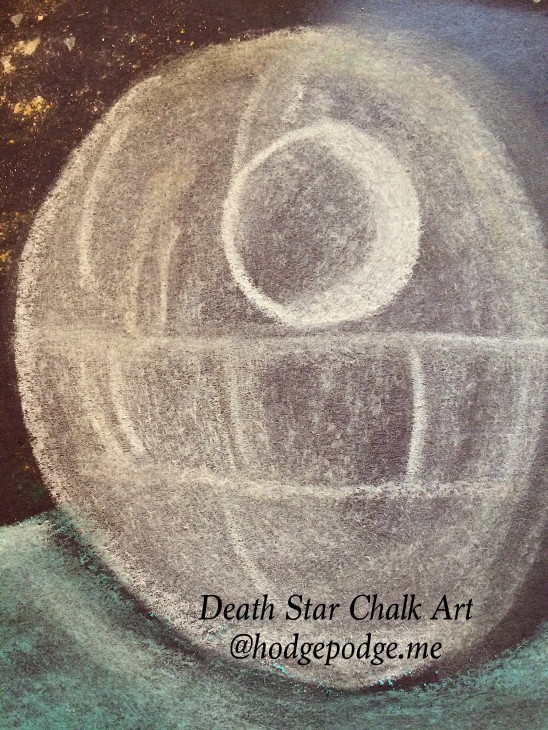 Now it is time to add the details. That distinctive small circle at the top, the lines of the star. Create the details and shadows with more of the white chalk pastel.
We thought that an Imperial starship would be approaching the Death Star. We drew just a simple starship shape. With those distinctive bright lights.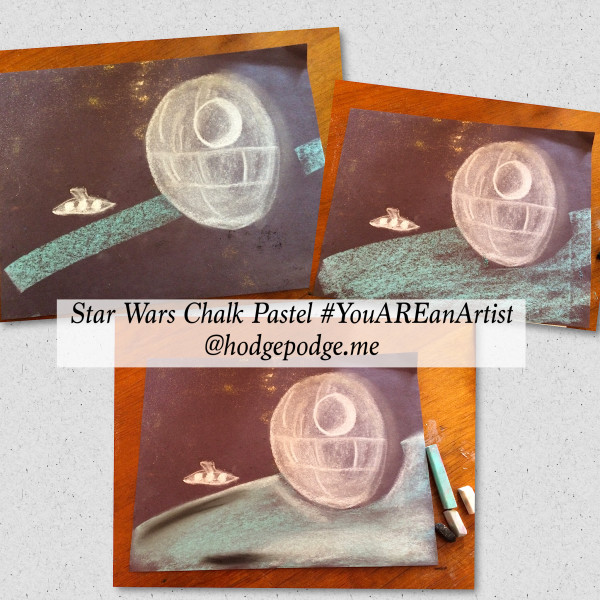 The next part is optional. We added a planet just below the Death Star. You might want your Death Star to be away from other planets in space. Should you add this planet, take your light blue and turn it on its side and fill in the blue of the planet.
Next add some stars. Just a few – in the upper left and right – to frame the scene.
Add any other details you would like to make this painting your own. Turn it over, name it, sign it and date it. Because you ARE an artist!
Featuring You! You ARE an Artist!
Paint your Star Wars scene and be sure to share with us! Simply tag @hodgepodgemom on social media, send a photo via the Hodgepodge contact form here or post on the Hodgepodge Facebook page. We will be sharing these via the Hodgepodge instagram or on our Art Tutorials Showcase Pinterest board – or both! Nana will even comment on a few I am sure!
Free eBook and More!

—>> Subscribe to Hodgepodge so you won't miss any future art tutorials! <<—
May the force be with you!