Besides our August pond studies with the Handbook of Nature Study, we've also enjoyed some nature walks and other discoveries.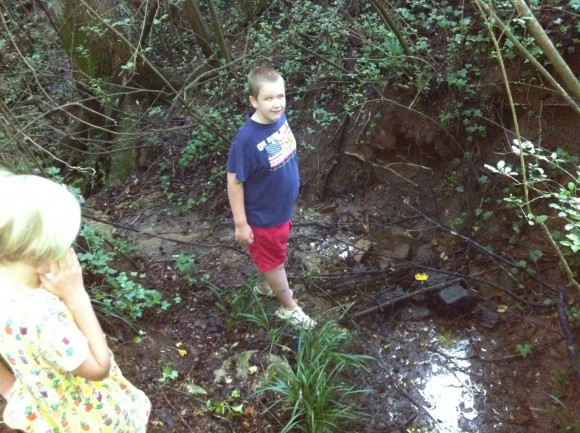 Early in the month we played in Mama Ann's stream, which is always fun. We'll get to do that another day this week!
One morning last week we met our friend, Angie @ The One Thing and her boys, over at the park across from our house. We took a little nature walk to see what we could see.
(These nature walk photos by Middle Girl). We turned over logs in search of insects.
We went down a trail and found a spider with its egg sack.
Then our time was cut short. Angie decided to turn over a log – right after her son added a touch of foreshadowing. He said,
"I wouldn't do that, there might be bees."
Sure enough, Angie found a yellow jacket nest!! She yelled for us to all run. All I could think of was we needed a big lake of mud to jump in like Winnie-the-Pooh. However, we all got away but Angie. Poor Angie got stung over 50 times!!! Fortunately she is not allergic but she sure was sore then itchy for a few days. She also says she's lost her curiosity in turning over logs.
And, speaking of stinging insects, that very night my friend, Amy, brought this ginormous stinging insect (plus a lovely cicada shell for us to study) in a jar to our first monthly homeschool moms meeting of the year. She knew that Eldest boy would be interested. The general consensus from the moms was that this stinging insect was a cicada killer wasp. Yes, I rode home from the meeting, in the dark, by myself, with this very big insect in a jar. Aaah! And I showed it to Eldest boy. After some study under the kitchen light, he decided we needed to release it. Watch out world (and cicadas) – large, stinging insect on the loose!
Another morning last week we awakened to our backyard bunny. He has grown quite a bit since we studied him earlier in the summer.
We got to see the brown stripes on the back of his head. And how he stretched to reach the taller grasses.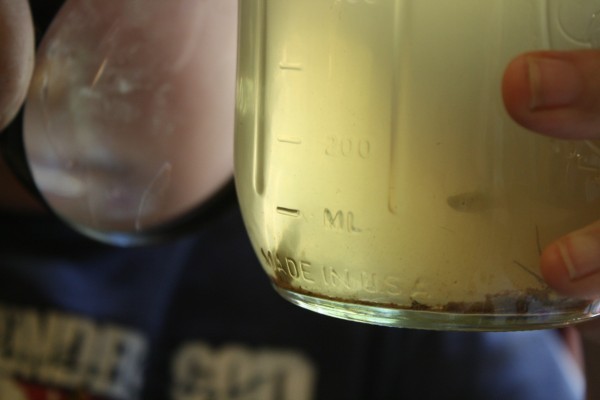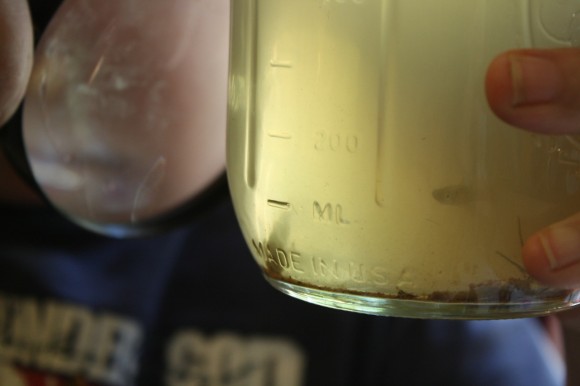 We also brought some minnows home in a mason jar from Lily Pad Pond. It was a scooped pond sample we wanted to study. Eldest boy said, "they kind of look like the zebra fish we had in our aquarium except with one stripe instead of two." Currently, they reside in our backyard plastic pool turned pond.
The backyard pool also is currently housing tadpoles – Middle Girl just discovered this afternoon! We've gotten a head of lettuce to feed them.
As I've said before, I think summer time nature study is our favorite. Well, nature study in general is our favorite. We are determined to enjoy the last days of summer. Barb-Harmony Art Mom is helping us with that. She just shared a free Last Days of Summer Notebook page. We've printed it and placed it prominently on the fridge as she suggested  🙂
Here in Georgia the warm days last well into the fall. Usually we are wearing flip flop and shorts into October – with a few days in there we might need a lightweight jacket. So we'll have plenty opportunity to still be outside. Plus, there's a fall series of natures studies we are anticipating!
So, any large, stinging insects or sweet, fluffy bunnies in your backyard?