Warning
: Trying to access array offset on value of type null in
/home/n0c986d/public_html/hodgepodge/wp-content/plugins/amazon-associates-link-builder/vendor/mustache/mustache/src/Mustache/Parser.php
on line
278
Recently, Janeen asked a Tapestry of Grace (TOG) question:
I am interested in starting my family with Tapestry of Grace after reading your posts and reviews of the program. I went to their site and have read and watched everything I can. I really want to start implementing this with my kids right away. I have noticed them losing excitement for school and this seems to be perfect for us. I have four boys at home, 6th, 4th, pre-k and toddler. I am still confused on a few things and would love it if you could help me out.

Janeen, in my experience, I find it best to plan for and with my oldest children. I would suggest planning and concentrating on your older two boys – 4th and 6th grade. Your pre-k and toddler boys need just the basics 3 Rs. They can soak up everything else you do with your older boys. Invite your younger ones to join in on arts and activities, listening to read alouds, etc. (Though you can of course reserve library books specifically for them and plan for them! I always borrow as many books as possible from the library just so we have any possible resource for my age range readily available.)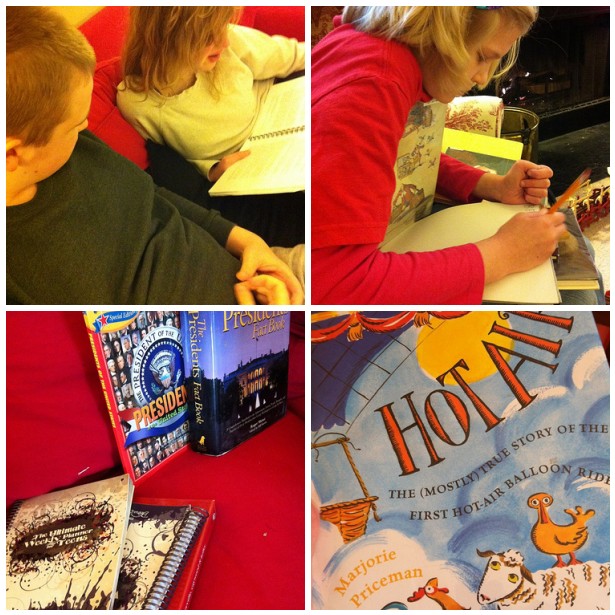 This week, besides the regular reading, we focused on writing assignments. My eldest two are pictured Using Writing Aids as a guide, reading about a persuasive essay. Take a gander at what my age range of children have been working on this week: All About Me Notebook (1st grader), Biography (5th grader – chose Ben Franklin and she's working on her report in the top right hand photo), Poetry – Limericks and more (8th grader), Persuasive Essay (9th grader). It's been a pleasure to see how their TOG writing assignments mesh well with Rod and Staff. It just always seems the assignments follow along each other. Plus, how fun to study George Washington the week of his birthday?

Janeen also said: I can't grasp how it all flows? You schedule one subject per day so what exactly do they DO on those days within those subjects?…read and answer questions, do projects, have meetings…I guess I don't follow how you can just cover one thing per day…
Here's the part where I say we don't do absolutely everything. TOG is way more than you'll ever need. The plans give you everything you could possibly need for a child of any age/grade. So, I pick one book – literature, history, etc – to read aloud to everyone. One thing I feel will appeal to everyone. This we do just about every day.
I detail our loose Tapestry schedule in How to Plan Tapestry of Grace for Multiple Ages and Levels. Because this year we are enjoying every level of Tapestry from lower grammar all the way up to rhetoric.
We do have a meeting with my older three children once a week, usually on Sunday afternoon. They write down in their planners what they need to read and do on their own. (TOG helps build independent learning!) I open up my TOG digital plans and look at the plan for the week.
Deciding on doing one of the subjects per day each week helps prompt me to remember to do those things. But, for instance, the older ones are doing a little bit of writing each day (keep in mind they are 8th and 9th graders). Their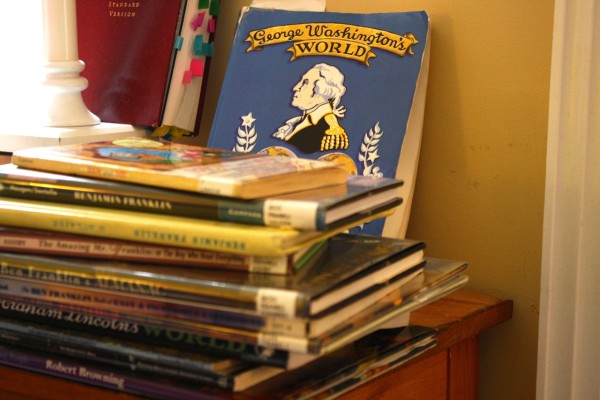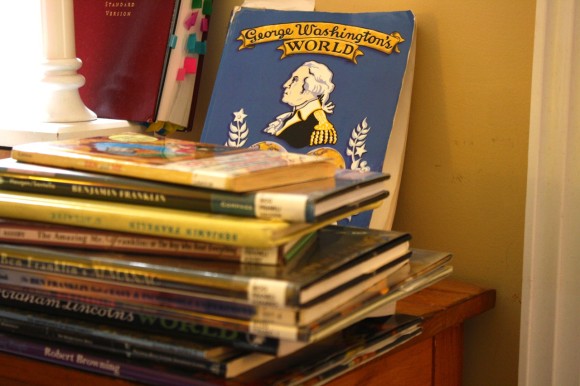 Then the big bunch of books I've reserved at the library are simply available – within sight. So when it comes afternoon quiet time, they can choose something to read.
Some weeks we just study all Tapestry of Grace on a Thursday or Friday – after we get our math, English and handwriting done. It's nice to have a catch up day.
If  it seems like I am being somewhat vague, I am. You truly have to jump into Tapestry and try it out for your family. You will find how it best works for you and your children. I hope that this has helped a little? TOG is not for the mama that wants a box to check. There is a lot of day to day just 'hey, let's read this.' But that's the joyful part I love.
What questions do you have about Tapestry of Grace?
Feel free to explore more Tapestry of Grace at Hodgepodge.
Hearts and Trees: Art, Handicrafts and Nature Study for your Homeschool