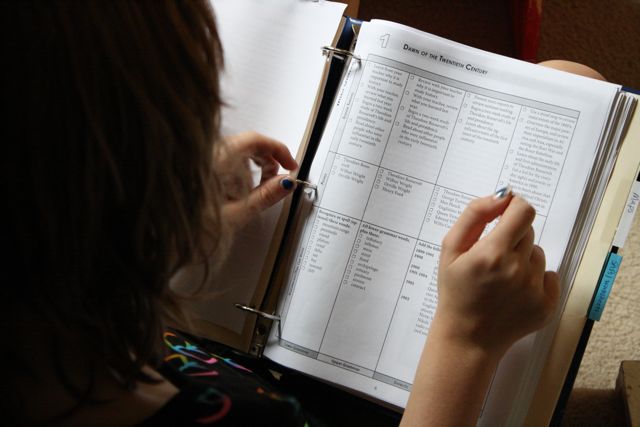 Links updated!
Read my review of Tapestry of Grace at The Curriculum Choice.
A scrapbook of our Tapestry of Grace (TOG) studies…
I sometimes feel like a Tapestry cheerleader. I love it! We love it! Tapestry is the best!  Hip, Hip Hooray! For families with children on several different levels it is a major blessing. To accomplish many subjects on all grade levels simultaneously. That means less work all around!
At the 2011 Georgia Homeschool Educators Association Convention, I had the privilege of representing Tapestry. At the Tapestry booth with two fellow TOG moms, I got to share the joy of the journey. In this recap post, I link to a host of Tapestry resources, from Marcia Somerville's explanation of the Map of the Humanities to key spots on their website: Tapestry of Grace at GHEA Convention.
Here's a round up of learning links to posts from Year Three studies. Our TOG Year Three Scrapbook:
In summary:
We spread our first year of Tapestry of Grace over two years. I think this was a good approach for getting used to Tapestry. Also for the age and stage we started using this curriculum (K,3rd and 5th for the older three children). I plan to pick up the pace next year. Especially now that the older two will both be middle schoolers.
I feel I've learned what we can handle in the smorgasbord of learning Tapestry offers. With just a taste, the learning is rich. And I've learned it is ok – we won't get to it all.
However, I hope to be better next year at using Tapestry for all it can be used for. I'll pull some spelling and vocabulary words from our reading. I can also make better use of the geography offered.
We did well with reserving library books ahead of time. Finding alternatives (from the list offered) when the first choices weren't available. Our Story of the World resources from past studies served us well as back up.
I still love the lapbooks as review. One lapbook for the whole family to work on for a whole week.
The
Writing Aids
guide is my new favorite for this year. I purchased it at the beginning of the year and used it throughout. Wednesdays worked well as our writing day. Favorite writing assignment? State notebooks for our 5th and 6th graders.
A sample TOG week:
Monday – weekly meeting, History
Tuesday – Geography
Wednesday – Writing
Thursday – Literature
Friday – Arts and Activities, final draft of writing, learning links on TOG site.
A think the biggest blessing was our mid-year (I'll admit, reluctant on my part) switch to workboxes. We took a break in February to do an Olympics unit study and to follow the games. So I was able to try out workboxes on a small unit study. That helped me to see how TOG would translate into workboxes.
I summarized workbox success in the post TOG in Workboxes. Wow, what we were able to accomplish in a day with a bit more pre-planning. And if we didn't get to it – there it was waiting and ready the next day.
I'm so grateful to my friend, littlesanctuary, for pointing us to Tapestry. She has a way with picking curriculum for families. And TheOneThing and Sonflower for the workbox coaching. For homeschool friends to lean on!
Looking forward to starting with Tapestry Year One in July.
*Update – change of plans to Year Four. See why in the post Curricula for 2010-2011.