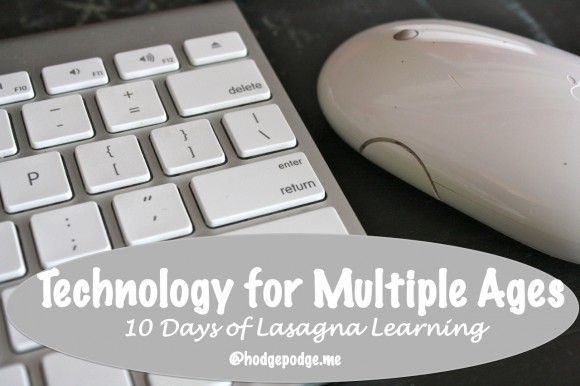 In our home, we use basically three types of teaching applications or technology-based learning: computer games/apps, edutainment and courseware.
Computer Games/Apps
Did you know that spending a few minutes playing some of your child's computer games can equip you to use these games to teach?  One very popular game, Angry Birds (which is available on all computing platforms) has a sophisticated physics engine governing the events in the game.  Gravity, Inertia, and the laws of motion are all represented in game play.
Using Angry Birds, I have taught our six-year-old daughter the physical principle of F=ma (force equals mass times acceleration).  She can see it in the game.  Larger birds have greater disruptive force, due to their increased mass.  What computer games do you have in your home that, with a few minutes of thought, can be adapted to teach?
Another type of technology-based learning is Edutainment.
These are educational applications that are also entertaining.
Letter Writer Ocean is one such title; a game that uses an iPad or iPhone to teach writing. It is geared toward preschoolers who are just beginning to write.  It teaches the correct method of writing the letters of the alphabet. You dive beneath the ocean surface to find the letters floating below.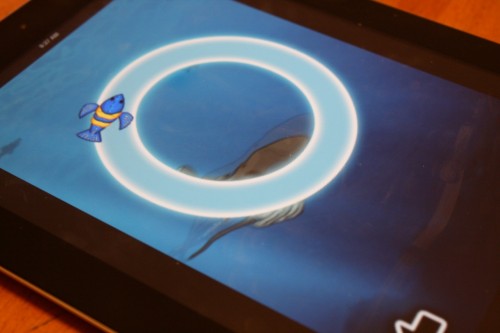 The object is to "draw" the letters correctly.  The letters float beneath the ocean's surface, and tapping on a letter causes it to float alone on the screen.  A friendly fish guides your finger to the correct starting point.  As you drag your finger along the letter's lines, a friendly fish follows your finger–as long as you correctly follow the lines of the letter.
You can read more about Oceans Letter Writer at The Curriculum Choice.
Another edutainment title is Stack the States; a title that uses some of the best mobile features – interaction and manipulation. While learning about the 50 states by answering questions about them, this app requires critical thinking skills as well. Your brainpower is tested in your ability to stack your states successfully.
The object here is to create a stack of states. You are asked various questions about the 50 states including:
capitals
state shapes
abbreviations
bordering states
location on the map
and even nicknames.
If you choose the correct state, you get to actually pick it up, move it, rotate it and place it wherever you want. Your goal is to carefully create a stack of states that reaches the checkered line.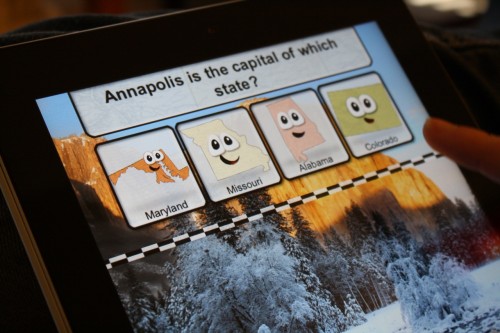 Learn more about Stack the States at The Curriculum Choice.
Our Edutainment examples are from the iOS library, but there are literally thousands of Edutainment titles available for iOS, Android, Mac, and Windows platforms.
A third type of teaching application is Courseware.
This is software designed to teach through lecture or lab simulation.  We use two courseware applications in our home.  The first one is Teaching Textbooks.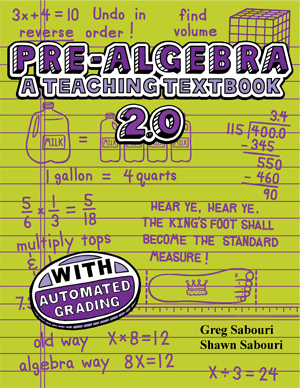 Teaching Textbooks is a complete mathematics curriculum.  The software is organized by grade-level.  It features lecture lessons and drill pages, with immediate feedback on the practice problems.
Each of our children enjoys the lecture, because the lecturer is funny.  He engages the student.  With the instant feedback on the lesson, parents do not need to spend time checking practice pages against an answer key.  That is a great time saver.
Also in the Courseware category is a subscription service called Lynda.com.  Lynda.com is a subscription online training library.  For $25.00 monthly, over one thousand courses can be viewed online.  Lynda.com training covers a variety of topics, including:
Photography
Photoshop
Home Computing
Web + Interactive
3D + Animation
Developer                                                     
Audio
Video
Business
Microsoft
Apple
Avid
Adobe
Dreamweaver
ActionScript
Final Cut Pro
Eldest Son's time learning from Lynda.com is supplemented with books from my library. This title from the Learn Series.
Our eldest son is using the Lynda.com library to learn computer programming.  The courses are engaging, and the lecturers really know their topics. One of the best things about Lynda.com is that 10% of the training catalog is available free.  You can truly "try before you buy". There is no long-term commitment, you may cancel the subscription at any time.  We look forward to many hours of online training and instruction from Lynda.com.
A report seventh grader created on the iPad with the application, Keynote.
With many computing platforms and thousands of Games, Edutainment, and Courseware titles available, there are technology-based learning opportunities everywhere.  You may already own some, and don't even realize it!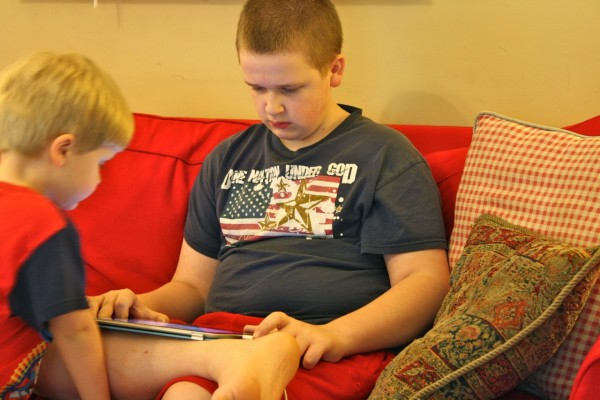 I've written extensively on using technology for multiple ages. Here are a few more resources:
Topics in this series:
The 10 Days Series is organized by iHomeschool Network, a collaboration of outstanding homeschool bloggers who connect with each other and with family-friendly companies in mutually beneficial projects. Visit us on Facebook, Pinterest, and Twitter. And of course, click the image below to visit all the 10 Days posts from these homeschool moms of the iHomeschool Network. You'll be blessed with tips on how to handle bad days, cultivating curiosity, teaching with Legos, and much much more!
How do you use technology in your homeschool? What are your favorite apps or learning applications?