Long time Hodgepodge readers might remember our sister site, Habits for a Happy Home. This wonderful spot was a place to share helpful habits. Each of the ladies that wrote for Habits is a personal friend of mine. Well, all of us friends found ourselves in the habit of rest in our writing. But… there are so many wonderfully encouraging posts there, we just couldn't let it go. So, Habits for a Happy Home became a part of Hodgepodge. You will start seeing those posts here, like Thanksgiving Habits. And a few homeschool type posts over at The Curriculum Choice.
Building habits has always been a passion of mine. And we don't have to wait until the New Year to start that. In fact, the calendar turned to November. So, today, I share with you Thanksgiving Habits I'm Thankful For. This one dates back to 2009…
Thanksgiving Habits I'm Thankful For
Imagine going to bed Thanksgiving Eve and sleeping in Thanksgiving morning. I always thought you had to get up at 5 a.m. on Thanksgiving to wrestle with a raw bird. That is until I found two recipes from Southern Plate. And boy am I thankful!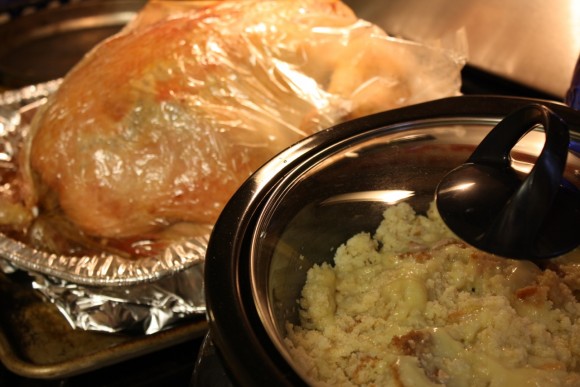 I followed Christy's instructions for making dressing in the crock pot. Not only is it delicious, it frees up oven space. Plus, I took her advice and put the turkey in the oven to cook overnight. Both were such a success they have forever changed the Thanksgiving menu:
Of course I have adjusted this over the years to make it an Allergy Friendly and Gluten Free Menu.
A few other Thanksgiving habits I'm thankful for. Here are some Thanksgiving Eve tips I found:
And, of course, with Thanksgiving, comes Christmas…
*Cruise through the holidays – The Holiday Control Journal by the Flylady
More holiday habits coming soon!
Save
Save