A little red car.
With a sun roof. And great gas mileage. A weekend away with some amazing friends. All that makes for a wonderful package.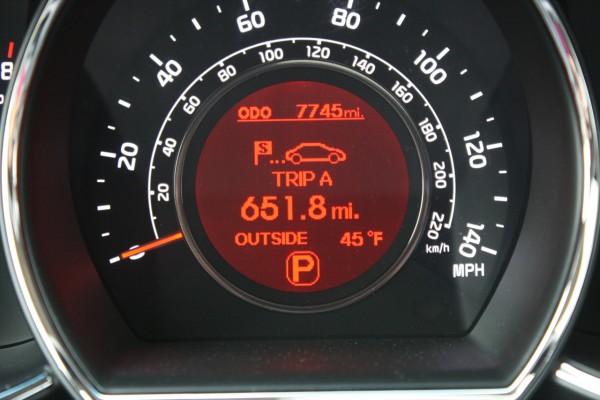 If you've read my Kia Optima hybrid review, you know that my husband has already said, "Maybe there just might be a Kia in our future…" Maybe. This time I am starting at the end. Do you see? Over 600 miles. I filled up that tiny 10 gallon gas tank one and a half times. Wow. This would be the kind of car that would be perfect for my husband's daily commute. Think of the savings!
More reasons why I love the Kia Rio.

Let us start at the start.  I still love that start button. Plus the friendly welcome. That was especially nice on that one really cold morning!
The Kia Rio has what is called a proximity key. What that meant to me was I only needed this 'key' to lock and unlock the car doors. I didn't actually have to place any key in the ignition. I just needed to have the 'key' close by, place my foot on the brake pedal and press the start button. Plus – talk about luxury – seat warmers for the cool mornings!

Many thanks to Cindy West of Our Journey Westward for taking this photo of me and my traveling buddies! Daniele Evans of Domestic Serenity in the front seat and Jamie Worley of See Jamie Blog in the back.
Navigation Kept Me on the Right Path
Fully loaded navigational system helped organize all my stops. I needed to pick up Daniele near the airport, then Jamie on the other side of Atlanta. We were then headed to Petticoat Junction Retreat (highly recommended!) for our blogging mastermind weekend. So, I first entered my destination: Normandy, TN. Then added a waypoint stop at Daniel's hotel near the Atlanta airport. It was great to see Daniele! The first time I'd seen her since BEECH Retreat 2012. We steered our way through downtown Atlanta and made the stop to pick up Jamie. The voice navigation made it easy for me to catch up with Daniele and not miss a turn to pick up Jamie.
We were then on our way! A little bonus – while we were in that construction traffic around Chattanooga – the points of interest showed us what would be an easy stop for lunch.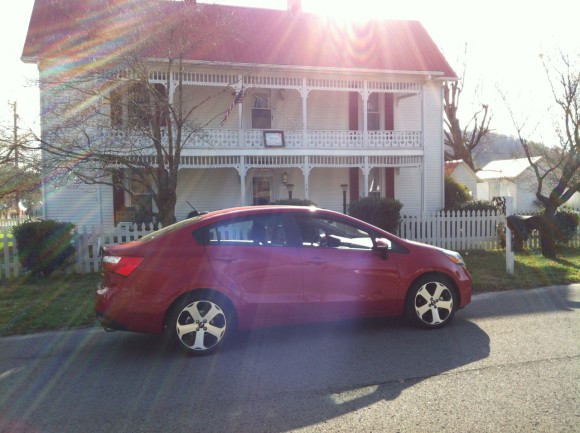 Love this photo. Can't you just hear the chorus of "aaaaaaaa" with the way the sun is shining?
Then, I know for sure that I couldn't have found my way on the windy Tennessee roads without the voice navigation. We went right along beautiful little mountain creeks, made many a turn and all of sudden had reached PJ Retreat and our bloggy friends!
Love the steering wheel
Everything at your fingertips so you can stay safe.
volume and tuning control for the radio
the ability to answer and end phone calls (my iPhone synced easily with the vehicle so my contact list was available with the push of a button)
plus I really liked the 'handle' at 6:00 – easy for highway cruising
Back Up Camera with Safety Zones
Do you see those garbage cans over there? I truly love the back up camera feature on the Kia. It also helped when backing out in a busy parking lot.
Love the entertainment options
We were a talkative bunch but we had a host of satellite radio stations at our fingertips! (There's that cool start button!)
Love the sunroof!
Yes, a sunroof is the topper on a sporty, red vehicle.
Love the room
Though the Kia Optima is sleek and compact from the outside, just take a look at all the room on the inside! Cup holders galore – both front and back seats and in each of the doors as well.
Plus plenty of leg room in the back for even the tallest folks.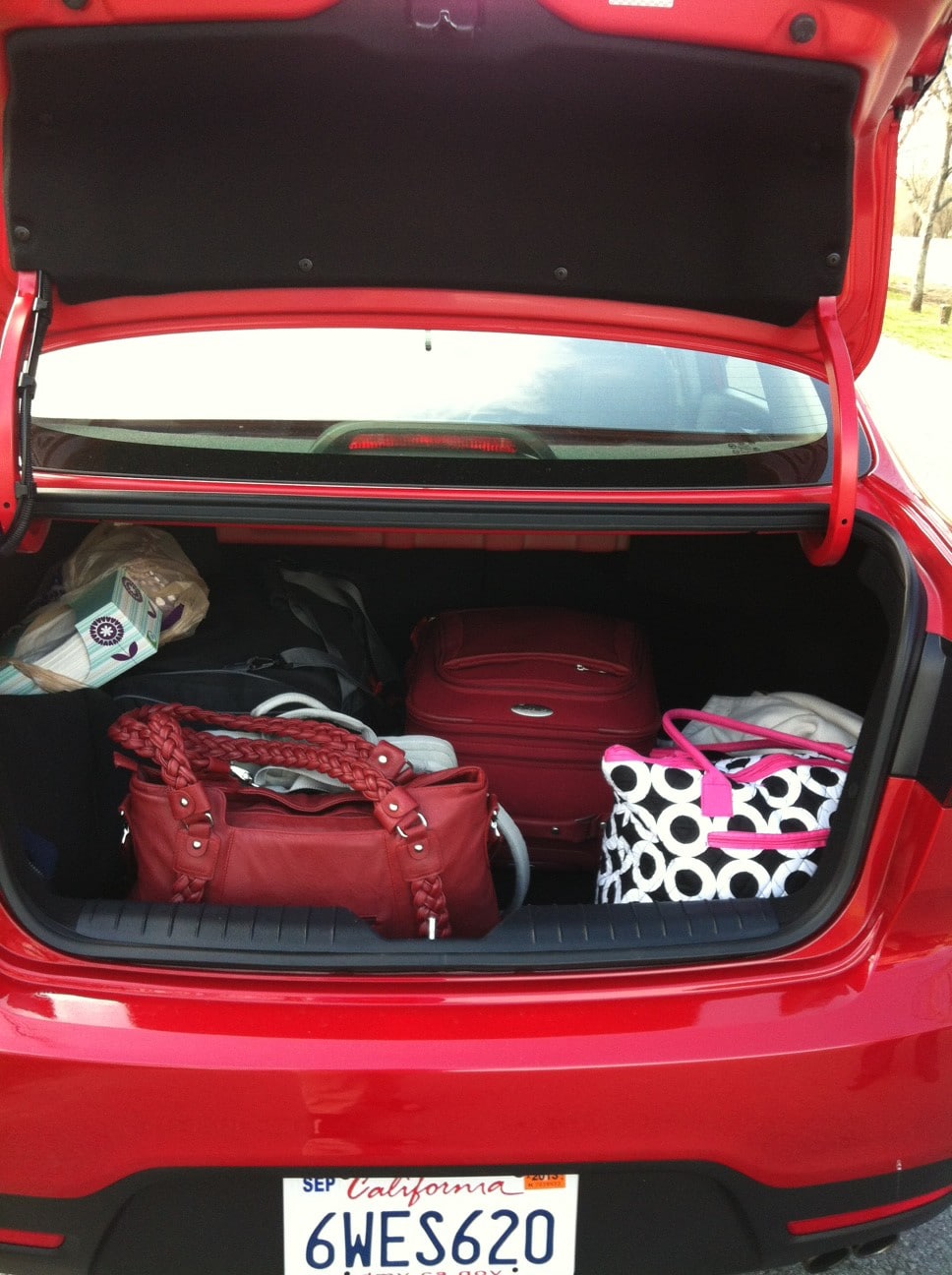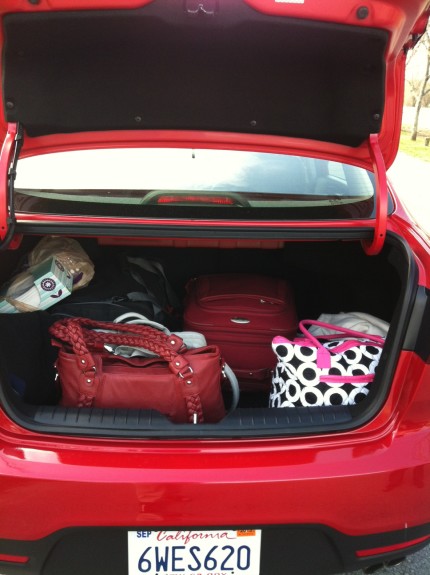 But one of the best parts is the storage. Three blogging women were able to pack all of their luggage – including laptops and camera gear – into the vehicle. Need I say more?
Gas mileage
Over 600 miles round trip. Around town to the dentist and drama troupe another day. (Lil' Buddy's booster seat fit right in without any adjustments on my part. Yet another trip to the orthodontist. And do you see how much it cost to absolutely fill it up? $28 and some change.
"I think this Kia is great or awesome!" ~ five-year-old

1. I told you Cindy West was the photographer! | 2. Our work room full of inspirational bloggers (from L to R: Kris Bales of Weird Unsocialized Homeschoolers, Colleen Kessler of Raising Lifelong Learners, Lacy Rabideau of Catholic Icing, Lauren Hill of Mama's Learning Corner and Angie Kauffman of Many Little Blessings and Homeschool Classroom | 3. It's three Curriculum Choice review authors! Cindy West, Daniele Evans and me. | 4. Jamie Worley and I were Savvy Blogging Summit roommates in Atlanta back last October.
Absolute Fun
This cute little car got my friends and me up to Tennessee! For all the fun pictured above.
In Conclusion
I love practical. The Kia Rio is a practical but oh so sporty vehicle. Quiet, economical, full of fun features!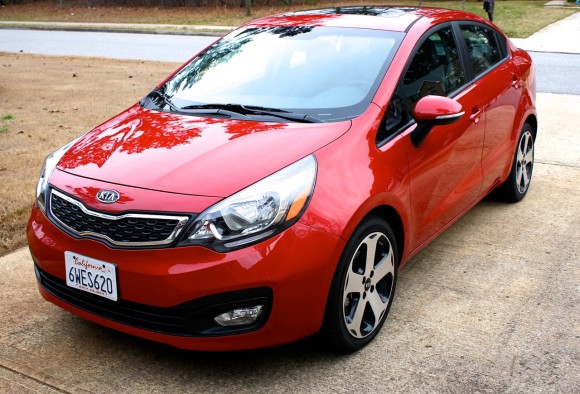 Thank you Kia!
Bonus! My friend Mary Prather of Homegrown Learners (she was my traveling buddy in the Kia Hybrid on the way back from BEECH Retreat) is sharing a review of her Kia Soul. The one she and her family rode in to and from the Great Homeschool Convention. Be sure to click over and check our her ride!
Bonus little window -I thought this made it feel even more like a convertible!