Sometimes in our homeschool we just need to focus on a certain subject. I've mentioned this strategy in When You Need to Catch Up. This week it was writing. So, rather than say, "Children, write!" I decided we would call this week a Writing Workshop. Something about a workshop makes it a little more fun, don't you think? A workshop implies all sorts of things and reminds me to pull out all the resources.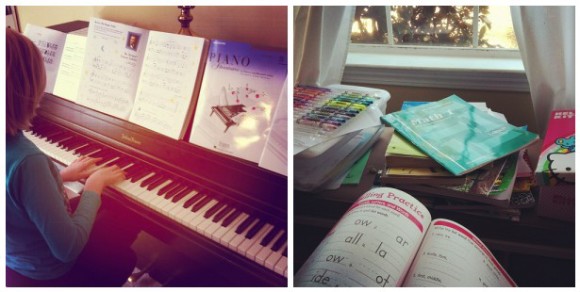 1. Middle Girl practicing piano with her new books. | 2. My view one morning as I was sitting between the two little ones. Spelling Workout in my lap.
See, since we started our homeschool year at the end of July (10 Positives of Starting the Homeschool year in July), the older three children have already finished their Rod and Staff English studies for the year. So we can take the time to focus on writing. This week, here's what we did: We finished our basic subjects. After our basics, we read some science (or another extra) around the lunch table or independently. And…
Institute for Excellence in Writing
One afternoon, the older two children and I watched the grade specific writing instruction on the Institute for Excellence in Writing DVDs. (Read Barb-Harmony Art Mom's full review at Curriculum Choice). We took breaks and watched it all over about two days. Another afternoon, first grader and I watched the 2nd grade workshop. She turned seven back in the fall and is definitely ready for second grade work. Yet another day, 5th grader and I watched the workshop for her grade.
Tapestry of Grace Writing Aids
All About Me Journal – 1st Grade
As part of first grader's writing assignment for Tapestry of Grace, she was to work on this journal over the course of four weeks. With sickness, we set it aside here and there. But independently she put some pictures from this year inside a little photo album she found. Those from Grandma and Grandpa's visit last October and pictures of her baptism too! She and I brainstormed a list of fun things she's learned this school year. She's made a cover page. And now she is writing captions for those photos.

I've shared before about my kinesthetic learner. She's often pulling out her baskets full of writing supplies!

Biography and Friendly Letters – 5th Grade
For several weeks, Middle Girl has been working along on a biography of Benjamin Franklin. Tapestry of Grace left the assignment open for her to choose her topic. We've all enjoyed learning so much more about Ben Franklin! Tapestry's Writing Aids does a good job of describing what a biography writing assignment is. And offering examples and how tos.

Tapestry of Grace Writing Aids is a handy reference book for all things writing. For each of the assignments, we looked up the definition of and noted the examples. We've used it all these years now. And it comes with a handy disk for printing writing prompts, rubrics and more.
Poetry Unit Study – 8th Grade
Meanwhile, Eldest Boy has been doing a poetry unit study of sorts. Tapestry of Grace has given him new topics to explore each week. Some of the topics and writing assignments have been personification, limericks, and writing a two word poem of 15 lines. I think my favorite has been on similes and metaphors – "write your own praise to God using many similes and metaphors." I just love how Tapestry weaves the theme of His Story throughout our studies.

Our 9th, 8th and 5th graders each have a writing notebook/binder where they file their 'in progress' and completed assignments. It's also a handy spot to keep notebook paper at the ready. And in the back, you can even keep track of writing definitions and spelling words.
Persuasive Essay – 9th Grade
George Washington's character was God's gift to America. Using a persuasive essay, point out ways Washington's character was used by God to shape the young American nation for good. Eldest Girl has been working along on different types of essays this year. This final topic will help her close out this Tapestry of Grace year. What a fun topic to write on, don't you agree?
A March Hodgepodge. 1. Brothers play Connect Four as the storms pass one evening | 2. Little Buddy all tucked into the sporty, red Kia Rio. More doctor visits this week | 3. Littlest Girl helps her sisters practice lines for Drama Troupe. | 4. Middle Girl collected irises from the backyard!
In Summary
We've had weeks of studies on writing, learning the how tos of journaling, biographies, poetry and essays. And we've used both Tapestry of Grace writing assignments and Writing Aids as well as Institute for Excellence in Writing (IEW). The IEW student writing workshops equipped us with new writing skills and ideas. IEW also helped me as the teacher, to see how I can help my children get over a hump, find key words and brainstorm.
Plus I think it's just fun to call focused study a workshop, don't you? Do you see how we have used both of these resources, IEW and Tapestry of Grace Writing Aids for all our ages?
Still, I don't feel like I've covered all we do with writing, even though this is a giant post. Here are a few more resources: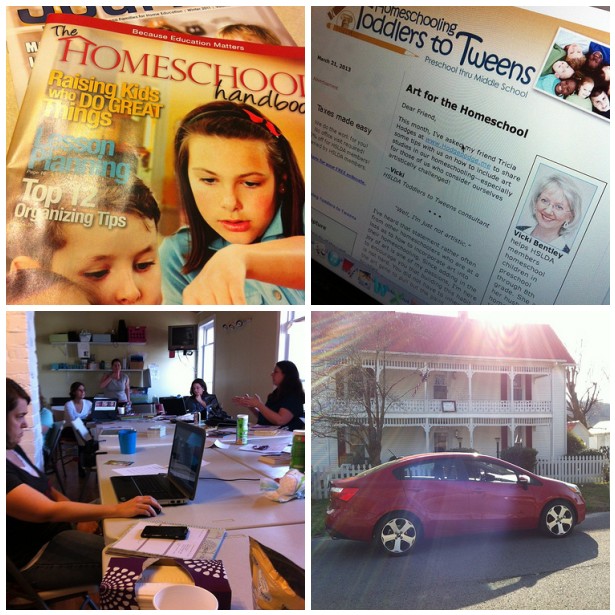 I've been thrilled with some features in popular homeschooling magazines and newsletters! 1. My Practical Prayer was published in The Homeschool Handbook. | 2. And Art for the Homeschool was featured in HSLDA's The Early Years (you can subscribe here) | 3. Plus, I can't let it go without mention that I had a wonderful time last weekend at a blogger's retreat. It was like a mastermind type setting for learning. | 4. But the Petticoat Junction Retreat bed and breakfast made it a perfect early spring getaway to Tennessee. I'll share more about that cute little red Kia and my traveling buddies Jamie and Daniele  – next week!
If you didn't win one of our basket giveaways, I do have some special codes for Southern Hodgepodge readers! Use code Hodgepodge to receive $5 off our A Simple Start in Chalk Pastels (making it just $14.99 for a whole year of chalk pastel tutorials) and code HabitsHappyHome for $1 off our Southern Hodgepodge cookbook bundle (3 cookbooks for just $3.99!)
Many thanks to our Friday hostesses!
Do you have a fun writing tip to share?

Unit Studies by Amanda Bennett: Your Passport to Learning Adventures!