We are enjoying Winter Games 2014 unit study by Amanda Bennett now and spreading it out through the February Winter Olympic games. I'll be sharing more about what we are doing in our homeschool wrap ups and Collage Friday posts. But I can already tell you…
This is our third time enjoying an Amanda Bennett study of the Olympics. We studied the 2010 Winter Olympics study, started our school year with the 2012 Summer Olympics study and this year are already having fun with Winter Olympic Games 2014.
All our ages participate together. That's what is so wonderful about the unit study – it's for all our ages. From kindergarten to high school. Each at his or her own level. (Yay! One go-to resource for mom!)
What Does Winter Games 2014 Include?
Four weeks of study for both lower level and upper level students – "a cross curricular approach" – over 100 pages!
Suggestions for getting started, resource list
All you would ever need and more – gathered in one spot. This includes what you need to do every day plus the topics for learning. You can simply teach with the unit study alone because internet resources and sites are all ready for you to research and use!
The history of the ancient Olympic games and the modern Olympic games
Family project ideas
Daily Bible passage
Spelling/vocabulary words (words of wisdom)
People and places to know
Read and discover – questions and discussions for further exploration
"Your talent is God's gift to you and what you; what you do with it is your gift to God." ~ Leo Buscaglia (quote in introductory material of Winter Games 2014)
What we love about Olympics unit studies!
Olympic Journals – as Amanda Bennett suggests in her unit study, we keep our learning all in one spot this way. How handy to pull these journals out to write the vocabulary words and add lapbook components.
Building a Biblical worldview. I share more about this below in how we use Winter Games 2014 in our homeschool. Amanda Bennett's study helps to build a Biblical worldview of the games. Each day there is a Bible verse to copy, use as dictation and/or memorize.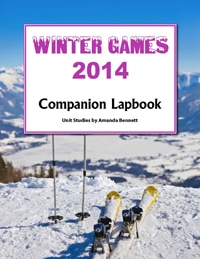 Winter Games 2014 Companion Lapbook – how easy this makes it to print out and have handy spots for the vocabulary words, studies of famous athletes, keeping track of the USA in each competition, writing about Russia and other countries and copying down Bible verses. This is a free component.
The stacks of books on hand from the library. Not only are we learning about the Olympic games, we are reading about the science of snow, gravity for all those ski jumps, the history of Russia, a fun Nancy Drew mystery at the ski slopes – and we can't wait to watch Chariots of Fire again!
The tablecloth project we started as a family back in 2010 and added to in 2012! A little wrinkled but those will straighten out with use. We look forward to adding more for Sochi.
Learning the geography and history of the host city. And watching all those great videos about Olympic topics – like How Ice Rinks Work (haven't you always wondered?). Video tours of the venues!
How are We Using Winter Games 2014 for Multiple Ages in Our Homeschool?
Exactly as pictured above. We've found that we enjoy our studies during and immediately after lunch (One More Thing After Lunch). We can watch a video while we are finishing our sandwiches. Then we can clear the table and pull out the Olympic journals.
I write the Bible verse up on the chalkboard for the children to copy into their journals. We talk about the vocabulary words, a famous Olympian, the physics of ice hockey, how athletes pay attention to nutrition and so much more.
Talking about the Summer 1996 Olympic Games that happened here locally in Atlanta. Visiting Olympic venues.
We've made so many memories studying the current Olympics. It's a nice change up in the routine. We watch the games together and learn about sports.
I've been gathering resources on my Olympics Pinterest board and you can take a look at Amanda Bennett's Olympic board and follow it by clicking below. (I love the idea of the Scripture Typer group!)
Where can you find Amanda Bennett's Winter Games 2014?
This fabulous unit study is currently on sale for $7 (originally $10) this week! You can find the study for this price on the Unit Studies specials page.

Be sure to stop back by tomorrow! We have a wonderful giveaway from Amanda Bennett unit studies you DO NOT want to miss!! Plus we will share more geography and art adventures.