Back in the spring I shared an Ultimate List of Favorite Art Resources in my You CAN Be an Artist! 10 day series. Today I am expanding on that list to include more favorites and encouragement for you! (Plus, don't miss the surprise at the end!)
I think this is a fitting conclusion to this 10 day series. And I hope these will spur you on!
How to Have Instant Success with Art – Yes, folks, it is just plain old praise for our efforts.  Children are born with artistic gifts, and we are here to coach, praise and teach those efforts into a joy of painting.
Creativity, it's good theology; it's what God did in the beginning." ~ Ann Voskamp's Why Everybody Needs to Make Art Every Day: 7 Keys to Creativity  <—- a MUST read
The (very short) Must Have Supplies for Chalk Pastel Art – such a short video that we decided to include a fall trees tutorial!
A Painting a Day – a habit we started after my five-year-old's enthusiasm. And these tips make it easy to implement this blessing!
And one of the ways we are doing a painting a day is with the wonderful Bonza Draw App by Amanda Bennett Unit Studies. This is an amazing resource – for just $1!! – and is perfect for multiple ages
For any time, an American Flag Chalk Pastel
Free Art Cards printable to get a discussion going from Harmony Art Mom
A Lesson in Primary Colors by Stephanie Harrington at Hip Homeschool Moms (this is beautiful!)
Art Projects Inspired by Picture Books Using Storybook Art – by Heidi at The Curriculum Choice
Visit your local art museum! Go! Do it! – our trip to see Girl with the Pearl Earring with all our ages. Bonus of having a larger family: by the time you pay admission to the art museum, you can buy a family pass!
10 Books We Love on Art and Creativity by Angie at Many Little Blessings
Top 10 Homeschool Crafts, Plans and Projects Blogs at The Homeschool Post
Textured Houses Art Lesson at The Unlikely Homeschool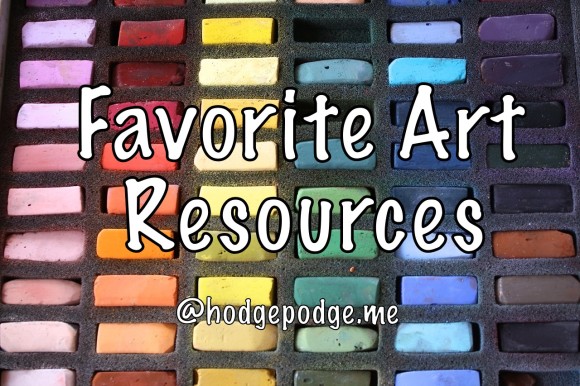 I do invite you to visit and pin our Ultimate List of Favorite Art Resources. I share there how our times with chalk pastels led to include art in even more areas of our homeschool. Plus, it created that desire to study famous artists. Links to those resources are included there.
Plus, EIGHT Pinterest boards full of art for you! Free Art Tutorials and Lessons, Art Tutorial Showcase board, You CAN Be an Artist, Fall Art, Art and Children's Books, Christmas, Winter Art and All Things Art.
Ok, one more on the list of art fun. Coming soon..
A Simple Start in Christmas Chalk Pastels
because Christmas chalk pastels are some of our very favorite!
Thanks so much for joining us here at Hodgepodge these last 10 days. I hope you are encouraged and will enjoy all the free tutorials we offered!
Art for All Ages: Tips and Tutorials
It's an autumn hopscotch with iHomeschool Network! Be sure to visit all the wonderful bloggers! It's a fabulous page full of categories and 10 days worth of topics!
**We invite you to subscribe to Hodgepodge via email so you won't miss any free tutorials! You can also join us and help spread the word about our 10 day series on Pinterest, YouTube, Google +, Facebook and Twitter. Thanks in advance for helping Hodgepodge.**
Any questions after 10 days of Art for All Ages? Remember….you ARE an artist!