True education is teaching children how to learn, equipping them to learn, and guiding them in to their specific life-purpose by God's design." ~ Wisdom's Way of Learning by Marilyn Howshall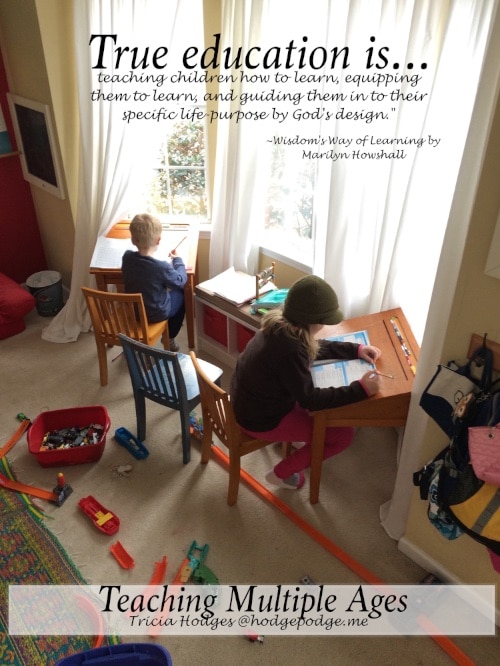 (and making sure they are warm enough and have a hat for spelling on a cold winter's morning)
Since last I shared a Collage Friday we have…
Completed 40 math lessons  – five children x eight days (a couple days off for snow)
Read dozens of books, worked through spelling, English
Practiced handwriting
Learned lessons in science and history…
Attended three piano lessons and two drama troupe practices
Watched Ben Hur, Anne of Green Gables series
But this homeschool life is more than checking off things. So, we…
Learned Some More
1. This high schooler LOVES Apologia Chemistry and is often caught with the book at any time during the day/night. #mymamaheartishappy | 2. Loving Dover Publications Germs and Microbes coloring book with my elementary set! "Some germs that make you sick don't like too much heat. When you get a temperature, your body is getting hot to make these germs go away!" Coloring by first grader. | 3. So just how to homeschool multiple ages the frugal way? I share my best tips. | 4. Getting serious over here! REA College Test Prep anytime, anywhere with three study tools working together: book + web + mobile.
Celebrated!
This year is a year of big things! Big birthdays for Hodgepodgedad and each of our children. A big birthday for my grandmother. Plus this year marks mine and Hodgepodgedad's 20th wedding anniversary. This time 20 years ago we were planning a June wedding. So many 20th anniversary type things to celebrate!
1. Wuv! Twu wuv! 24 roses = 20 years of Valentines + 4 for the four girls in his life. That husband of mine is THE best! | 2. Chasing Valentine's Day sunset with @Hodgepodgedad #datenight | 3. Can he eat all that apple pecan crisp? Let the celebration of my guy begin! (and thanks to sweet family for that restaurant gift card! | 4. Happy Birthday Mama Ann! We took a mid-morning homeschool break and went to give her a hug. She is reason for celebration! Love this photo of my children with their great-grandmother #generations
Went to the Theatre!
For Christmas, Nana gave the three of us tickets to see Wicked at the Fox Theatre. We have been counting down. And how great it was that the show fell on Hodgepodgedad's birthday weekend! We haven't been to the Fox with any of the children since they were little. So our eldest loved the beauty – plus she really adores musicals.
1. Headed to the Fox Theatre to see Wicked. | 2. The Emerald City in the distance and the show is about to start. | 3. Intermission time! | 4. The Fox Theatre is so beautiful!

Enjoyed Living Math
My friend Cindy, author of Loving Living Math, inspires us so! Because we needed ten and we only had six at home, I asked the Saxon first grade math question on Facebook: "Do you like the color blue or the color red best?" We got SO many answers that Hodgepodgedad created a color graph for first grader too! "And the results are in! Blue wins over red 48 to 39. Thanks Facebook friends, for helping first grader with his tallying and graphing math skills." (Of course we could get rather scientific as well and talk with our middle and high schoolers about how these are not truly scientific results because of Facebook algorithms…")
Declared an Extras Day
Sometimes we just need to set aside a Friday to do all those extras and catch up on things like science labs, driver's ed, health, writing and living math. We all see this as a fun day because it changes up the routine. And of course, add in the art! I have a whole series on Adding in the Extras you might enjoy.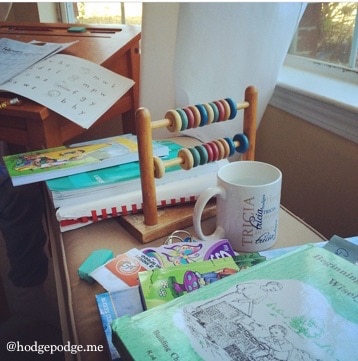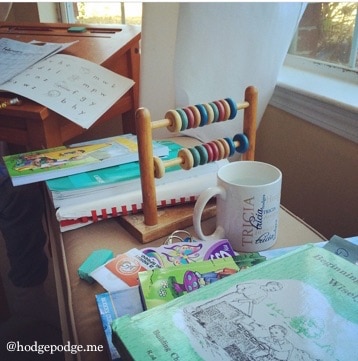 Little Ones First  – oh our homeschool days always go more smoothly when my youngest ones get my attention first. And I STILL continue to see so many, many benefits – important learning skills – from our habit of Morning Room Time. That independent play that is a child's work!
And just like that – February is over! Spring is coming and March and April will surely fly by.
Pray constantly that you will have the strength and the wits to make it through everything that is coming and end up on your feet. Luke 21:36

Recent Hodgepodge
Many thanks to these kind hostesses (I'm linking up!):
How was your February?