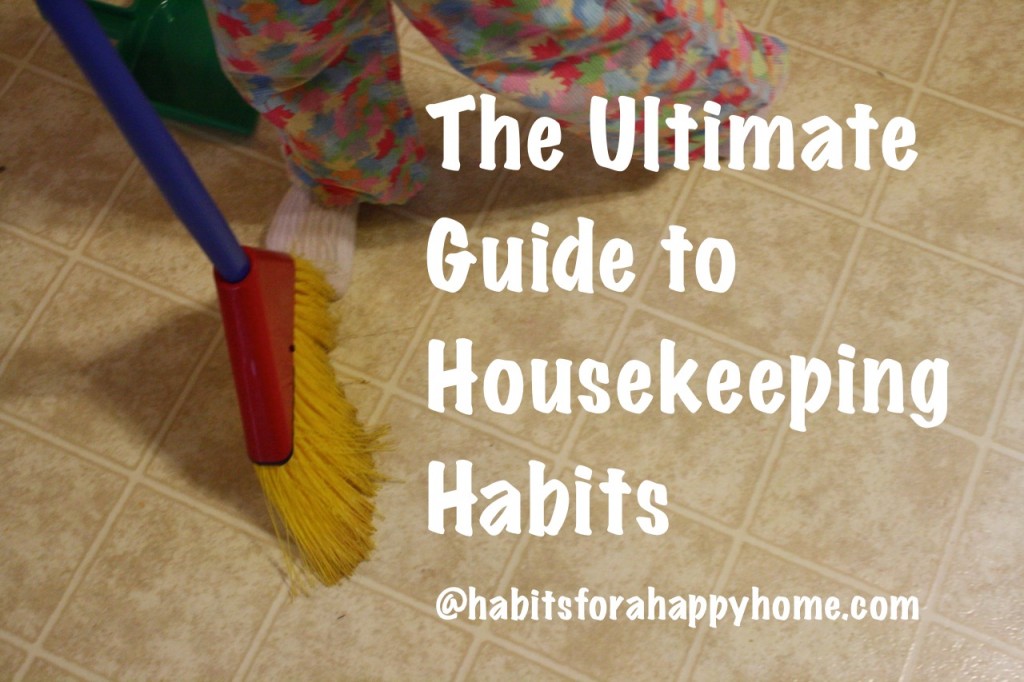 Here at Habits for a Happy Home we are not all about sparkly, spotless homes. I hope that you have seen, through our Day in the Life series this month, that we are regular sorts of people. Each one of us struggles. Just as our 'About' page says, "My hope is that this blog will serve to inspire all of us to replace some bad habits with good ones and keep us on the road toward the kind of home that pleases the Lord."
Building a home that pleases Him is what this guide to housekeeping habits is about. Being a practical help for our homes so that we ultimately glorify Him. Each of our contributors keeps house with the help of different habits. So many of those are shared here in our archives. We bring those to your attention today and offer encouragement from around the web as well.
She keeps an eye on everyone in her household, and keeps them all busy and productive. Proverbs 31:27 The Message
What is a Proverbs 31 Woman? by Angie "Just Listen, obey and enjoy the blessings that will come to you, your husband and your kids because you are walking in HIS will!"

Cleaning/Clutter Busting

I'm still working on a way to be thankful while I'm dusting, but you get the idea.
Opportunity is missed by most people because it is dressed in overalls and looks like work.  ~Thomas Edison
Chores/Training/Service Opportunities

Household Management/Organization
Taste and see the Lord is good; blessed is the man who takes refuge in Him. Psalm 34:8
Menu Planning and Feeding the Family
Realization: Frozen dinner – homemade by me – equals a weeknight vacation!"
Laundry
Atmosphere/Decorating
Websites for Housekeeping Helps

Habit Formation Help
We invite you to subscribe so you won't miss any Habits for a Happy Home. You can find us on Pinterest too!
This post is linked to 40 Ultimate Guides and Lists at iHomeschool Network. Be sure to visit and pin them these great resources!
You are invited for a visit! I am sharing two other guides you might enjoy: The Ultimate List of Easy Slow Cooker Recipes at Hodgepodge and the Ultimate Guide to Choosing Homeschool Curriculum at The Curriculum Choice.