Our leaf studies started when the first leaves started to change. We enjoyed the fall colors with a local trip to Kennesaw Mountain Battlefield Park. We've awed each week at the maple at church, watching it turn every beautiful shade from green to yellow to red.
Last Saturday, we traveled to the next state over to the highest point. We walked and we slowed to soak in the colors.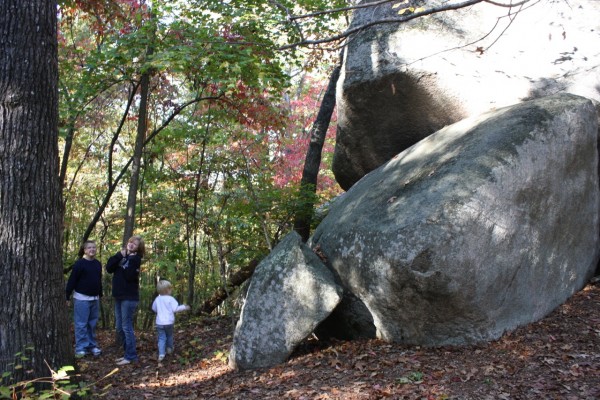 And earlier this week, we drove about 20 minutes down the road, where we climbed rocks as big as boats under a canopy of colors.
While we've been oohing and aahing this whole month at leaves, we didn't stop to marvel closely at design until we took the Up-Close Leaf Study Challenge at The Handbook of Nature Study.
And while gorgeous leaves had gathered on the kitchen table now and then in an arrangement, Friday morning Middle Girl and I went out early for the very purpose of gathering a variety. Maple, poplar, river birch, oak leaf hydrangea, mimosa.
And while we were out, she spotted our spider.
It had just started to make a new web, using part of the pink string someone had tied.
With our notebook pages at the ready, we hit a problem. Where is the magnifying glass? We couldn't even find the little plastic one kept in the outside playhouse. *Sigh* "I know!" Middle Girl said, "There's an app for your iPhone. And I think it's free." After a quick search, we downloaded Magnifying Glass with Light and we were in business!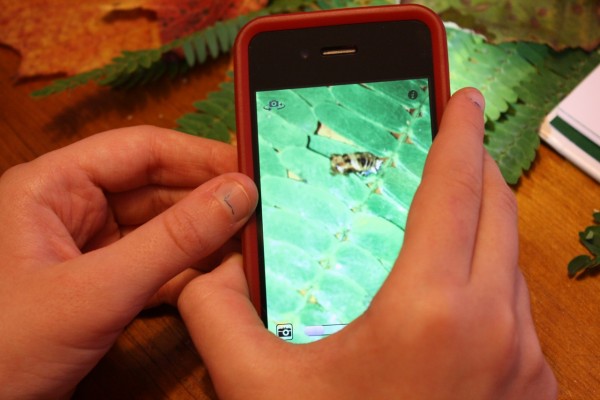 Looking first at a larva on the mimosa leaves…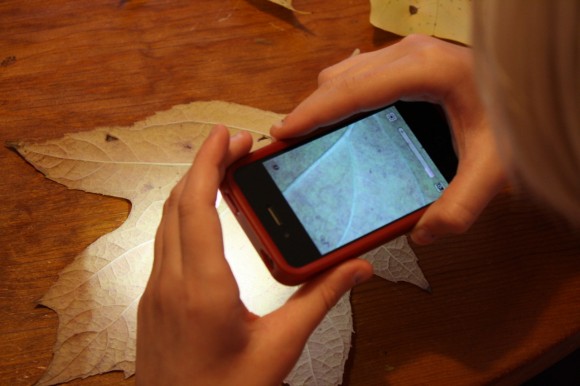 …Then each choosing a leaf to study up close.
Matching the margins. I heard, "what is venation?" So we looked closely at the veins in each leaf, comparing.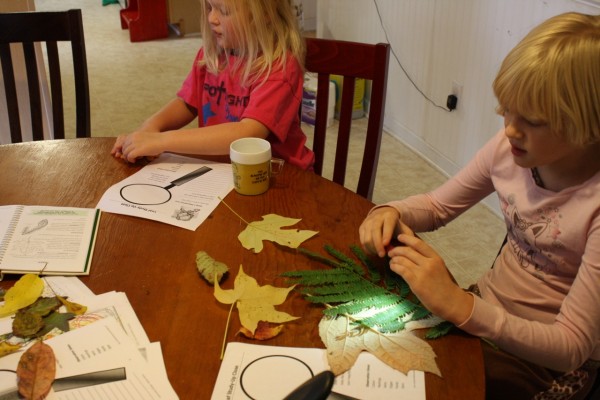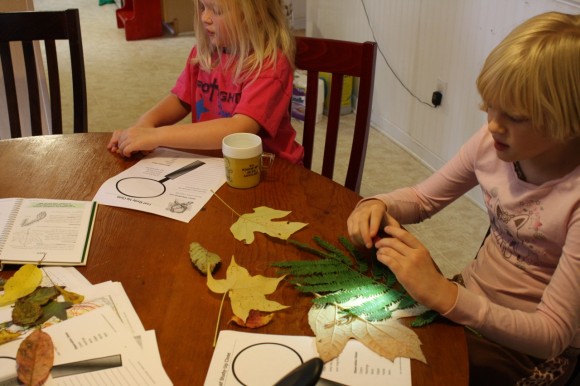 The two youngest girls sketched their leaves up close. Love this notebook page!
Eldest boy compared four different leaves, referencing the shape & arrangement, margins and venation page. That's when he said, while sketching each leaf…
"That's the most fun leaf study I've ever done." ~ 12-year-old
Just as I was about to photograph his page, we ran into another technical problem. The camera battery needed charging. So I used my phone!
Middle Girl discovered you can turn the 'lens' around and look at yourself up close!
Technology and nature study.
For the record, we did find our little, plastic magnifying lens (after our study). But the favorite, most used hand lens that belonged to my grandfather, is still missing.

As a bonus, we copied some of our favorite leaf colors for our nature journals. There are many fun art and nature journal ideas for trees and leaves over at Harmony Art Mom too.
So many things we discovered by taking the time to look up close! Thanks to an October of beautiful fall colors and Handbook of Nature Study.