This week we are slowly building back up to a full routine after our Christmas break. Taking a true Return of the Routine approach (do you have my free ebook?) Were you like us and stayed up way too late and slept in some? We truly took a holiday. But while we are returning to a routine, I am building back all those extras we love. And the extras reminded me of a question Tracy had a while back…
Reader question from Tracy: On your extras days, do you do your 3Rs? Or do you skip them and just have a project day? How often do you have these days (1 per unit, etc.)? How do you know how to schedule them into your calendar (or how many you can feasibly toss in at whim?)
We do school in much the same way you do and are Tapestry users in our 2 year. I have a 2nd grader, a kindergartener, and a toddler. But I think I'd like to initiate extras days. Thanks!
My Answer: It depends – if we have several 'extra' days in one unit then we do the 3 Rs first and then move on to all our projects. If we are doing a catch up sort of extra day then we might just take an entire Friday and do one of the really big projects – like a salt dough map, painting, display board or such.
You could also add in an extra math, language arts throughout the week and take every Friday for such a thing.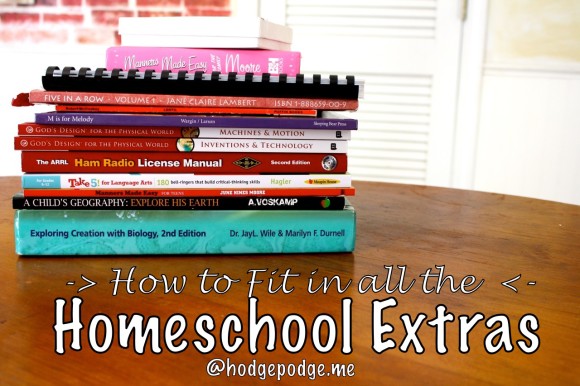 We love the extras so much I wrote a series!
How to Fit in All the Homeschool Extras – Five Day series
Tailoring our days to enjoy all the enriching subjects is one of the beauties of homeschooling, wouldn't you say?