We've been acting like homeschoolers over here. See, I've always loved the freedom of a homeschool schedule. This time it has afforded us rest. While we are usually full swing back to school, we've been taking care. Coming directly off the heels of most of the Hodgepodge with a month of flu, Littlest Girl had surgery to remove tonsils and adenoids.
Taking Care
We've been through it before with Hodgepodgedad and Eldest Boy. But there's just still so much to learn. It has been a very rough time of ups and downs. Allergic reactions, tears and gentle hugs. I think today, one week post-op, we just might could celebrate being over the hump.
Ultimately though, this was a fresh reminder of why we homeschool. So much extra love between everyone. Plus realizing how very blessed we've been with caring friends, family and a covering of prayer. I'm so grateful.

1. Sisters and Teaching Textbooks | 2. New library books for Tapestry of Grace | 3. Back to piano lessons | 4. More Tapestry books and some just for fun | 5.& 6.  Harmony Fine Arts Plans – artist and composer studies – these plans are on sale through today!! | 7. A few more things after lunch | 8. Home Art Studio – Acrylic Abstract
Those Wonderful Extras
In between the doses of ibuprofen and Tylenol, we one by one, here and there, started enjoying all those enriching resources that bless our homeschool. And, rather than share in detail about it today, I will share a whole week full – next week. Five days worth!
Home Art Studio
But I do want to highlight Home Art Studio! We enjoyed another lesson this week. Remember I mentioned that we are doing projects together as a family – all from Grade 3? This week we pulled out those new acrylic paints Nana gave us for Christmas and enjoyed another wonderful afternoon of art!
Big Things
Lil' Buddy's first lost tooth. (Pause here for a sniffle from mama. Isn't he too young for this? No, I have to remind myself that all the others were five when they lost their first teeth.) Eldest Girl got rubber bands for the last stages of her braces. Only a couple more months! (She also made us a brownie in a cup recipe she found on Pinterest. She's collecting recipes to make. I think this is turning into a Culinary Arts course! Project-based learning?) Also pictured above, Littlest Girl feeling well enough to do some projects. That's definitely a big thing!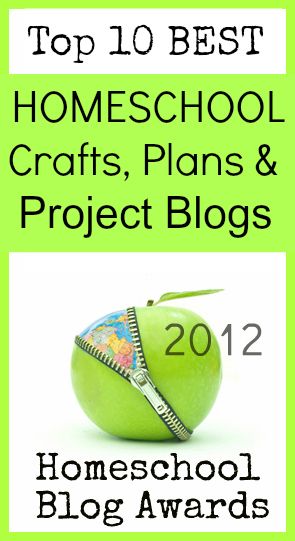 An award. Thank you friends! We're so very honored to be counted amongst the others in this list!
A quick wrap up for you:
Five Days of How to Fit in All the Homeschool Extras
Guess what? A whole week! There will be a very special giveaway and more! I've talked about how we are able to enjoy so many enriching subjects. Next week I'll share in detail, joining up with iHomeschool Network. Won't you come back and join me? I hope so…
Many thanks to our Friday hostesses!
So have you or any of your children had tonsils out? Bless your heart… Or, what answers are you looking for in next week's series on Fitting in the Extras? Kindly comment here…