It's so easy to compare ourselves with others.  I think we do it daily, in many different ways, without even thinking about it!
The first thing that comes to mind when I think about comparing myself to others is my looks.  It's almost impossible not to see pictures of celebrities on a daily basis… whether one wants to or not.  "I should eat salad for every meal so I have a figure like (fill in the celebrity you think is most beautiful)."  I firmly believe in being the best YOU you can be, but comparing ourselves with a "Photoshopped" image of someone who gets paid to be beautiful is never a good idea.  (For fun, I sometimes Google "celebrities without makeup."  Now THAT comparison will make you feel a lot better about yourself!)
Another area in which I tend to compare myself is my home.  Whether it comes to the way it's decorated or the level of cleanliness, I can always find someone who does it more perfectly than me.  Maybe she has more money and can afford a cleaning lady or high end decor.  Maybe she's just better at doing it herself.  Whatever the case, there is usually one person I know whose house I wish mine looked like.  Magazines, HGTV, and even Pinterest can encourage this kind of thinking.  Notice this example:
Exhibit A:  My breakfast table, the day I bought it at a yard sale, dressed it up, and took it's picture: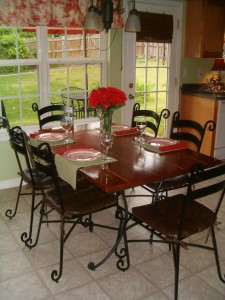 This is the picture I would use if I posted my table on Pinterest.
Exhibit B (real life):   My table after breakfast this morning:
Doesn't look so good, does it?  When I compare myself to others, what I'm really doing is comparing their best (and often photo-staged) material to my worst… a dangerous practice which can breed jealousy, discontentment, and unhappiness.  When I was younger, this used to discourage me.
Then I learned a secret… you see, I really do enjoy looking at beautiful things.. homes, gardens, clothes, you name it!  I learned not to compare myself or my possessions, but to strive for excellence while remaining content with what I have.
Old thought:  "Joanne has such a nice living room.  —Sigh— Mine will never look that good."
New thought:  "I love Joanne's living room… what a great idea to paint the inside of her built-ins a different color… let me discuss that with Hubby and possibly put that on our future projects list."
Old thought:  "Those clothes look so much better on that model than they'd ever look on me.  I'm just an out-of-shape mess!"
New thought:  "I love my new Pilates DVD… it's helping me be as fit as I can be.  I may never look like a model, but I'll be healthy and feel better."
I still need work on this issue in several areas, but I'm constantly reminding myself to strive to be the best me, for God's glory–not a "Photoshopped" imitation intended to impress others.
What areas do you still compare yourself, giving yourself the disadvantage?  In what areas do you give yourself a break, striving for the best you, not perfection?
~written by Kim, The Daisy Muse